There are movies out there that refuse to let go. As you appear from the shadowy room, the credit sequences rolling through the names and pounding out a feverish song, you peel yourself from the seat and shakily make your way down the stairs. Your wobbly legs threaten to topple you over as you gather your belongings and are shuffled out with an equally bemused crowd. Tired, sweaty, and utterly exhilarated, you know that whatever you've witnessed on the big screen has viscerally gripped you and changed your entire being.
Jeremy Saulnier's Blue Ruin is that type of film. The story of a revenge plot put the director and his leading actor Macon Blair on the map. It also altered your complete DNA and made you a better person and film watcher in the process. Now Saulnier is back with Green Room and yet again, we've had to change our name, passports, and entire make-up because we're a whole new person right now.

Green Room is certainly May's must-see gory thriller. Scratch that, it's the one of the year's greatest movies and one that you need to witness on the big screen.

Starring Patrick Stewart, Anton Yelchin, Alia Shawkat, Joe Cole, Imogen Poots, and Callum Turner, Green Room revolves around a down and out punk band named The Ain't Rights who stop for a last minute gig in Oregon, only to find out that it's filled with racist violent skinheads. After stumbling upon a murder, they are locked in their dressing room while the rabid masses try to dispose of their witnesses….
Like the crunching wail of a guitar that scratches down your back in agonising pleasure, Green Room is not for the faint-hearted. Even before the blood cascades on the screen, the tension that mounts is devilishly palpable and throws you to the edge of your seat almost immediately. Grim and unrelenting, the torturous titular cell that The Aint Right's have been trapped in echoes the terror to the audience who feel the claustrophobia and terror almost similarly to the characters. The atmosphere catches you breathless as you yearn for the prisoners to escape. Bloody and vicious, the punches that Green Room delivers leave indelible bruises on your skin and soul, etched in brilliant brutality.
That's not to say that Saulnier has drenched this movie with gritty and gruesome gore. Instead, his skilled writing keeps you invested because the band – Sam, Reece, Tiger, and Pat – as well as their captive friend Amber are likeable characters. Without an abundance of exposition, Saulnier keeps us in the moment and we immediately empathise with a struggling band thrown into a pit of awful purely because of circumstance.
It helps that the casting is spot on. Yelchin uses his boyish charms to develop this panicky troubled guitar player into the hero of the piece, and greatly so. Yelchin has certainly moved beyond being a mere Star Trek alum and his furore into independent movies has been stellar. He also spouts this amazing monologue that is one of the most emotional moments of the film. Though somewhat underused, Patrick Stewart's menacing club owner Darcy is this brutal character that captures the worst of humanity in these tenderly spoken threats, making him completely petrifying. The addition of British actors such as Imogen Poots, Callum Turner, and upcoming favourite actor Joe Cole add different elements to this ferociously grisly film. American actors Marc Webber and Saulnier's muse Macon Blair add a conflicting component to the pursuing skinheads, making the enemy force multi-faceted, human, and, therefore, even more chilling.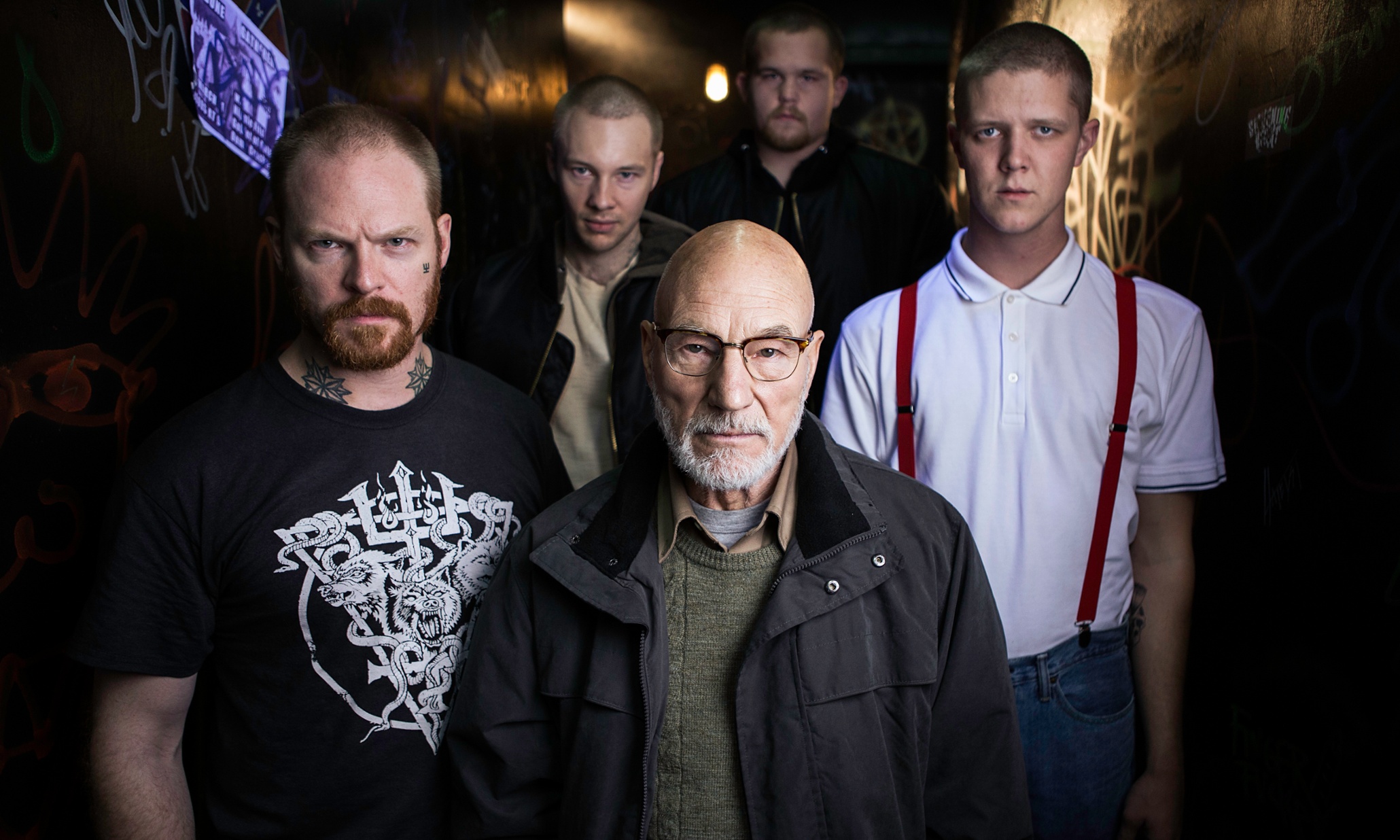 Green Room, in a small way, is not a slick as Blue Ruin. Some obstacles such as the runaway storyline are too underdeveloped to feel right. Also, some may hate the way the film carries on so quickly after a death but in many ways, it adds to the sicking, remorseless, assault. Saulnier curves into the fear and relishes the thick unease, juxtaposing the quick attacks against the slow and agnosing wait the survivors have to take which enhances the experience completely. Pulsating with fear and glorious revulsion, Green Room is this year's ultimate thriller.
---
Green Room is out 13th May