Since the end of Harry Potter, both Daniel Radcliffe and Emma Watson have had a lucrative career and have had some acclaimed movies or television series under their wand holsters. Rupert Grint, the third in the trio, has a somewhat limited range with a few independent films and an Ed Sheeran video in his post-Hogwarts career as well as owning his very own ice cream van. Nice.
Fair play to the young actor for not following set rules in his post franchise days and for picking different movies to continue his acting prominence.
And Moonwalkers is the film to definitely prove that his movie outings are weird, unusual, and utter brilliant.

Moonwalkers has the destiny to be a cult film if enough audience members witness the lunacy first hand. The antics on screen will surely be whispered throughout the circles that viewers may walk in and the DVD release today may accrue more folks bellowing, "Hey man, you've got to see this!"
That's because the plot and the cinematic craziness that explodes on the screen has to be seen with your eyes, man. Doused in colourful sixties aesthetic, the blossoming spectrum plays host to hilarious hi-jinks that is almost a homage to the crime capers of the era. It's almost as though director Antoine Bardou-Jacquet laced craft services with the most potent LSD and let his performers relish in the script and beautiful trip they were about to go down.
Basically, the plot revolves around an unstable CIA agent named Kidman (played by Ron Perlman in the most Perlman-y role ever.) The US Government are a little afraid that the moon-landing isn't going to work and send Kidman to track down acclaimed director Stanley Kubrick in England. There he comes across band manager Jonny (Rupert Grint) who says he knows Kubrick which is a big massive lie – Kubrick is actually his flatmate Leon (Robert Sheehan). Going along with for the ride, Kidman and the pair try to pull off the biggest con of all time, or they'll all be killed.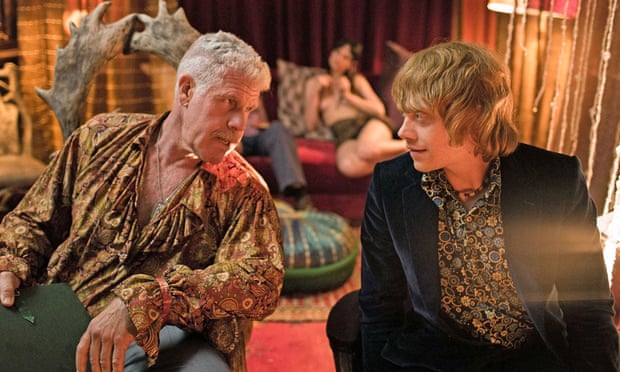 Sheehan and Grint team up yet again since their stirring efforts in Cherrybomb and delight once more with this hoopla of a film whilst Ron Perlman's "holy shit, what have I let myself in for" performance is deserving of a multitude of praise. The movie is, indeed, a fantastic collection of actors doing mighty fine work despite the absurdity on the screen. Set to the most excellent sixties soundtrack, Moonwalkers is an infusion of people putting their bloody all in to the movie and the result is fantastically bizarre.
There are times that Moonwalkers trails off, as with most adventitious movies, the struggle to keep the wacky plotline going means there are moments of dullness.  And a lot of folk will be put off by the craziness but don't be deteered by the insanity on the screen. It actually works and that is helped by the chemistry between Perlman, Rupert Grint, and Robert Sheehan.
---
MOONWALKERS IS OUT ON DVD AND BLU-RAY NOW!