Christoph Waltz. How much do we love you? A lot.
A lot. A lot.
The Austrian actor is one of the finest we have. Performing from a young age, rising up the ranks in German cinema, and eventually finding a home in Hollywood, scooping up two Academy Awards along the way. Waltzing (snort) his way into our hearts, Christoph has a panache (or typecast) for sinister villainous roles and Tarantino eloquence. Oh, and he is also multi-lingual, has conducted an opera, has directed his own films, raises a whole butt-load of money for charity, and wore this amazing outfit once.
He's basically a perfect specimen.
Anyway, to celebrate his role in Alexander Payne's Downsizing, which is out in cinemas now, we're taking a look at the best of Christoph Waltz.
Epic (2013)
A lesser known animation that deserved a whole lot more recognition than it did. Blue Sky's epic tale of a world beneath the leaves enticed with magic. Stunning imagery and wondrous vibrancy, Epic was a severely underrated flick. It tells the tale of 17 year old Mary who is shrunk by the Queen of the forest and has to stop the nefarious Mandrake from turning the green, opulent world into rot. Waltz voices the villain and it's a great performance that booms from the murky shadows to the chills down your spine.
He also challenges mother-flippin' Beyoncé and it doesn't get scarier than challenging the Queen…
Carnage (2011)
Actually it does. Because a stand-off between parents is one of the most frightful occurrences in the history of the world. Carnage is one of those films that not many people talk about but I always see it on DVD shelves. The black comedy film by Roman Polanski and based on a play by Yasmina Reza, sees the likes of Waltz, Kate Winslet, John C. Reilly, and Jodie Foster battle for parental supremacy when their two children get into a fight resulting in a serious injury. As the parents try to figure out what happened and who should be blamed. Soon alcohol starts flowing and dark secrets start coming to broil and heated conflicts start to happen. Great chemistry between the quartet allows the quick wit and masterful plot to come undone.
The Zero Theorem (2013)
Whilst not the most invigorating of films and certainly not Terry Gilliam's best, The Zero Theorem really showcases a Waltz' skill beyond that of a villain. The dystopian future world that sees Waltz as a Qohen Leth who is unravelling the mathematical mysteries of the world to prove the meaning of life. Whilst the story has no centre to wrap the intelligence round, Waltz is fantastic as the loner who is pestered constantly by the theorem that he is trying to solve and those around him.
Inglourious Basterds (2009)
Quentin Tarantino's fantasy of killing Nazi's was a triumph with the addition of the extraordinary Christoph Waltz. He plays Colonel Hans Landa of the SS, is the most gripping character in Basterds. And he is one of the most creative, well written and well portrayed villian. Of course, a lot of that goes to Waltz' Oscar Winning performance. Instead of a vile, easy to hate Nazi officer that we are all used to, Landa is brilliantly charming. Waltz gives the character a quality of the silver tongued devil; holding thoughtful and polite conversations only to turn at the very end, revealing his sinister truth. Tarantino admitted that Landa was hardest character he has written and nearly stopped Inglourious Basterds before it got off the ground….until he found Waltz and damn, aren't we all glad he found Waltz?
Django Unchained (2012)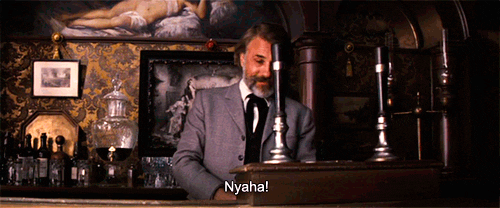 Working with Tarantino again, Waltz proved inimitable when tackling the role of Dr. King Schultz which is arguably his best work. Dangerous, heroic, comedic, stoic, and that great big bushy beard all culminate into an Acamdy Award for Best Supporting Actor again. Tarantino admitted that he wrote the part of a bounty hunter who frees the titular slave in a quest for vengeance purely for Waltz and that is clear throughout. Only Waltz could wrap his tongue around such funny dark stuff and deliver an outstanding performance. Much like his turn as Hans Landa in Inglourious Basterds (though certainly a different side of the coin,) Waltz is by far the most magnetic figure in Django Unchained. Waltz' charm, charisma and scene stealing lines are just many of the reasons why he is nominated for gold. At the points he isn't in the film, you actually miss him and that is the epitome of an impeccable performance.
---
Downsizing is out now!