All across the world, there is one sentiment that binds us together: Love.
Sure. There are people out there who populate hate and degrade us, but a common human element that unites us all (that is surprisingly forgotten about) is our ability to love.
The idea of love, consequences, and heartache is so universal that it appears in nearly every damn movie. From horror to (obviously) romance, each film that graces our screens is powered by love like a Jennifer Rush single. It's what makes movie-going so special, feeling the visceral relationships spring off the screen and into our hearts equally.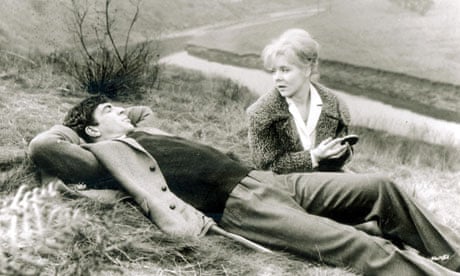 Nestled in the heart of 1960s Lancashire, John Schlesinger's A Kind of Loving is an opulent and terrific drama that captures the essence of love in all its purity, awkwardness, and melodrama. Starring Alan Bates and June Ritchie, the film revolves around Vic and Ingrid who work in the same factory. Vic merely wants a fling whilst Ingrid is looking for love and despite their opposite intentions, they wind up sleeping with one another. However, the relationship is about to become complicated when Ingrid becomes pregnant and the pair are forced to live with her shrewd mother. Can the couple survive their circumstances?
After a series of Kitchen Sink dramas, classic soap opera type films that are making their way back to Home Entertainment, John Schlesinger's work is an intricate affair. Though it lingers like a daytime serial, Schlesinger is sure to pull it out of the TV episodic nature and into a flourishing and intricate romantic drama. The seed of brilliance that blooms gloriously here is the sense of realness. From the awkward and stunted beginnings of first dates to their crowded housing hampering the growth of their new relationship status, the director is sure to mirror real world sentiments that are stunningly tangible, absorbing you into the centre of the movie fantastically.

The pull of the two stars is what crafts and shapes the movie into a stellar and excellent affair, literally. The two have unparalleled chemistry that helps develop the realism in the core of the movie. The waifish yet kind and caring Ingrid, enhance courageously by June Ritchie. The leading actresses is matched in her talent and stamina by Alan Bates' Vic. As the stoic yet flirty man who wishes for a lot of freedom that he can no longer have, Bates' inner turmoil is equally as extensive as Ritchie's. The pair feed the sorrow of their lives and try to find joy in their situations and world.
The film may have typical flaws that can come from a romantic drama but the nuanced chemistry between the leading stars and the wonderful development of the story, A Kind of Loving melts into your attention and swims through your emotions. Enthralling, absorbing, and just so excellent to watch, A Kind of Loving is a terrific endeavour to watch.
---
A KIND OF LOVING IS OUT ON DVD & BLU-RAY NOW!