How we define ourselves is a question that crops up at different stages of our lives. The answer normally comes with a change of career, a big move or a new hairstyle. But identity runs much deeper than this, and is closely linked with things like our culture, beliefs and how others treat you. Even the simple passing of time changes us irrevocably. Any or all of these factors can throw our identity into crisis and people can literally be lost in the process. Not just people, whole societies can be lost. This tragic reality is what Embrace of the Serpent masterfully explores. It is unsurprising that it is up for an Oscar later this year and has already won several other awards.
Ciro Guerra, director of Embrace of the Serpent summarises his motivation for the piece – "The film is inspired by the travel diaries of Theodor Koch Grunberg (1879–1924) and Richard Evans Schultes (1915-2001). These diaries are the only known accounts of many Amazonian cultures. This film is dedicated to all the peoples whose song we will never know."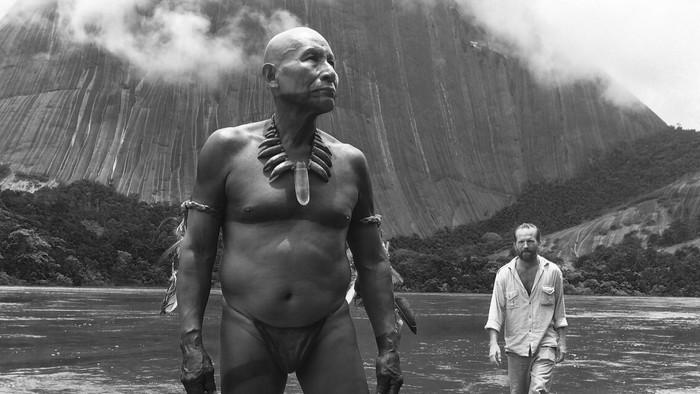 It follows the footsteps of Karamakate, an indigenous shaman who navigates life through dreams and his understanding of nature. The last of his tribe, Karamakate is suspicious of others' agendas, in particular that of the white men who have exploited his people and the land they call home. So when two travellers at two different times in his life both enlist his help to find the same psychedelic plant, there is more to this story than meets the eye.
The film shifts between two points in Karamakate's life – one where he is a young man, passionate about his culture and intolerant of those who do not follow his strict beliefs; the other where he is an old man, a shadow of his former self and mourning over his lost identity. He describes himself as a 'chullachaqui', an empty vessel, without purpose and 'lost in time'. A befitting statement for the ancient tribes that once lived there. Both narratives travel along the Amazon river, where we encounter various images of colonialism – an indigenous group introduced to Western technology, slaves exploited by the rubber trade, children stolen from their homes to be 'saved' by Christ. The earlier narrative highlights the cause, the second bears witness to the tragic effects.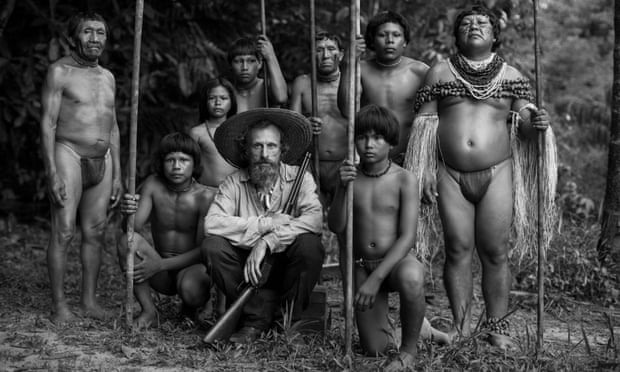 The film is beautifully shot and dreamlike in its representation. All in black and white, save one psychedelic trip, and shifting across a non-linear timeline, we feel part of a world that is wholly unreal. Considering the very real tragedy that Guerra is conveying, however, this seems somewhat counter-intuitive. But it works. You are transported to that place, that time, you forget you are watching a scripted piece at all. It also highlights how intangible the lives of those ancient tribes are to us now. As Guerra points out, the diaries of Grunberg and Schultes are the only accounts we have access to which describe these lost Amazonians – and now this film, which brings them to life once again.
My only criticism is that some of the script is a little clichéd. Colours of the Wind could easily have been used as part of the soundtrack. Saying this, clichés become so for a reason – in Guerra's attempt to accurately represent this ancient civilization, there is only such much room for poetic license and ad-libbing. And this in no way detracts from the message of the film or the narrative itself.
Embrace of the Serpent is a powerful and compelling film, with enough story to keep the audience engaged. The actors and director should be commended for their hard work in capturing a lost world.
---
Embrace of the Serpent is out on DVD & Blu-Ray now!