'You always keep your eyes shut?
I'm with you. It helps me be with you.'
The tender first words uttered by our intimate pairing, that perhaps all encompasses this Olivier Ducastel and Jacques Martineau romance. The human condition allows us to show compassion. Love unconditionally. We may sporadically imagine our ideal scenarios of meeting a significant other. A soulmate.
Yet if it's in a setting that is deemed unorthodox. Through circumstances that many would deem shaky foundations for a fully fledged relationship. The sheer fear that consumes our fragile hearts and fractured minds, threatens to contort these intended capabilities. We become enclosed. Our feelings turn inward. Looking for a way, no matter how desperate, to simply cope with what we feel.
Theo And Hugo immediately transports us to the heady neon-lit confines of a Paris sex club, eager to subvert voyeuristic connotations. The piercing reds. The deep blues. The sense of longing. Accentuating the stifling sweat-dripping sensuality that dominates the film's prolonged, provocative opening. Lingering eyes surveying the explicit scene. For all the attention, the enticing innocent look of Geoffrey Couet's Theo is completely infatuated with the wavy locks and handsome features of Francois Nambot's Hugo. A striking spotlight falling upon both men, representing a passionate purity to their initial sexual encounter together, steadily rotating around 'experiences' that could be constituted as fleeting or forgettable.
Removed from the underground as the affectionate duo work their way back up to the beautifully observed streets of the French capital, the emptiness of the early hours is juxtaposed by the emotional weight that suddenly burdens them through a frank admission. One of the men is HIV positive. The dream destination of their evening possibly tainted as the feverish fixation subsides, as a loving stroll around the city becomes a panic-stricken dash, as they come to terms with the potential ramification and risk of their first time.
There is a rapturous realism instilled within every frame of Theo And Hugo, that you are instantly intoxicated by and fall in love with. The grounded care and craft of its hospital sequences an immaculate example, as the calm of a considerate nurse talking effective treatments is counter-balanced by a hateful verbal tirade by a grouchy old patient (Letting perverts go first!?), subtly capturing the stigma that is still awfully attached and directed towards gay men infected by the disease today. Directors Ducastel and Martineau both refuse to resort to condemnation of its characters nor sugarcoat the situation, allowing the complexities and conflict of these two protagonists to fill the screen, as we become engrossed in the imperfections of their respective backstories that ultimately lead them to each other, with each embrace and lasting look possessing a palpable authenticity.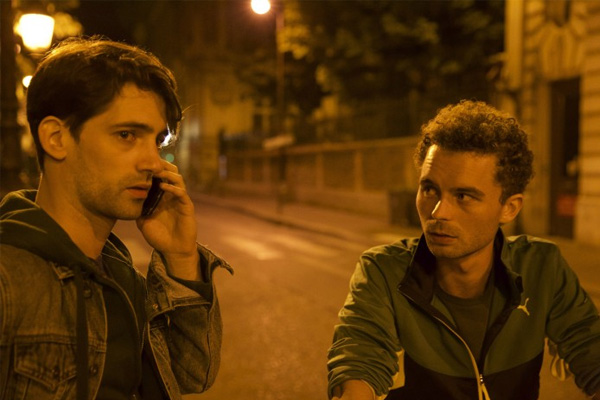 The self-implied new concept of 'the romantic sprint'. A gorgeous tracking shot across a river bank, evoking worthy comparisons with Steve Mcqueen's Shame as Michael Fassbender's grey-hooded sex addict jogs through New York . The lengthy verbal exchanges between Couet's Theo and Nambot's Hugo (both wonderfully played). A fluidity and freedom that would compliment Richard Linklater's Before Trilogy and an unflinching quality that will evoke comparisons with Andrew Haigh's Weekend. For all the visual and tonal echoes mentioned, the film's voice is distinctly its own, splicing through its subject matter with fearless intent.
In an immediate world, Theo And Hugo makes a truly lasting impression. A sensitively handled, emotionally resonant modern-day romance that is all about shifting attitudes forward, remaining defiant in its attempts to not dwell on the past. Superb.
---
Theo and Hugo is out in cinemas now!