Tom Hanks is one of best actors like.  Generations of people have enjoyed his work like.  Heck, we've grown up with him. His one of our acting uncles! From Big to Bridge of Spies, his career has always been terrific, sublime, and gloriously versatile. Bouncing between comedy, dramas, and thrillers whilst warming our hearts behind the scenes and in interviews, there's at least one film of his in your favourites (and that's totally OK if that film is Toy Story because Toy Story is a legit masterpiece!
But a man with so many films is bound to have a dud every now and then. For Hanks, there have been a few  (cough, Larry Crowne, cough.) Surprisingly, however, it's never Hanks who puts in a bad performance. This is exactly how you feel about A Hologram for the King.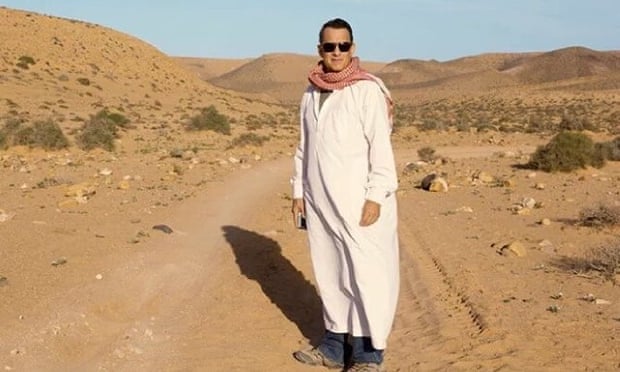 The film revolves around Alan Clay, a failed salesman who is jetted off to Saudi Arabia in order to make a deal with the government. Set in 2010, before the Arab Spring happened, Alan is in the midst of a mid-life crisis following the loss of his house and the divorce from his wife. However, in a brand new country, can he push past the culture clash to find happiness in a new country?
There are a lot of movies about white men who are forced to relocate or chose to explore the world in order to satisfy some sort of ache within them. Usually they are rude and crude caricatures of the culture around them such as Lost in Translation which tried to captured isolation in Japan but found up making the country look like a weird and idiotic place. For A Hologram for the King, there are the usual clichéd jokes such as terrorism, the heat, and trying to ease into a world seemingly parallel to your own. But what the movie does is curve into these stereotypes and allows the population of Saudi Arabia make the jokes themselves and lean away from the often disturbing and wrong thoughts about the Muslim country, curving it away the usual nation change drama.

Tom Hanks is terrific as always. I could spend a lot of paragraph time exploring exactly why but these are great criticisms that the character actor has been swamped with over his career. Hanks is assured and knows how to intricately portray the inner-workings of his character. With astute awareness of his surroundings, Hanks excavates this brooding humanity within Clay and the interaction with this heated world around him makes his journey a more interesting one as he is forced to relocate and assess his situation.
The story is lacking the narrative punch that could elevate it into a brilliant movie. The lagging plot, tonally confused, and lacking story only really develop fantastically coming into the final third. In fact, you'll spend a lot of time wondering why this is actually happening and exactly what are they presenting to the King?  (Psst it's right there in the title but, oh my goodness, why?!) Regardless, investing in a Tom Hanks movie isn't the worst thing you could do this week and the last moments are filled with mature tenderness that will captivate you gloriously.
---
A Hologram For The King is out on DVD & Blu-Ray now!