Blue Ruin, released in 2013, was a taut, unexpected indie thriller which marked both director Jeremy Saulnier and star Macon Blair as talents to keep an eye on. For their next project the pair have joined forces once again, this time bringing with them a talented ensemble cast, to make Green Room, a brutal but engaging horror film which confirms that their previous sleeper hit was no fluke.
Green Room follows the bad fortunes of a young punk band in dire need of a gig and some cash, who take a slot at a Neo-Nazi bar out in the sticks of Oregon. After a successful show, all things considered, a lost phone leads to them accidentally stumbling upon a brutal murder and being forced to hole up in the titular room, as Patrick Stewart and his gang of skinheads attempt to cover up the incident by any means necessary.
The film is a punk tinged throwback to classic siege films and exploitation cinema, a kind of Never Mind the Assault on Precinct 13 if you will. With these kind of touchstones, much of the content is as you would expect, with some liberal use of genuinely shocking gore and lashings of uncouth behaviour.
To it's credit though, the film never veers into gratuity, with nearly every action from both sides seeming believable and necessary, even if it's shocking and violent. Green Room stays just the right side of being a harrowing experience, and is shot through with a tar black sense of humour which helps to ensure that when the film really ratchets up the tension and the blood, it remains thoroughly entertaining.
Much like Blue Ruin, the film is shot in a stripped back, no-nonsense way, but Saulnier manages to keep things visually neat amidst the chaos and the grime, and injects a spark and energy into scenes which keeps the entertainment (and the blood) flowing.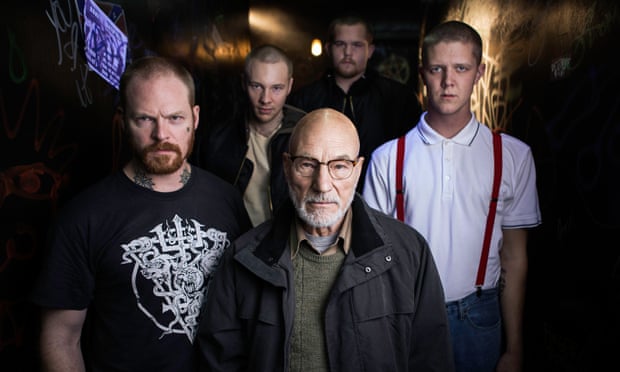 The large cast are uniformly excellent, with a strong villainous performance from Stewart (cutting loose his gravitas and dialling up the evil),  but special praise must be reserved for the late Anton Yelchin. His character Pat, the band's guitarist, is the most nuanced of the group, and the performance requires Yelchin to slowly graduate from the meekest member of the band into a violent vigilante. He is convincing throughout his transformation, adding greatly to the film's sense of believability despite escalating events, and his performance is an unfortunate reminder of why he will be sadly missed.
Green Room is a tense yet zippy thriller which provides horror and humour aplenty, and on evidence such as this Saulnier is cementing his place as a key player in the independent film-making scene.
---
Green Room is out on DVD & Blu-Ray now!