The 60th BFI London Film Festival has just come to an end, and sweet Jesus, what a festival. The sheer quality of the content at this year's event was unbelievable; stunning Oscar contenders, enticing documentaries, and  shimmering world cinema plastered the screens of the BFI to an overwhelmingly positive reception. And just like all film festivals, it's finally time to dish out some awards to the best of the best.
Taking home the award for Best Film, an award that's always nice to have, was Kelly Reichardt's Certain Women, a reflective drama focusing on the interconnecting lives of three women played by Kristen Stewart, Michelle Williams and Laura Dern. The film jury said "In a vibrant year for cinema it was the masterful mise en scène and quiet modesty of this film that determined our choice for Best film. A humane and poignant story that calibrates with startling vulnerability and delicate understatement the isolation, frustrations and loneliness of lives unlived in a quiet corner of rural America". The award was announced by President of the Official Competition Jury, Athina Rachel Tsangari, who voted alongside screenwrier Abi Morgan, Singaporean filmmaker Anthony Chen, British actress Gugu Mbatha-Raw, and Romanian director and screenwriter Rada Jude.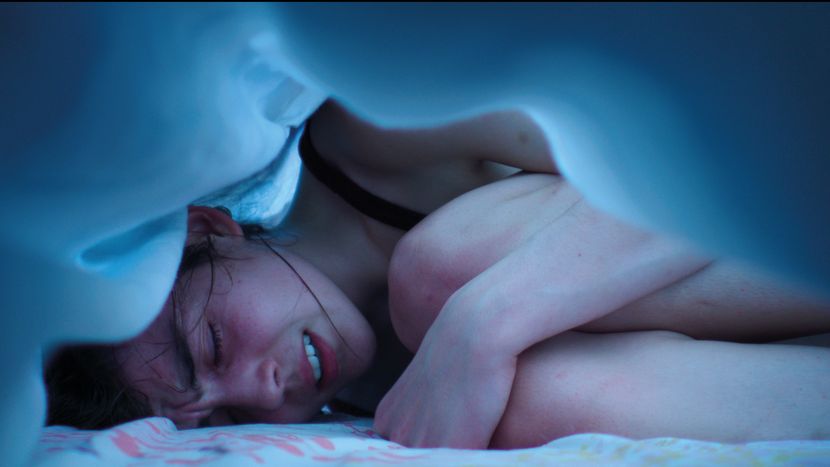 Up next is The Sutherland Award for Best First Feaure, which went to Julia Ducournau for Raw, an inventive body horror about a vegetarian who goes through a carnivorous hazing ritual at vet school which leaves with a desire to eat meat. The winner was announced by Suffragette director Sarah Gavron, who voted alongside filmmaker David Nicholls, The Hard Stop director George Amponsah, Variety's chief UK film critic Guy Lodge, actor Matthew Macfadyen and Nira Park, producer of Spaced and The Cornetto Trilogy.  About Raw, Sarah Gavron said "It is a film that shocked and surprised us in equal measure. We admired the way the director did something completely unexpected with the genre. We enjoyed the outrageousness of the story-telling, and the glee with which events unfolded. We loved the eerie originality of the setting, the dark, dark humour, the great score and the truly distinctive visual language. And the bold charismatic acting of the women at the centre of a film that is both unique and unsettling and will quite literally make some swoon".
Next, it's the Documentary Competition, which was awarded to Mehrdad Oskouei by Emmy winner Louise Osmond, voting alongside producer/director David Dehaney, director Edmund Coulthard, the Vice Chairman of the Grierson Trust Sanjay Singhal, and Bafta nominated filmmaker Sian McAllister.  Starless Dreams is a thoughtful and complex portrait of juvenile delinquent women at the extreme margins of Iranian society, about which Osmond commented: "Starless Dreams is the story of young women in a juvenile detention centre in Iran. By that description you'd imagine a dark film exploring a bleak world of broken young lives. This film was the very opposite of that. It took us into a world none of us knew anything about – the street kids, thieves and children of crack addicts of Iran – and showed us a place full of humour, life and spirit. Beautifully paced with great characterisation and a very strong sense of place, director Mehrdad Oskouei captured the fears and friendships of these teenagers with such humanity. The profoundly moving irony of the film is that it was in this detention centre, with others like them, that these girls finally found a sense of family and home; you feared for them most the day they were released back into their family's care. It's a film that stays with you for a very long time".
Now, an essential in any film award show, The Best Short Film Award, which went to 9 Days – From My Window in Aleppo, directed by Issa Touma, Thomas Vroege and Floor van de Muelenm, which portrays the first nine days of the rapidly changing uprising in Aleppo, observations recorded by the renowned Syrian photographer Touma from his window in the old city. Jury president Mat Kirkby said "When Syrian photographer Issa Touma decided to pick up his camera and film events from his window in Aleppo, he did not know whether he would be alive to finish the filming. Not only does his documentary show what one person, one camera and a restricted view of an alleyway can do to reveal something as complex, confusing, and terrifying as a civil war, but also it demonstrates the power of film to reach the wider world, and make those of us more fortunate re-assess the freedom we take for granted.". Kirkby voted alongside play-write and screenwriter Bola Agbaje, director-screenwriter John Maclean (Who announced the award), the ICA's Cinema and Film Programme Manager, Nico Manzano, co-founder of Blue Zoo Animaton Studie Oli Hyatt, and Academy Award nominee Sara Ishaq. 
Finally, there's the BFI Fellowship, an honour for anyone in the business to have, and this year, it was home grown talent Steve McQueen. Director of Hunger, Shame, and 12 Years a Slave, the immensely talented Oscar winner was handed his award by frequent collaborator and genuinely one of the best actors in the world right now, Michael Fassbender. I can imagine it was a proud and emotional moment for both of them, to be able to have that experience together, as well as being surrounded by close friends and family.
It's hard to believe we'll have another festival this year after how immensely excellent this year's one was, but there were a lot of worthy winners and now plenty of films to add to your watchlist. Let's hope 2017 has just as much to offer.