Supernatural elements have long been used to explore or expose social issues with in film. Films such as Rosemary's Baby all revolve around the supernatural as well as a social human story. The same can be said for Mattie Do's second feature length film Dearest Sister.
The film gives us two strong female leads in a story that explores social class and women's roles in her country and culture. With an eerie supernatural undertone the film works as both a social drama as well as a horror and will leave audiences genuinely startled.
Nok (Amphaiphun Phommapunya), is sent by her family to earn money for them looking after a wealthy cousin, who is losing her sight. Once there she must be at her cousin Ana's (Vilouna Phetmany) bidding but sees all the materialism wealth can bring. Ana can see people in her blurred vision which she believes to be those of the dead. She begins to reveal numbers during traumatic encounters with these spirits, which Nok uses to win the lottery. Drawn in by greed Nok's begins to enable these encounters but how far will she allow this to go to gain money?
Mattie Do became Lao's first female director with her debut film Chanthaly which was the first Lao language film to feature in mainstream festivals worldwide. This is her second feature film and it was presented at this year's London Film Festival. Do's passion for filmmaking stemmed from her country's lack of film info structure as well as the lack of strong female roles in the few films being produced. She utilises Horror as a means of discussing delicate issues such as class and predominantly the roles of women.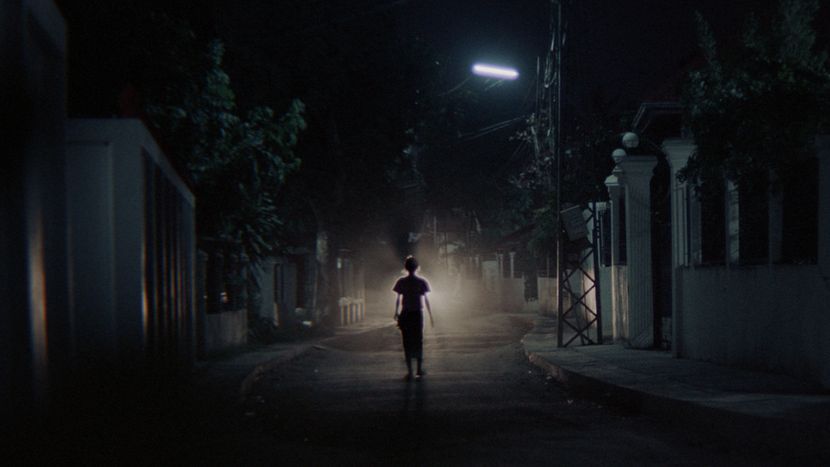 The film can be classed as a horror easily with its supernatural undertones and eerie images of spirts waiting in Ana's blurred vision. Yet to take out this element the film is a drama and a social one at that. In every dynamic and scene the social class and status of characters are explored. Nok works to help her cousin for money sent to her family. She is treated with hostility from Ana who sees her as below her but not wanting a member of her family used as a maid. The first scene of the film shows Nok's boyfriend rejecting her as she will no doubly find a white boyfriend and 'marry well'.
Ana is the other side of the coin. She is a young women from a similar background who has married a wealthy white man. She treats those around her, including Nok and her staff as below her. Yet through the films progression the audience will ask is she really in a better position? Her husband Jakob (Tambet Tuisk) may provide her with a comfortable lifestyle but she is no less a commodity than Nok is to her family.
As Ana's sight fails her the visions she sees become more prominent and the story swirls into a horror that threatened to rip both Ana and Nok apart. The film also has one of the creepiest closing sequences that will stay with viewers once the credits have stopped rolling. Do may be a new director but the film has been shot with confidence. It has an almost repetitive and enclosed feeling symbolising the everyday life of both Ana and Nok.
As the two leads Phommapunya and Phetmany both go on a journey in the film. The once innocent and naïve Nok begins to crave wealth and her actions mirror her greed. Ana is materialistic when we first meet her but as her encounters become more terrifying she begins to care for Nok, making her betrayal all the worse. Both play strong yet vulnerable women and each command the screen throughout in impressive performances.
Manivanh Boulom and Yannawoutthi Chanthalungsy play the households unnerving servants. Hostile to Nok from the beginning their behaviour becomes more and more erratic and potentially dangerous as the film progresses.
The film is very much a small and intimate affair but this only adds to the realness of the characters. An unnerving and on point look at the social dynamics of women in Lao. Even with its supernatural streak the film depicts class relations brilliantly and will leave you with an eerie after thought.
---
Dearest Sister played as part of the BFI London Film Festival. 
It has no official release date.