Everybody I know wanted to have magical powers when they were younger. Everybody. Whether it was superhero mutant gifts or spellbinding wizards, the thought of manipulating your life with a wave of your wand or a wiggle of your nose is something we still wish as "adults" today.
In the movies, films have looked at magic since they could craft moving images (smooth pun well intended.) There have been a whole coven of movies about witches for us to enjoy! To celebrate Halloween, we're looking at the best Witch movies!
Honourable Mention: At this point, we'd like to assume the Harry Potterseries goes without saying…
Practical Magic (1998)
Yes. Practical Magic is a pretty naff film. It's cheesy as hell and has over the top performances, especially from Nicole Kidman. It was definitely one of those movies to gather round on a lazy Sunday night and enjoy gleefully as powerful spells and fun was concocted. The film revolves around a family of witches who are cursed: When they fall in love with a man, he is doomed to die. Sisters Gillian and Sally are rebellious and cautious respectively have to navigate this world of magic and love. With an indelible spirit at the centre of it, Practical Magic embraces the cheesy charm and with Sandra Bullock as Sally, you just can't help but fall in love with it…
Oh, and, who doesn't want midnight margaritas?
Hocus Pocus (1993)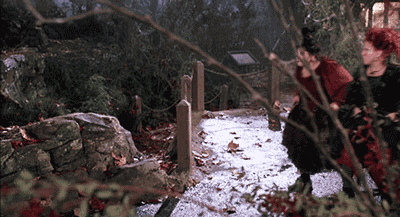 There is nothing in this world that will make you happier than Bette Midler, Sarah Jessica Parker, and Kathy Najimy as hapless evil witches trying to catch a teenager and his young sister. Seriously. The three actresses are clearly hamming it up and having the time of their lives in this wickedly fantastic Disney movie – back when live action frolics from the studios were genuinely great. Filled with hilarity, and the best version of I Put A Spell On You Ever, Hocus Pocus is an entertaining Halloween must from the family friendly studios!
Häxan (1922)
When movies were first invented, it wasn't long until people started exploring the dark side of imagination and the spiritual world of evil. Danish silent film Häxan is often noted as one of the first horror films and one of the scariest, celebrated as an innovation of filmmaking by many critics. The film works as an anthology about Satanism and witchcraft with some horrific imagery, gruesome moments, and surreal sex scenes. Developed by Benjamin Christensen, the depictions of torture, nudity, and sexual perversion surely made people quiver upon first release.
The Blair Witch Project (1999)
The found footage horror has never been quite as spectacular as it was with The Blair Witch Project. Heck, the movie caused such a riot upon release with marketing pretty much saying, "Oh yeah, this is true," that even I clearly remember people crying after release. The chilling horror still shakes audiences to the core today with the atmospheric piece crawling down your skin with this heavy realism. The movie revolves around three students who go into the woods to film about the legendary witch who once lived there. However, they are soon plagued by visions and ghosts and are never seen again…With a lack of jump-scares, the restrained film unnerves with its heavily realistic tones. In fact, one of the final shots will linger forever…
Suspiria (1977)
Stylish, colourful, and compelling, this redolent feature caught our attentions in an icy grip of paranoia and horrific exploration of womanhood. Suspiriarevolves around a young ballet student (Phantom of the Paradise's Jessica Harper) who travels to a remote school and is caught in torment as a series of murders begin. Directed by Italian horror maestro Dario Argento, the film is an atmospheric and powerful film that lurks with contemporary shots, striking imagery, and haunting visuals. With the help of a sensational score by rock band Goblin, Suspiria is unnerving.
The Witches (1990)

Growing up in the nineties, here is nothing more appalling and perturbing as watching Angelica Huston peel off her face to reveal a haggard, wart covered creature underneath. The Witches revolves around a young boy who discovers that the titular fiends are staying at his hotel and they have a plan to turn all the children into mice. With gruesome special effects, Nicolas Roeg masterfully creeps and establishes the brilliant cinematic world of Roald Dahl. Although the author panned this version of this film, it is still one of the most iconic children's movie for all making us piss our pants at least once during childhood.
Seriously, the whole "trapped in a painting" spell keeps me up at night!
The Craft (1996)
This is the pinnacle witch film that saw children throughout the nineties attempt Light as a Feather, Stiff as a Board and all the hijinks this quartet try. One of the most powerful and accurate movies, helped by Fairuza Balk who is actually a Wiccan, the film revolves around four girls in a coven that are torn apart by power when one of them is corrupted by magic. Steeped in nineties grunge aesthetic and enhanced by a brilliant soundtrack, The Craft is also driven by deep routed emotion and pubescent issues that are explored with the aid of spells.
---
Happy Halloween!