2016 comes to an end today, and thank goodness. We've sat through a lot of bullshit to get to where we are today including Brexit, Harambe, Trump, and Batman v Superman. 
The best thing we can do, as film lovers and obsessives, is to remind ourselves how much greatness we've had on the big screen. Here's the best of 2016 chosen by our writers.
Swiss Army Man – Sarah Cook

With acapella music, some impressive film references, and a genuine spirit that develops greatly throughout, Swiss Army Man is a triumph of components making it impossible for you to forget and urges you not too.  Despite the sheer lunacy of premise, the greatness comes from the beguiling humanity and undercurrent of sadness that babbles within the tale like the animated corpse of Manny trying to create a tune. The friendship throughout the film is unparalleled in cinema, of course, and yet manifests in a stirring and enchanting way. The abandoned Hank finds solace and development within the undead Manny who is striving to learn about the life he forgot when he snuffed it the first time. Though your mind, conditioned against the weirdly wonderful, would cause you to scoff, especially as flatulence is crucial here, the urge to lean into the tale causes you to uncover the most stirring relationship. On top of the friendship, the arc of understanding life and love in all its splendour and horrors is so achingly pure that it allows you to fall straight into the seat of strangeness. Which, by the way, is a stellar takeaway from the film.
Daniel Radcliffe and Paul Dano have an enthralling charm and rapport that keeps you invested in the rare goings-on, happily meeting your investment with a joyous and outlandish film.
Take heed in a truly original film created by Dan Kwan and Dan Scheinert and push yourself beyond your comfort zone. After all, that's what the directors did and, for your amusement, they have masterfully created one of the best films of the year.
Sing Street – Sarah Cook
John Carney is a cinematic and musical genius and her furthers his portfolio with the completely rambunctious Sing Street. Revolving around a boy who, to escape his public school bullying and divorcing parents, starts a band to woo the affections of a local girl he has fallen for.
The energetic happiness that beams throughout you as you skip merrily from the screening is unparalleled in this year's collection of gritty superheroes, damned dramas, and the misery in between.  Certainly, that spirituous effervescence that waves excitable and determined emotion through you way past the credit roll is unique to Carney's cinematic portfolio. Not without the ebbs of devastation flowing underneath this inspirational ditty, Sing Street is a power song, a fist pump, and a charge for something greater than the one life has given you. It's hope and courage; rolling with catchy tunes and a beating heart that makes the world a little bit brighter…

Florence Foster Jenkins – Georgia Sanders
Unable to play the piano since contracting syphilis and damaging the nerves in her hands, Florence – played by the ever-perfect Meryl Streep – takes to singing as an outlet for her musical passions; despite her lack of skill in the area. A combination of her wealth, large entourage of friends, and tirelessly devoted husband, St Clair Bayfield (Hugh Grant), ensure that she never receives an honest word's feedback – that is, until her ambition gets the better of her, and she books herself in to perform at Carnegie Hall.
Rarely does one come across a film that is filled with such overwhelming joy and yet such devastating sadness. The quippy and soulful script leaves us both laughing and ugly-crying within moments of each other, with classy comedy – sometimes in as little as a masterful look from Grant. Enveloped in all of the glamour and wonder of the era, Florence Foster Jenkins beams with laughter, tears, new friends and inherent solidarity. It is an utter joy to witness – and like the very real quote from both Streep, and the real Florence herself states – "they may say (she) couldn't sing, but they'll never say (she) didn't sing.
The Nice Guys – Robbie Jones
Here's a question: Why do that people complain all the time about superhero films, reboots and remakes, sequels etc. polluting cinema, yet when an original, excellent independent film comes their way, no-one watches it? That was the case with Everybody Wants Some!!, and it's the case for The Nice Guys. The Nice Guys is one of the year's most delightful films; it's rich in humour, brimming with excitement, beautifully shot and lovingly crafted in every way, and has two stand out central performances from Russell Crowe and Ryan Gosling, who honestly offer some of their best work. Not only that, but young Angourie Rice steals the show too as Gosling's young daughter, proving that she'll be a name to watch out for in years to come. The Nice Guys is a film that gets everything right, and deserved to do far better than it did.
Hell or High Water – Robbie Jones
Never underestimate independent cinema, folks. Time and time again, it delivers some of the world's most magnificent work, and Hell or Highwater is no exception. Director David Mackenzie already proved himself a worth director a few years back with his stunning British prison drama Starred Up, and now he raises the bar a little higher with this new film; a sleek, fast paced neo-Western drama with outstanding central performances from Chris Pine, Jeff Bridges and especially Ben Foster. It's an atmospheric, visually stunning piece of desperation and greed, amongst so many other well seeded themes that shine in this unforgettable cinematic experience.
Notes On Blindness – Lee-Anne Pawley
Notes on Blindness surprised me. And that is why it is my top film this year. I read the premise, I watched the trailer and yet I was not prepared for the spectacular visuals or the sheer ingenuity behind the piece. Simple yet brilliant. Follow a man as he loses something most of us take for granted, hear him describe it in his own words and see the sensation of blindness. Contradictory, perhaps. Stunning, most definitely. I don't want to give too much away – like I said, it will surprise you. And that's the best part.
I, Daniel Blake – Robbie Jones
It's amazing how refreshing a bit of realism can be. Superheroes are fun, and there's nothing wrong with a bit of melodrama, but there's something so nice about seeing something that feels real.  Saying that, there's nothing about the reality of I, Daniel Blake. Ken Loach's latest masterpiece examines the issue with benefits in our country, and the way it affects ordinary people like recovering carpenter Dan (Dave Johns) and single Mum Katie (Hayley Squires). This is a film that makes you feel in so many ways; sometimes, it's actually quite hilarious, but for the most part, it's harrowing. It's a thought provoking and important film that offers you no rewards and no satisfaction, just the plain cold truth, but one that needs to be recognised.
Room – Sarah Cook
In the sublime Room, Joy's story, told through the round eyed innocence of her son Jack, is the endurance through kidnap, rape, and confinement and then, the preservation of her son when he is unwantedly born.
Director Lenny Abrahamson demands the excavation of the human soul in this twisting and the ferocious director encroaches from whilst the young Jacob Tremblay, who, during press junkets and red carpet shenanigans became our adoptive son this year, is a revelation and can tackle the arc of wonder and frustration tremendously well. Earning Brie Larson an Academy Award, this is a defiant role for an actress who has been captivating in all of her career. Here, she is able to layer Joy with the realist emotional changes that her vitriol and rage as well as hope and courage are all utterly believable.  Larson takes a role that could've been wrongfully enhanced by melodrama and, instead, quietly hurts. Surprisingly, it's a performance louder than most.
Room is a marriage of Emma Donoghue's story with these superb talents and it lifts into this powerful and superb feature.

Hunt for the Wilderpeople – Alli Kett
From the director of the excellent mockumentary, What We Do in the Shadows and the up-coming blockbuster, Thor: Ragnarok, Taika Waititi has brought forth his next great hit.
The odd couple/outcasts on the run from the authorities is a well worn movie arc. This, however, is a fresh and laugh-out-loud adaption of Wild Pork and Watercress written by Barry Crump.
After hallucinatons of food and being a grumpy git, we find people accidentally forging new connections in the greenery that LoTR left out.
Sam Neil is delightful as the grumpy adoptive dad, Hec, to Ricky. Played by newcomer Julian Dennison, Ricky is a city boy living the skuxx life, he is equal parts annoying as only a teenager can be, and as vulnerable as a boy being shuffled around foster homes can be. Rachel House as the Terminator from social services is played perfectly from a place of love and hard knocks. No child left behind!
Improvised on the day of filming is s sweet rendition of Happy Birthday that will have you singing it for days.
These are heart-felt performances grounded in reality. The outcasts are running from their problems, but they're also bringing sharp, dark Kiwi humour and jet packs.Hopeful & funny with flashes of sadness and reality. A delightful family friendly film, no schmaltz here, only silly dance moves
Midnight Special – Anne Hunt

It's a plot that we've seen before, back in the classic 80's sci-fi government chase films like ET and Close Encounters but writer/director Jeff Nichols infuses it with enough heart that it becomes somewhat of a love letter to vintage Spielberg rather than a rip off. Some would compare Midnight Special to Nichol's other acclaimed supernatural feature Take Shelter, but this one puts that element to the forefront to drive the story rather than it being a backdrop.

Despite the science fiction component, the exploration of the limits a parent goes for their child is what really propels this film alongside fantastic performances by Michael Shannon. There are some memorable spectacular scenes including what seems to be a meteorite shower at a petrol station and the breath-taking visuals in the crescendo of the final act. Amid a tirade of superhero films, sequels and reboots at the moment, Midnight Special is a breath of fresh air, a welcome piece of genuine art and labour of love.

Love & Friendship – Jo Johnstone
As someone who spends the majority of her time in a cinema or just in front of a screen it is great to be surprised. That happened drastically this year when I saw Love and Friendship. The film, which is a Jane Austen adaptation, should have been straight forward. Victorian setting, marriage as advantage and love as major themes revolving around a feisty heroine. The film indeed has all these elements but displayed a story and central character far different to anything Miss Austen had given us before.
Scandal, trickery, humour, manipulation and deceit are all weaved into this brilliantly told drama and propelled by its astounding lead Kate Beckinsale. For those of us used to seeing the actress leather-clad in the Underworld series or as the beautiful love interest it was a reminder of what a phenomenal actress she really is. Beckinsale delights as the central Lady Susan who plays the characters off around her while exuding charm with ease. An Austen work unlike any other and a marvellous outing for an underrated actress.
Arrival – Graham Osborne
There has been a smattering of science fiction films that have come out this year, some have been good, many more have been bad, but only a couple can hold a candle to Arrival, possibly the best film about a first encounter with an extra-terrestrial race to come out in a very long time (and definitely the best one to come out this year, thank you very much Independence Day: Resurgence.)
The big draw of Arrival is its focus on establishing contact through alternate means that don't involve the army wading in their most powerful weapons/super-secret experimental technology that they've been working on since the fifties. Instead it chooses to address the subject of establishing communication between the two species and ascertaining why the aliens have chosen Earth as their destination. Another point of distinction sees the film giving its protagonist role to Amy Adams, instead of one of the many male actors out there. It's things like this that gives the impression of hope that Hollywood is slowly coming to terms with the modern world and is losing the fear that they'll end up bankrupt if someone other than "Mr. Handsome-White-Guy" is at the helm of their cinematic blockbusters.
The Neon Demon – Sarah Cook
The Neon Demon is an experience that begs for your pound of flesh and then some. Set against the backdrop of the opulent hues and aching skyline of LA, Refn has developed a horrid fairytale for the beautiful age. Three witches set upon a young virtuous girl and spice her with wanting and hellish powers, looking to twist her naivety into their own darker cause. Soon they will reap upon the young girls being, consuming her blood, body, and beauty to satisfy their whims and desires.
As smoke glides across mirrors, as does The Neon Demon puff with a vapid and unforgiving nature. At times, the enlarged egos and extremities in front of you coerce titters of either discomfort or disbelief, and whether or not Refn had intended this to be the case is left to interpret. The feature is definitely not Refn's most accessible (though definitely his least original narrative) but that is part of the enjoyment. With an utterly masterful score by Cliff Martinez, another triumph by the composer, the feast beckons you to dive further into the meat of the story and the palpable tendons and grizzle will linger long upon your taste. Digest it, savour it, and become it, The Neon Demon beckons steely stomachs and hungry eyes for what is easily the most complex, unusual, yet completely phenomenal film of the year.
Your Name – Gloria Daniels-Moss


If you want spine-tinglying magic, with a slight dash of heart tugging romance then Your Name is the one for you. For a Japanese film, let alone an animation to be selected for London Film Festivals competition is quite the achievement and director Makhoto Shinaki provides us with a film that simply 'wows'. Yes, this does re-hash the old familiar body-swap, Freaky Friday formula, yet this is a tantalisingly touching tale of so much more than meets the eye. With comforting Studio Ghibli tropes and animation so sublime you forget you aren't watching live action, Your Name tops the charts in 2016, simply for originality. Finally, something that isn't a slapstick comedy or a possession horror with children. Forget everything you have seen or heard about cheesy, over the top Japanese anime and embrace this mesmerising tale. To state the exact reasons why this film is outstanding would be near impossible – the sheer amount of emotions that will undoubtedly flow through your being at an alarming rate should be enough for you to interpret for yourselves. If you are stuck and want something different to sink your teeth into then sit back and consume this whirlwind of an adventure and step into the shoes of high school city boy Taki or is it country bumpkin Mitsuha?
Everybody Wants Some!!! – Robbie Jones
As much as I love Richard Linklater, I was never a huge fan of Dazed and Confused. Granted, it's been a while, and I'd probably enjoy it more if I watched it now, but at the time, I thought Dazed and Confused was merely okay largely because it was nothing but people drinking and talking. So the question is, why do I love its spiritual sequel so much, even though it's pretty much the same? There's something so charming about Everybody Wants Some!!; every word that comes out of these characters' mouths feels like poetry. Not in the sense that it's beautiful or full of meaning, but in the sense that it all flows so wonderfully as thought it rhymes, everything feels so natural and right. It's got that great 80s atmosphere to it, a cast that were destined to work together, and is easily one of  the best films of its kind.
I Am Not A Serial Killer – Sarah Cook
In Billy O'Brien's masterful and drawling indie horror, two figures stalk a sleepy town where murders arise, played insatiably well by Max Records and Christopher Lloyd. For a young actor, Records has mastered character portrayal well. Really well. Superb even. He has strong ability to transform an easily one-note disassociated murderous teen into an amiable anti-hero who tries his best to control his emotions and sickening thoughts. Though he is clearly a sociopath, he has hopes beyond his mind-set. Matched with Christopher Lloyd's shuddering mysterious elderly gentleman, Records proves he has skills beyond his years. And, it's moot to describe Lloyd as amazing because he is brilliant in everything he does. Here he moves and possesses this character with distinct duality that I cannot and must not elaborate on for fear of removing your enjoyment of the twisting story.
I Am Not a Serial Killer is a thoughtful meditation on the extremities of mental illness whilst balanced with a creepy and engrossing killer flick. Max Records and Christopher Lloyd are an insatiable on-screen pair with a dark and brooding chemistry. While it may falter in place, the gripping actors sublimely convey a sinister yet brilliant movie.
Captain America: Civil War – Jennifer Drewett
In an age where superhero movies reign supreme in Box Offices around the world, it's difficult to be a superhero movie that stands out. It must be of intense annoyance for the production companies of films that stood out for being rather unpopular with audiences and critics. For me, the best film of 2016 is a superhero movie that managed to be remembered for everything the bad superhero movies failed to do: it had breath taking cinematography, interesting themes that brought up ethical issues, great character development and a story that continued on an epic saga. I'm of course talking about Captain America: Civil War. This brilliantly made film is a great addition to the mega successful Marvel franchise that has such suspense and twists that even the most cynical of audience members like myself were moved.
Deadpool – Graham Osborne

The shiny glamour of superheroes on the big screen has started to lose its sheen with me. It was fun in the beginning, but now it's starting to look like the seams are showing in the same way my jeans were after Christmas dinner. As such, I was incredibly disillusioned with the idea of the fourth-wall breaking Deadpool making his way to the big screen. Under so many circumstances, it would have been far too easy to make it a tired parody of every superhero trope out there, much in the same way of the Not Another… series of films.
Fortunately, what we were treated with was a riotously funny, slightly gory story that took great joy in poking fun at its brethren as well as itself and plenty of other film genres too. It's because of this that we're now starting to see several Marvel and DC films getting announced with 15 ratings instead of the more universal 12A, whether this is a good or bad thing will only become apparent when they reach the cinema in the next few years, but it does shine a light of hope that we'll start seeing some more exhilarating superhero stories in the near future.
Tale of Tales -Sarah Cook
Fantasy movies have dried up into sequels or over-stretched books and yet filmmaker Matteo Garrone has reinvigorated his genre with the beating heart of a sea monster. Intertwining three different stories about a jealous mother, a kidnapped Princess and her flea obsessed father, and a King trying to woo an old woman, Garrone has masterful and sublimely worked the tales without overbearing them.
With such evocative images that capture the essence of Baroque black wit and sumptuous performances by the likes of Vincent Cassel, Shirley Henderson, and Salma Hayek that create this stellar film. Tale of Tales is enchanting and powerful, pulsating through you until the very end.
Green Room – Sarah Cook
Following on from Blue Ruin, Jeremy Saulnier creates his most devastating film yet. Starring the late Anton Yelchin and Patrick Stewart, the film revolves around a punk band who unwillingly play for a bunch of Neo-Nazis. Things get worse when they witness a murder and are trapped by the gang who wish to dispose of the witnesses. With phenomenal performances by Yelchin and Stewart (you'll never look at Picard or Xavier in the same way,) Green Room is an utterly compelling and visceral thrill ride.
With Green Room, Saulnier curves into the fear and relishes the thick unease, juxtaposing the quick attacks against the slow and agonising wait the survivors have to take which enhances the experience completely. Pulsating with fear and glorious revulsion, Green Room is this year's ultimate thriller.
Moana – Robbie Jones
This year has been one of two extremes for animated films. When they were good, they were really god, like Zootopia, Finding Dory, Your Name, Kubo and the Two Strings etc. and when they were bad, they were really bad, like Ice Age 5, The Secret Life of Pets, Norm of the North (The urge to kill rises with every mention of that film), but the stand out amongst all of them was Disney's latest, Moana. An exceptional tale of courage and destiny, Moana is every kind of wonderful that exists. Dwayne Johnson is his usual amazing self, but it's titular star Auli'i Cravalho in her break out role who truly shines. Seriously, her singing voice is out of this world, and she brings so much life to, as my friend puts it, "the most realistic Disney princess". The animation is stunning, the script hilarious and heartfelt, and the soundtrack is pure genius. Moana is the best Disney film this side of 2000, and just one of their best in general.

Nocturnal Animals – Scott Gentry
Indiewire's Eric Kohn recently argued in a particularly persuasive article, that movies aren't dying, they're just getting smaller – and that's a positive thing. With a budget of $22.5 million, Tom Ford's Nocturnal Animals most certainly ticks the box – not only in relation to budget, but narrative scope. Led by a supremely talented ensemble cast (Amy Adams, Jake Gyllenhaal, Michael Shannon), this idiosyncratic revelation successfully merges art-house intellect with B-movie thrills, to present a film which never trades its focus for soulless thrills. Instead, Ford dazzles with his meticulous craft and a fascinating comment upon society's representation of masculinity and the dangers of obsession.
Embrace of the Serpent – Sarah Cook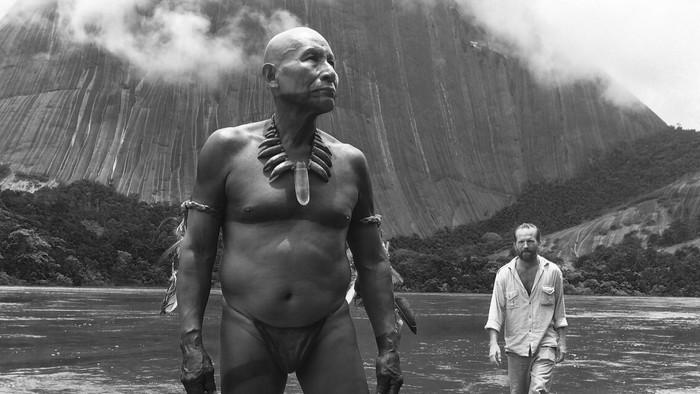 The undeniable transcendent black and white film is the tale of two stories, separated by time, but slither and coil around one another in an enriching and devastating film. The movie revolves around the last Amazonion Shaman, Karamakate, who wishes to tell his story to two foreign scientists as they hunt for a rare and exotic plant to save the life of one, ravished by illness.

You'll be hard pushed to find another movie with such finesse and perfection. The whole cinematic outing knows how to silently and gently move you then throw you completely into madness without a single pause. The tender yet brutal thoughts on colonism and the loss of culture bound throughout the film, rolling through your mind long after the credits, themselves, have rolled on. Embrace of the Serpent is an evocative movie experience and one that will stay with you long after viewing.
Make sure you go submerge yourself in this commanding film, give it the audience that it deserves.
High-Rise – Sarah Cook
The film certainly divided audience members and critics which always denotes thematically thick and plentiful film that resonates completely. Long after viewing, you'll be toying with your thoughts: The captivating scenes will roll constantly through your mind, the rage-filled eyes of Evans will lock with your transgressive soul, and the thought of humanity going berserk over power outages, a tin of paint, and a few cases of wine will never truly leave your mind. Not without out it's darkly comic moments either, High-Rise is an experience in every sense of the word.
Is this the director's masterpiece? Uneasily (as I have so much appreciation for Sightseers that I dare stray from my favourite,) I'd say it's his most accessible yet complex movie to date, where all the elements slot in a crooked manner. As grandiose as High-Rise is, it certainly solidifies Ben Wheatley's stance in the film industry – a bold and daring filmmaker refusing to bow his films to critical consensus.
One More Time With Feeling – Alli Kett
Framing Nick Cave and the Bad Seeds 16th album, Skeleton Tree, my favourite film of the year is a painful portrait of catastrophic grief and love.
Director, Andrew Dominik has been sporadic since his electric debut, with Chopper (2000). Here, he gives us a chance to see how he crafts film. We see scenes being reshot, cameras being pulled into focus, complimentary still photos and the meta acknowledgment of several cameras. The stilted interview style becomes grating. However, when the conversations become freer, they are an insightful and graceful. The hypnotic circular filming of the band playing Girl in Amber, is visually charming. It's haunted, beautiful and narratively satisfying.
Love, loss, death, the inevitable question of moving on. The big questions that don't end in 42. If you're unaware of the unfortunate circumstances surrounding the band, these are best left to the unravelling of the film. There's no pity here. This making of is a record of gut-wrenching catastrophe and heartache.
The big question, did I buy the album? Absolutely, yes.
---
HAPPY NEW YEAR!