Back in 2001, many including myself fell in love with the self-confessed spinster that is Bridget Jones, as she bemoaned the lack of her own love life. Her bumbling awkwardness in social situations, as many who attended a certain Kafka's Motorbike book launch would attest. The consistently scattershot approach to her job and relationships, solidified by an embarrassing slide down a fireman's pole as the highbrow lawyer in Colin Firth's Mark Darcy and playboy persona of Hugh Grant's Daniel Cleaver looked to win her heart.
Yet it's these displays of imperfections that have continued to resonate, making us feel somewhat more secure in our own flaws, ultimately leaving fans craving another helping of this beloved character. Little over twelve years since she was teetering on 'The Edge Of Reason', cue the arrival of Bridget Jones' Baby which sees Renee Zellweger make an overdue and triumphant comeback, reunited with the original instalment's director Sharon Maguire.
On the brink of her 43rd birthday, it has been mixed fortunes since we were last in the company of Bridget. Attending the funeral of Grant's Cleaver and barely on speaking terms with Darcy (Firth), yet she continues to be ambitious as she thrives as a TV producer with her fellow female colleagues, most notably the frank and frequently funny nature of Miranda (Sarah Solemani) looking to encourage to her to keep it casual and with no emotional baggage.
A modern world where apps such as Tinder are considered the norm, it triggers a classic love triangle/who's the father scenario as her attempt at 'glamping' sees her cross paths with handsome millionaire matchmaker Jack Quaint (Patrick Dempsey), whilst Mark's own romantic issues leave him entertaining the idea of reuniting with Jones as she falls pregnant.
The initial apprehension of leaving this rom-com series so long quickly subsides, as Bridget Jones proves as relevant a character as she ever did. Through its solid script, the social commentary remains sharp and witty as it makes neat incisions about the questionable quality of current journalism and its lack of integrity, as Bridget's own role becomes undermined by her new boss who has an eye for the inane and nonsensical.
But the film never forgets to play to the strengths of its previous films, as the brilliantly judged slapstick comedy of Jones being carried by both Mark and Jack down a rioting London street fittingly produces a riotous highlight, complimented by the tenderness and genuine warmth that encapsulates this entry. The visual motifs and montages referencing Bridget's past adventures that will undoubtedly leave viewers feeling nostalgic prove effective as the emotional obstacles she faces throughout her pregnancy are wonderfully observed.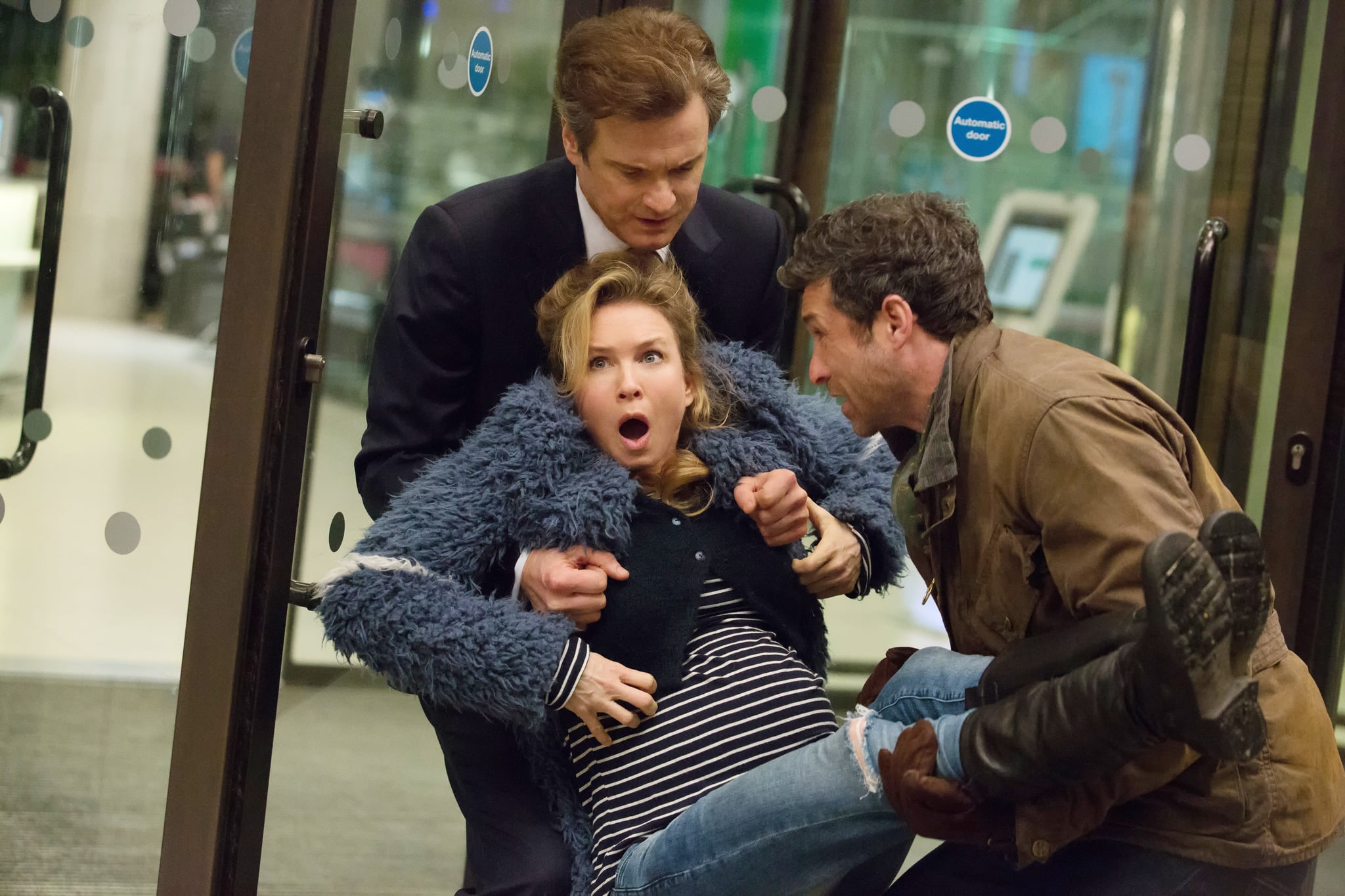 Arguably never complimented enough for his impeccable comic timing, Colin Firth is on fantastic form as Darcy with latest love interest Patrick Dempsey as Jack Quaint proving a worthy American alternative for Bridget. In a role that is thankfully far from one-dimensional, the film offers the question of why a man like Jack who is so interested in helping people find their compatible and significant other, has struggled to find his own soulmate. Emma Thompson's bemused doctor Rawlings who treats Bridget's dilemma like an X Factor Final is an inspired addition, yet the real joy lies in Renee's big-screen return. Whether questioning if she can handle such pressures of a baby or digging herself out of the Glastonbury mud, the vulnerability and sincerity she has brought to this iconic role has far from diminished.
Undoubtedly at a near two hours, there are occasional stretch marks in its simplistic narrative structure. Yet Bridget Jones' Baby is a deeply satisfying and heart-tugging crowd-pleaser of a threequel. Perhaps the Ellie Goulding soundtrack says it best. Renee. We're 'Still Falling For You'.
---
Bridget Jones's Baby is out on DVD & Blu-Ray now!