by Darryl Griffth
For all the talk of epidural and hearty outcries of 'PUSH!', the arrival of a newborn baby into the world is meant to be a joyous occasion. Yet the pregnancy cycle can sometimes be a vicious and draining one, here accentuated for frequently funny and surprisingly poignant effect by Alice Lowe, with her grisly directorial debut. Not a far cry tonally from the pitch-black comedy that dominated her big-screen breakout role in Ben Wheatley's Sightseers alongside Steve Oram, Prevenge draws up its own 'Kill List' along with providing a devilish and unlikely look into antenatal and postnatal depression, as it refuses to succumb to the rose-tinted and pleasant depictions of this particular emotional journey that are often projected.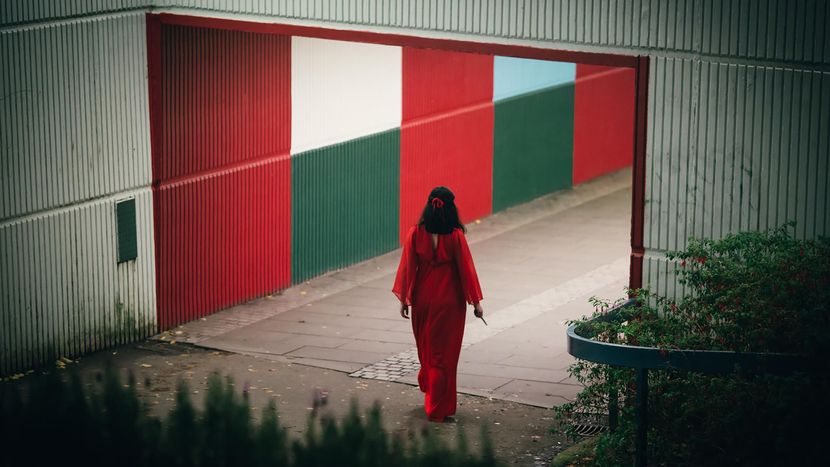 Startling its viewer from the start as we're presented with Dan Renton Skinner's peculiar pet shop owner spouting sly sexual innuendos aplenty, Lowe plays a tortured protagonist in Ruth, whom is as troubled by her pregnant state as she is by the tragic circumstances that plague her past romantic relationships.
Regular visits to a deeply concerned midwife in the wonderful Jo Hartley (baby knows best.. apparently!) as she questions her fragile state of mind and remains oblivious to the murderous chaos being carried out by Ruth only solidify the ill feeling, whilst her consumption of TV and films is certainly of the outlandish variety, entranced by the unsettling imagery from 1934's Crime Without Passion. Considered a 'hostile takeover' of her own body, Ruth is adamant that that her unborn child is encouraging her to carry out these warped acts of violence. Expect afro wigs, rock climbing and boxing gloves.
A parka jacket her 'costume' of choice, looking to justify her unlikely antics as noble, Prevenge is unrelenting in the visceral and savage nature in which it handles the psychology of its pregnancy premise. Facing up to the fierce and degrading misogyny faced by Ruth as it looks to leave the men of the piece emasculated and castrated by conforming to such expectations of a woman expecting, whether it be physical or emotional. The blatant patronising of so-called superiors in the workplace as they downplay the capabilities of someone who is heavily pregnant.
The tonal leaps may occasionally jar, yet the film is consistently deft at handling the potential trauma of its everyday situation in superbly satirical fashion, as its almost fantastical nature complimented by Toydrum's thrilling snyth score aids the fusing of its various genre riffs.
Painting a desaturated visual palette to mirror the gloomy outlook of her grief-stricken character, director and leading lady Lowe captures the anonymity and sense of isolation felt by Ruth impeccably, as the aerial shots of her roaming around deserted streets knife in hand are both deeply disturbing in driving home her ominous on-screen presence, whilst effectively visually interpreting Ruth as a lost soul seeking reassurance. Prevenge is just as effective in embracing the tongue-in-cheek tendencies associated with horror, as deathly stares shot in close-up set to disco classics peppered with deadpan one-liners particularly prove hypnotic and hilarious viewing.
In lesser hands, a frightfully basic and instantly forgettable serial-killer narrative. In execution an unorthodox premise with real depth that is razor sharp in its observations. Armed with a wicked sense of humour, Prevenge is a bloody (quite literally) brilliant directorial debut from Lowe that may just be a cult classic in the making.
---
Prevenge is out on DVD, Blu-Ray, and VOD now!