Michael Keaton was one of the faces of my childhood. Between Robin Williams, Will Smith, and Jeff Goldblum, the comedy/drama performer would be everywhere in my house. I can remember repeatedly watching the trailer for Multiplicity as it was on EVERY VHS TAPE EVER. From then to now, Keaton has had a second wind. A lull in his career transformed into Oscar nominations and, now, his face denotes a stirring, interesting, and beguiling performance.
To celebrate the release of Spider-Man: Homecoming, we are looking at the best Michael Keaton roles.
Guilty Pleasure: Multiplicity (1996)

James McAvoy tackled several different personalities in recent M. Night Shyamalan outing Split. However, his performance is utterly eclipsed by Michael Keaton's stirring performance as, like, seven different people in Multiplicity. No, I kid. The film is a dire 90s comedy that sees Keaton perform as several different manifestations of a man who gets himself cloned to appease his lover. As with comedies of this kin, the premise is stupid and fleshed out in a ridiculous way. But damn if Keaton doesn't put in 100% at shaping the charmer, the idiot, the genius, and the average 90s shmuck who'll eventually get the girl….
Toy Story 3 (2010)

Who doesn't love Toy Story 3? A film that actively ripped out your soul when it near melted all the toys in a furnace. A film that made Andy grow up and say goodbye to his beloved Woody. A film that saw the true viciousness of toddlers. Toy Story 3 was certainly an emotive and fun action packed sequel. Of the new additions to the collection was Ken, voiced by Keaton, and he is one of the funniest characters in Toy Story 3.  Fashion-savvy, passionate about Barbie, and absolutely owning a runway costume change, Ken was a lovable bad guy turned good.
Batman Returns (1992)

I was torn between Batman and Batman Returns but Tim Burton's follow-up to the 1989 outing of the caped crusader is definitely superior. It feels as though Burton was allowed to let his wild imagination fly and it works miraculously well. With the Penguin feeling like a genuine threat to Michelle Pfieffer's slinky, seductive, and scary Cat-Woman, Burton hit all the right notes. Though Batman has had many different nipples within his suit, Keaton is by far one of the best. His Bruce Wayne and Batman combination works and there is an air of humanity and natural comedy that comes with his performance. You believe in his billionaire turned vigilante and when that becomes explosive, you feel for Wayne's suffering.
Spotlight (2015)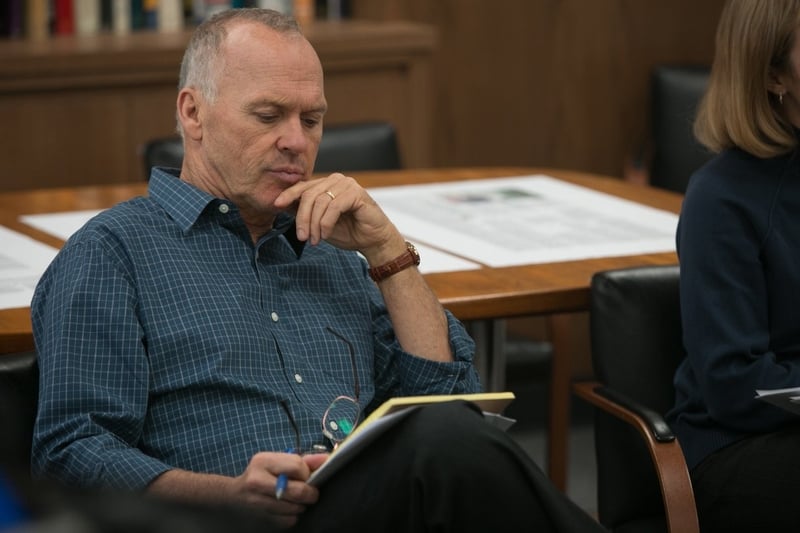 Continuing leading Oscar-nominated films, Spotlight was a combination of stellar actors, important stories, and slow-building drama. It was an non-flashy success that delved into the importance of investigative journalism. Riveting and pain-filled, the tale of the Boston Globe uncovering the truth about abuse in the Catholic Church was captivating. Keaton plays the manager of the Spotlight division and through pursed lips, quietly commands the attention. He's also battling with his own guilt after shunning a victims initial letter to get press involved with the controversy. With Keaton, you believe in this struggle and the importance of the paper.
Birdman (or the Unexpected Virture of Ignorance) (2014)
An absolutely worthy winner of the Best Picture and, in my mind at least, Keaton is the deserved winner of Best Actor. Keaton gifts the film this ferociousness that boils further with every bit of contention that his lead character Riggan is met with. Whilst captivating both the nativity of re-birthing an artistic reputation and the arrogance that all actors and artists embody, Keaton is able to layer the feathers of his character, and then bristle them accordingly. He is a powerhouse, weaving the journey of Thomson and his unravelling mind with magnitude. It's a truly stunning role that Keaton tackles and embodies, breathing life into the wrought moments and the more humorous ones unlike any actor. Birdman is Keaton's film, not just because of the self-referential nature and awareness. Keaton demands your full attention, gripping you into his talented tusk.
Beetlejuice (1988)
Of course. Of course this is his best performance. Of course it is. I forget legitimately all the time that it is Michael Keaton under the make-up, it is that good of a performance. In Tim Burton's brilliant comedy horror Beetlejuice, Keaton plays a ghoul who is hired to help a damp couple spook new residents out of their home. This mind-melting, hilarious, and out-there role, in a perfect world, would've allowed Keaton to win many awards and it is certainly deserving of them. Beetlejuice is one of those cult films that works on every level and that's largely down to how committed Keaton is in the green and mouldy make-up. The fact that the film works now is a testament to how excellent the film is.
---
Spider-Man: Homecoming is out now!