Benedict Cumberbatch is pretty much a British icon. He is the epitome of the talent we show to the world. Posh, goofy, weirdly good-looking, nice, and greatly talented, Cumberbatch has reached great heights here and in Hollywood with all his work. Playing iconic roles such as Stephen Hawking, Sherlock Holmes, and Doctor Strange,  Cumberbatch is one of the finest actors around.
To celebrate the release of The Grinch today, we're taking a look at his greatest roles.
Honourable Mention: 12 Years a Slave (2013), Tinker Tailor Soldier Spy (2011), and The Hobbit Series (2013 – 2015)
Starter For 10 (2006)
Fingers on buzzers, here's your starter for ten;
What movie would make perfect evening or Sunday viewing despite its faults? Starter For 10. 
It is certainly a unique, if not brilliant tale that revolves around a young Essex lad trying to break the mould by joining his University Quiz team whilst trying to balance two women at the same time.  There definitely is a charm to Starter For Ten that doesn't waver from that spirituous British comedy feel. There is earnestness from James McAvoy's Brian and that translates into the movie, keeping you watching. The jokes are there and so is the comedy, particularly a near unrecognisable but predictably stellar performance from Benedict Cumberbatch as the geeky, controlling team leader Patrick who has a rather funny fight scene. There are moments of good heart and the quiz that turns out to be ridiculously shocking.
This adaptation of David Nicholl's (on a screenplay by Nicholl's himself) book still carries faults.. There is a heavily, if shallow, reliance on sentiment that is never properly explored because it focuses too much on the quirk. But Starter For Ten still carries it on and still has a enough gusto and heart to be an enjoyable fare.
Third Star (2010)
Third Star revolves around James, a late twenties man who has been diagnosed with incurable cancer. On the cusp of his birthday, he wants to go to a secluded beach and celebrate with his friends; Davy, Miles, and Bill. Soon the trip becomes a quest to complete one final mission on James' list.

Benedict Cumberbatch (after all, this is why we are here, non?) is absolutely stunning as the lead character. As the dying James, he is able to flit between this pained longing for life to a desperation to seize the little time he has left. While he may seem selfish and self-centred to a lot of people, it is utterly reasonable for him to be. Cumberbatch rounds James with both likability, empathy and a strange un-likability too. He plays him with this humanistic depth and it is outstanding to watch – at points, heart-breaking. It showcases his talent and flits between many issues he has to face seamlessly; from a rant on a beach to unable to cope with the pain. Cumberbatch is excellent here and is supported by a great team too.
August Osage County (2013)
Based on a play and, perhaps, lost in translation to the big screen, August Osage County was a terrific depiction of family feuds within the heat of South America. Following the death of a family patriarch, a family gathering uncovers loads of sordid secrets between estranged family members. Within this film, Cumberbatch played Little Charles, a sweet but clumsy and down-trodden man who falls in love with his cousin Ivy. Though their relationship is incestuous there is also a lot of tenderness from Cumberbatch's character who just, extremely, nice.
We also got to see Cumberbatch's musical side as he tinkled a piano and sung a tender song. It was a sweet and earnest performance that proved that Cumberbatch could escape his Sherlock confines that he was so famously known four.
Star Trek: Into Darkness (2012)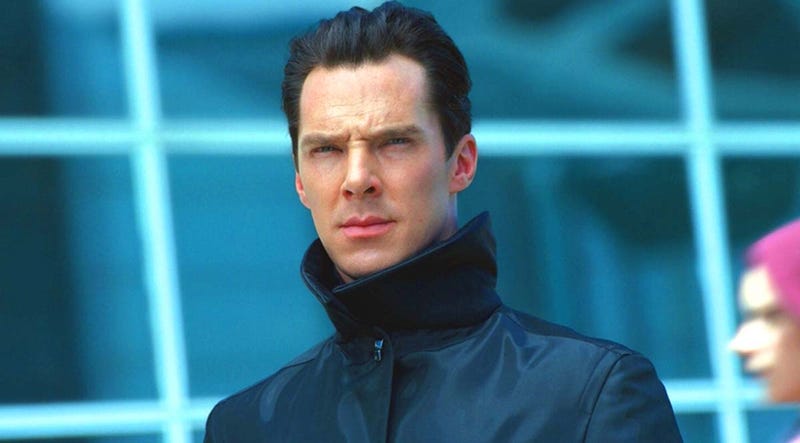 For those who hadn't seen the BBC detective series Sherlock, Cumberbatch's first big role was as the main antagonist  in the Star Trek sequel Into Darkness. The movie follows his exploits as the acclaimed villain Khan who manipulates the Enterprise and Star Fleet to his terrifying whim. Known as an international terrorist, Khan's portrayal – though extremely white (Khan was originally a South Asian character) – was utterly compelling. Benedict Cumberbatch fitted into the role with ease, he was able to convey Khan in different facets of the  character – crying on cue to get the sympathies of Kirk to being utterly malevolent in his revenge against Star Fleet. Through impeccable fight scenes to distinct monologues, Cumberbatch's Khan was only just recently bested by Idris Elba's villainous Krall in Star Trek Beyond.  
Honestly, his delivery of "walk over your cold corpses" is one of the most chilling things that has come out of the actors mouth…
The Imitation Game (2015)

Earning Benedict Cumberbatch his first (and certainly not last) Academy Award nomination for Best Actor, The Imitation Game was a marvellous drama based on the life of Alan Turing. The mathematician was crucial in helping the Allies win against Germany in WW2 but their work was largely secret until a few years ago. However, the UK Government turned against Turing when they found out he was homosexual, leading to his grievous suicide.
Trusting the exuberant and gifted Cumberbatch to give depth to the almost lost figure is a smart move, indeed. Cumberbatch captures a naivety, an innocence and a brilliance that made Turing a magnificent mastermind that accomplished the impossible during a time when hope was diminishing. The lead actor doesn't merely act, he sublimely emotes and encompasses every nuance of Turing in an astute and enthralling manner. Converting each dimension, Cumberbatch is impeccable and heart-breaking here, leaving you with chills.
Sherlock (2010)

Though not a film, we could hardly leave out his most iconic role to date. The modern adaptation of Arthur Conan Doyle's epic detective romp put a massive ruddy spotlight on Cumberbatch and Martin Freeman's Watson, earning Emmy, Golden Globe, and BAFTA nominations all around. Bringing the beloved Holmes to the 21st Century was ambitious but Stephen Moffat and Mark Gatiss did it with such ease. This is partly because Cumberbatch was fantastic in the role: Intelligent and smart but still clueless and buffoonish, Cumberbatch layered the deer-stalker wearing detective with an emotive resonance despite this persistence to having anything.
Due to the schedules of Cumeberbatch and Freeman, Sherlock Season 4 is seemingly the last and, arguably, proved that they should put the characters to bed once and for all (it just wasn't very good). But highlights of the show include The Great Game,  A Scandal in Belgravia, and The Reichenbach Fall which allowed Cumberbatch to get into a murkier and more serious rivalry with Moriarty (played brilliantly by Andreww Scott.)
What are your favourite Cumberbatch roles?
---
The Grinch is out in cinemas now!