by Scott Gentry

By day, Susan (Amy Adams) is the proprietor of an astounding art gallery, surrounded by a stifling intellectual atmosphere within the Los Angeles art scene. By night, she harbours intense and complex emotions concerning her past, possibly fuelling her increasingly aggravating disorder as an insomniac – one which is beginning to threaten her marriage to Hutton (Armie Hammer), who is no longer able to stand her frigid persona. Life itself, isn't exactly following an idyllic template.
But the arrival of a thick manuscript (entitled "Nocturnal Animals") prompts her to revisit the past, as it is the debut novel of her ex-husband, Edward (Jake Gyllenhaal), whom she divorced twenty years earlier. Tempted to discover what has become of Edward's writing, Susan decides to spend her sleepless nights reading the manuscript, but soon discovers a narrative so disturbing, it rocks her to the core.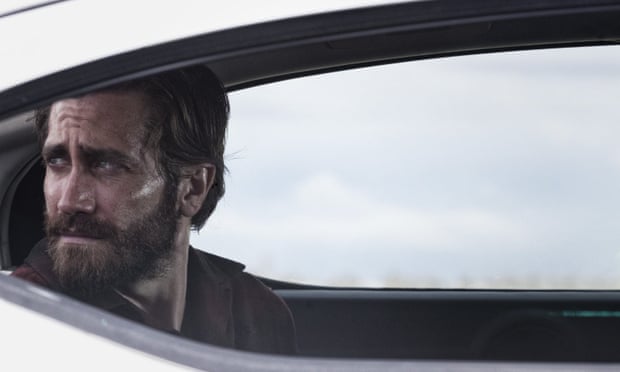 An inherent absurdity lies at the heart of (fashion designer-cum-director) Tom Ford's sophomore effort, entitled Nocturnal Animals. Within reality, this reviewer strongly doubts that many of the characters adapted from Austin Wright's 1993 novel Tony and Susan, would ever behave in such an irrational manner. But upon suspending one's disbelief, Nocturnal Animals became a deliciously twisted neo-noir – a concoction of sublime performances, stunning cinematography and arthouse intelligence, seldom seen in contemporary cinema. Yet, seemingly unanimous complaints regarding Ford's directorial debut (uniquely affecting drama, A Single Man), spoke of him indulging within the mise en scène, rather than attempting to scratch beneath such a meticulously constructed surface. Upon speaking at a recent press conference whilst at the 2016 Venice Film Festival, Ford openly defended his stylistic flourishes, saying "Style always has to serve substance. Believe it or not, I am not just about style, especially in film-making. It has to be part of the storytelling… Stylistically, I never made a decision that didn't relate to the story."
In the case of Nocturnal Animals, Ford is true to his word, as he manages to strike a satisfying balance between arresting visuals and poignant substance. Yet, the film's title sequence would hardly support that previous point. Meticulously designed in relation to style and undoubtedly gorgeous, the film greets audiences with a shocking series of nude, plus-size women, engaged within an intricate dance, as they stand upon podiums. Thankfully, method can be found amongst the apparent madness of the sequence, as the women are soon revealed to be part of an installation within an art gallery, owned by Susan. The inclusion of the women initially proved to be mildly irritating due to a sense of gratuity, but as the film itself advances towards such a jaw-dropping finale, it became immediately apparent that Ford has created art within art. Ford himself has revealed that all of the art featured within the film is real, in the sense that actual artists created it for the production – including the opening sequence. It is an intriguing stylistic choice, in the sense that meaning drawn throughout scenes featuring art pieces, is able to complement the film's overall message.
The film naturally lends itself to in-depth analysis shared amongst friends over a post-screening coffee, due to its many twists, turns and commentary upon various motifs. In particular, Ford hones in upon male masculinity, as he presents a large selection of men with varying characteristics, motives and attitudes. Gyllenhaal's Edward is widely regarded as weak and frequently derided, as he is not able to defend himself emotionally, or perhaps physically. Whilst Shannon's Bobby is a detective with guts, willing to achieve justice whatever the cost. On the other hand, Taylor-Johnson's Ray is animalistic and sadistic in nature – The Master's Freddie Quell, meets Hannibal Lecter. Yet, the film appears to encourage the idea that people should not question their DNA, but embrace who they were destined to be. The sooner society's preconceived idea of who they are expected to be is discarded, the film's characters (at the very least) experience a sense of contentment. But Ford also taps into obsession, as (without providing spoilers) he poignantly writes about what it is to love someone ("When you love someone, you have to be careful with it. You might never get it again."), and unrequited love, whilst clearly signposting how easy it is to become obsessed with a person and the subsequent dangers of that.
Nocturnal Animals is ultimately a type of art which invites conversation surrounding its motifs, rather than settling for audience placidity. But it is a cast of truly remarkable talent, who solidify its themes. In particular, Amy Adams rejects her usual onscreen persona to portray a cold, but intelligent woman whose life choices cause her to be wracked with guilt. The performance is undeniably believable, as the reflective glances following various flashbacks speak volumes in regards to what the character herself is dealing with – dialogue is rarely required. Meanwhile, the ever reliable Michael Shannon portrays Bobby in an unpredictable manner, as he utilises his menacing presence at every given opportunity, frequently switching between friendly and deadly in fits of laughter, which at the flick of a switch, turn to intense rage.
Led by an outstanding ensemble cast comprised of contemporary cinema's greatest discoveries, Ford's Nocturnal Animals is an idiosyncratic revelation, accompanied by another outstanding score from Abel Korzeniowski, as he channels Bernard Herrmann's greatest work. Whilst avoiding pretention by actively indulging within the schlock of poorly conceived thrillers, Ford's screenplay then chooses to elevate an otherwise rote premise, imparting an insightful perspective upon masculinity and obsession, à la David Lynch. A suitably thrilling drama which exudes sexual tension and psychological complexity in abundance, but never compromises upon its intellect.
---
Nocturnal Animals is out on DVD & Blu-Ray now!