Winning an Emmy, an MTV Award, and a coveted SNL sketch, RuPaul Drag's Race is at its peak, becoming more mainstream than ever and earning legions of fans. So much so that there is now a US & UK Drag Convention. Honestly, we're in a spectacular age.
For a few years now, myself and plenty others have spent their time with big hair and even bigger personalities. I have encountered every shade possible and been doused with fishiness. I have sashayed away. I have lip-synced to every pop song in the world. More importantly, I have learnt that eight and half seasons plus two All Star special shows is an unbeatable drug. One that I have subjected myself to again as I am on a second course of the show, plus its spin of a show of massive souls, tender hearts and the most diverse collection of people can hook me like no other.
Not only am I struggling to assimilate back to life without bedazzled frocks and big wigs, but I really am trying to figure out how I can look as good as the contestants on this phenomenal show. And if you haven't already, you should really get yourself into it.
I was lucky enough to be introduced by a brilliant friend of mine in the way that someone grabs you by your shoulders and goes, "You need to watch this fucking show." Not really knowing that much about drag despite adoring people like Divine and Rocky Horror Picture Show, I never realised how much I was missing out on.  For those who have kept their penises untucked, RuPaul's Drag Race revolves around 9–14 (depending on the seasons) drag queens who come to compete to be America's Next Drag Superstar. Through a series of hilarious challenges and runway attire, a Queen is eliminated every week until one remaining person stands as victor. There's also the usual reality show hoopla including sponsorship everywhere, cattiness in the work room, and behind the scenes commentary with the Queens.

It may sound simple enough, but I swear to Ru, this is an ingenious and altogether incredible show. It is an on point runway of drag talent that look sickening, fierce, and all the other dialogue thrown around the drag scene. The abundance of characters that strut around the show is breath-taking, from the timid and anxious ridden to the showboat ponies. There's precise and silly comedy, homages to trashy films, and costume crafting that will blow your mind (the artistry of Kim Chi in Season Eight is singularly spectacular).
The minute Shannel in Season One walks through the green adorned doors and onto our television sets, you are swept up in gaffs and wigs. Sure, as with every reality television show, there are a few people who'll get lost in the eliminations. But most of them will touch your heart and be entirely memorable. You'll have roughly five favourites per season that you'll never forget. My list is ever-changing and possibly never-ending, but highlights include Trixie Mattel, Ginger Minj, Bob the Drag Queen, Bianca Del Rio, Sharon Needles, Nina Flowers, Manila Luzon, and Pandora Boxx. Unabashed, unashamed, and unparalleled queens who will sink with warmth into your heart and, if you aren't careful, you'll obsess over.
It would be Ru-miss of me to exclude my favourite queen from this article and the aforementioned list because there is going to be at least one keen who'll match your soul. (Trying to form this in a way that isn't me whining: "iloveheriloveheriloveher" is going to be difficult." For me, Season Seven introduced the world to Katya Zamolodchikova – the big Red Scare with the long blonde hair. When you get to Season Seven and her, spoiler alert, All-Stars Season Two series, you can see why she is not only my favourite, but a fan AND constant one too. Katya, portayed by Brian McCook is an anxiety riddled Queen who's bizarre brand of humour and genuine openness on the show makes her highly infectious (and not just sexually too.) Messy but meaningful, Katya brings another level to the show and is a must-see and much beloved addition to RuPaul's Drag Race.
Now let's talk host RuPaul. Not only is she ridiculously talented, but she is stunning too. She is able to appear in every episode without making you sick and bored of watching her. Every outfit is to die for and she really connects with her contestants. The laugh is insatiable, the acting is great and it is so hammy but delicious that you are more than satisfied to continue through the amazing six seasons that get better and better. Joined by regular judges such as Michelle Visage and Santino Rice, as well as guests such as La Toya Jackson, Neil Patrick Harris, and more, there is just nothing about this show that doesn't hit the right note.
Post RuPaul, you may find yourself wandering the streets of whatever city you are in and trying to get people to Lip Sync for you. For that ache where RuPaul no longer is, (or if you are deeply unsatisfied by Season Nine,) a lot of the past season Queens have Youtube videos, Drag Shows, and performances that are a definite watch. Katya and Trixie Mattel's UNHhhh is a fucking treat if you like your humour ridiculous, stupid, bizarre, and honest.
What ultimately makes RuPaul so unforgettable and easily obsessed over? It is a contest so damn good at making people open their eyes and hearts to a diverse world and culture whilst equally normalising it into day to day life. The emotive backbone of this show is what makes it go from gold to platinum. You'll learn the difficulties that the LGBT community continuously go through for no reason, the broken homes these ladies evolve from and the gut-wrenching tragedies they live with. It's not overdone like most game shows, but it is weaved into the underbelly and told with such humanity that it defies every bigot out there.
So get watching.
Because if you don't love this show, how the hell are you going to love somebody else?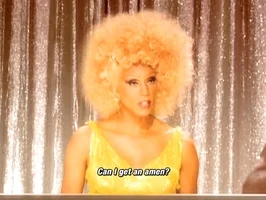 ---
Watch RuPaul Season 2 – 9 now on Netflix now!