Enter a world of ultra violence and international conspiracy this July when Anime Limited (Your Name, Sword Art Online The Movie: Ordinal Scale) expands into the realms of gripping science fiction with their latest theatrical offering, the deliciously titled Genocidal Organ.
Set in a world of surveillance states rife with a disturbing rise in genocidal civil wars, US intelligence officer Clavis Shepherd is tasked with leading a team through unforgettable hells in search of an individual curiously connected to these rising horrors – John Paul, the "King of Genocides".
Has Genocidal Organ whet your appetite for Japanese Sci-Fi, or perhaps you're looking for a juicy appetizer before the main course? Then sink your teeth into these standouts of science fiction anime:
Harmony (dir. Michael Arias, Takashi Nakamura)
A natural starting point for anyone with an interest in Genocidal Organ would have to be the earlier films based on Project Itoh's other novels, including Harmony.
With the world a moral and medical utopia where citizens live longer, happier lives, three high school girls attempt the ultimate act of rebellion – suicide. Led by the defiant Miach Mihie, Tuan Kirie survives but can't forget the hatred she has for this harmonious world.
Years later, the world is rocked by a simultaneous mass suicide, whose responsibility is claimed by a terrorist group through a message strikingly similar to Miach's. Suspecting the involvement of her supposedly dead friend, Tian launches a global investigation for answers to the truths and threats behind a "perfect" world.
Harmony is currently available on DVD and Blu-ray courtesy of Anime Limited.
Mardock Scramble (dir. Susumu Kudo)
When most people think of science fiction anime, their minds may race to the iconic Ghost in the Shell – especially given the recent attention brought by DreamWorks' live-action film. However, if you're after something more tonally in-line with Genocidal Organ, then look no further than Susumu Kudo's Mardock Scramble trilogy.
Based on a series of novels by Tow Ubutaka, Mardock Scramble is the story of Rune Balot, a teenage prostitute seemingly murdered by the notorious gambler Shell Septinous. That is, until she wakes up in a cyborg body manufactured by back-alley ambulance chaser Dr. Easter. Now, Rune has to find the courage to testify in court against Shell – and train to survive his attempts at preventing her from doing so!
The Mardock Scramble trilogy is currently available on DVD and Blu-ray courtesy of Manga Entertainment.
Psycho-Pass (dir. Naoyoshi Shiotani et al)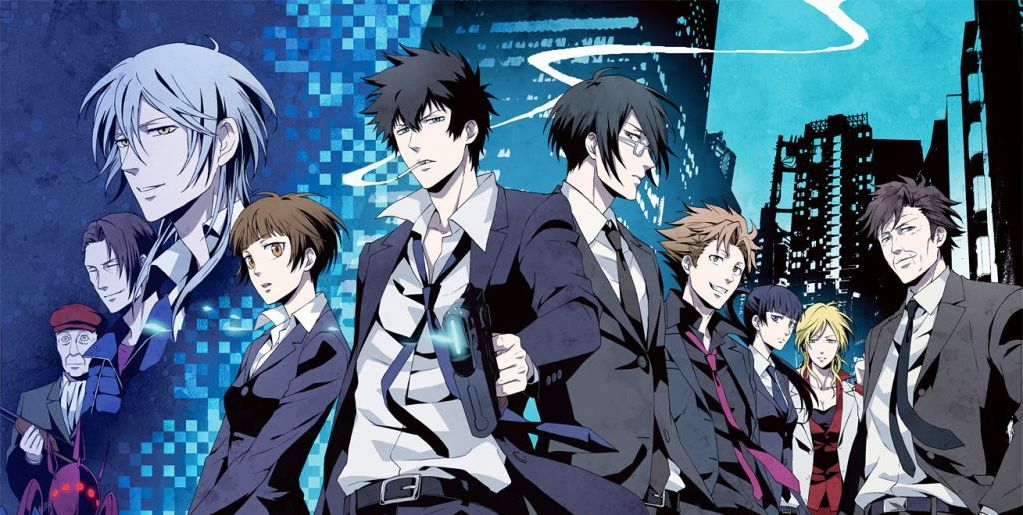 What if the police had the authority to act on crimes not even in motion, based solely on a person's capacity for wrongdoing? That question sets the stage for the cyberpunk dystopia of Psycho-Pass, where society is dictated by the psychometric scans of the Sibyl System and law enforcement are even allowed to use lethal force against anyone who fails – even if they have yet to actually commit a crime.
Akane Tsunemori is a rookie police officer partnered with Shinya Kogami, one of the department's "Enforcers" – latent criminals kept on a tight leash for their criminal detection skills. Together, the pair must overcome their differences to overcome a criminal mastermind intent on unravelling the truth behind their idyllic society.
Psycho-Pass Season 1 is currently available on DVD and Blu-ray from Manga Entertainment, with Season 2 and Psycho-Pass: The Movie from Anime Limited.
Elfen Lied (dir. Mamoru Kanbe)
Exploring themes of prejudice, abuse and identity with unflinching brutality, Elfen Lied is arguably more horror than science fiction. However, if more boundary-pushing ultra-violence is what you crave, then it will be well worth your time.
In an off-shore laboratory, young girls are subjected to experiments far beyond inhumane – the reason being, they aren't human. While largely identical, "Diclonius" can be recognised by protruding horns and the use of invisible "vector" arms strong enough to rip through flesh with ease – as demonstrated by Lucy's gruesome escape in the opening scene!
Wounded in the ruckus, Lucy finds herself washed ashore with no memories, having reverted to an infant-like persona called "Nyu" and taken in by a well-meaning family. However, all because Lucy forgot who she is, that doesn't mean the private military on her tail have.
Elfen Lied is currently available for streaming on Netflix and on DVD/Blu-ray from 101 Films.
Akira (dir. Katsuhiro Otomo)
Did you think we could write a list on science fiction anime without mentioning one of the medium's greatest films?
In 2019, Neo-Tokyo is well on its way to recovery in the aftermath of World War III when biker gang leader Kaneda stumbles upon a secret government project. His friend Tetsu is captured and experimented on in the hopes of replicating their most powerful subject, and source of the Neo-Tokyo disaster, the telekinetic Akira. With two opposing forces now threatening to destroy the city once more, Kaneda must now stop both Tetsuo and Akira, before it's too late.
Akira is currently available on DVD, Blu-ray and Digital HD from Manga Entertainment.
---
If you're looking for an opportunity to sink your teeth into Anime Limited's Genocidal Organ, the film will be released in cinemas nationwide today