I have a theory and my theory is this: Everything Ben Mendelsohn touches turns to pure gold. Though there are films that have faltered despite his presence, he is usually the best actor within them. The Australian star has finally secured a global acclaim with critical praise coming from every country in which his film graces. What is spectacular about his work is how he can transform into different variations of humanity, from the joyous to the criminal, the murderous to the devastating; he truly crafts his work with utmost perfection.
So yes, I think Mendelsohn is one of the world's most gifted actors and everyone should be excited to see his work  in Una, which is out today.
To celebrate this role, we're looking at Mendelsohn's best work.
Honorable Mention: Not a film but make sure you catch him in TV series Bloodline and his break-out role The Year My Voice Broke. 
Beautiful Kate (2009)
Going back home is always tentative in dramas, and Beautiful Kate is no different. It tells the story of an author who visits his dying father with his young and flippant girlfriend. Family tensions arise with secrets pushed achingly to the forefront. Mendelsohn is captivating in this stirring piece that is both hard to watch but poetic in it's conception. As a leading force, Mendelsohn greatly unravels his character as the past irritates the present.
Slow West (2015)
I do feel like there wasn't enough people who flocked to see this slow burning, earnest, and sometimes droll Western Slow West. Starring Michael Fassbender and Kodi Smitt-McPhee, Slow West is about a Scottish man who tackles the Wild West in order to find his one true love. Taken under the wing of a mysterious bandit, the pair are hunted down by Payne (Mendelsohn,) who'll stop at nothing to murder them. Menacing, taking soft moments in his villanary only to be utterly brutal the next, Mendelsohn captures the sheer brilliance of his bad guy talents in this building and beguiling role. With a sublime backdrop, Mendelsohn is great….and has the best coat you'll ever see.
Starred Up (2014)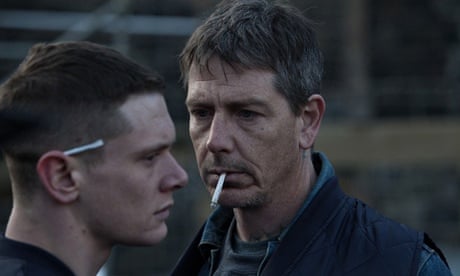 Despite being an Australian actor, Ben Mendelsohn tackles this rough British crime drama with such a might, you'd have thought he was born and bred in this 'ere Landaaan town. Anyway, if there was ever a father-son duo of our dreams, then it would be Jack O'Connoll and Mendelsohn which we greatly get to see here in Starred Up. The film revolves around a young offender whose temper and rage in juvenile detention sees him levelled up to an adult prison where this is more at stake. Mendelsohn plays Neville Love who wants to teach his son how to toe the line but also fills up the young Eric with anger, especially as he left him. There's a great patriarchal chemistry between O'Connoll and Mendelsohn full of frustration, destitution, love, and sacrifice. The final scene is earnest and heart-breaking.
Mississippi Grind (2015)
This is one of those movies where you want to drag people by the ear and force them to watch it. With a bankable Hollywood star in Ryan Reynolds, its surprising people haven't seen this film.  The leading pair, Mendelsohn and Reynolds are captivating in compulsive devastation as gambling addictions ravage throughout them, leading them to work the titular circuit of casinos, card games, and more. Mendelsohn plays Gerry who believes Curtis is his lucky charm and convinces the latter to come with him on this journey. It's a compelling look into desperation and the torment that tackles everyone with this addiction, Mendelsohn is stunning to watch fall apart.
Animal Kingdom (2010)
Perhaps one of the first roles that saw everyone captivated with Mendelsohn's acting which is impressive as he plays alongside Joel Egerton and the phenomenal Jackie Weaver. Telling the very true story of Trevor Pettingill and Victor Peirce who murder two police officers but were shockingly acquitted. As part of a crime family, Mendelsohn plays the menacing and terrifying Andrew "Pope" Cody who is one of the criminal men on the run from the police. Though Weaver's "Smurf" is perhaps the more twisted matriarchal protector, Mendelsohn is deeply ominous and looming throughout.
---
See Ben Mendelsohn in Una now!