by Robert Makin.
Ahead of our special shorts night with International Review, and Ritzy Cinema, we're featuring the directors and their short films.
Today we're talking about Meat on Bones; a movie revolving around two politically and socially different people, uniting on a weird journey.  To celebrate the screening, we spoke with director and writer Joseph Ollman

What was the initial inspiration for the story?
Actually, the film first came to me as a single image of this wild man living on the edge of a cliff in a caravan. I developed the character and decided I wanted to make a story about this guy. But as the script developed and I went through various drafts it became a two hander between him and this other character, Gwyn. It became something about them both and about the human condition as a whole.

How did you cast the film?
I wrote the part of Gwyn for Matthew Aubrey (the actor who's in the film) after having seen him in several plays and thought he was incredible. Then for the part of Dai, I was looking around for a while – auditioning multiple actors. Then I saw Jâms Thomas, a local Welsh actor in a play in Cardiff. Saw him for the part and it just fit.
The landscape feels like a very important part of the story. How did you source the location? Or was it somewhere you'd always wanted to shoot?
After making several films out of Wales, I really wanted to make something closer to home. I'm from near that area and have always thought it was incredible and a great place to shoot something. So I wrote the story around the places that I knew could work. But then there's the issue of gaining permission, which is even harder on a tiny budget. So we were unable to gain permission for quite a few locations that I originally had in mind, so you have to compromise and find other alternatives. I always think it works out for the best though.
For a low budget short film, it's incredibly cinematic in scope, as far as how the location captured on film. Did you have a particular look in mind for the film?
In pre-production I had countless meetings with my DOP, discussing certain cinematic references, many of which were films based in and around nature. But the locations themselves are incredibly cinematic, so that helps. We also wanted to combine a certain raw/natural quality along with it being cinematic, so we used a lot of handheld camera work.
Are the characters in the film inspired by any one you know, or any incident you've witnessed?
I spent a lot of time in caravan parks before the initial writing of the script and there were plenty people like Dai knocking about, but I think there's parts of everyone in each of the characters which makes them very relatable. They're also very Welsh characters in general – people that I would certainly see around town growing up.
What narrative themes were trying to capture within the story?
I guess it's up to the audience to take from it what they wish. Personally, I wanted to tell a story about isolation, prejudice, and being stuck in a purposeless life. But mainly it's about what brings us together rather than what divides us. In the end we're all just meat on bones.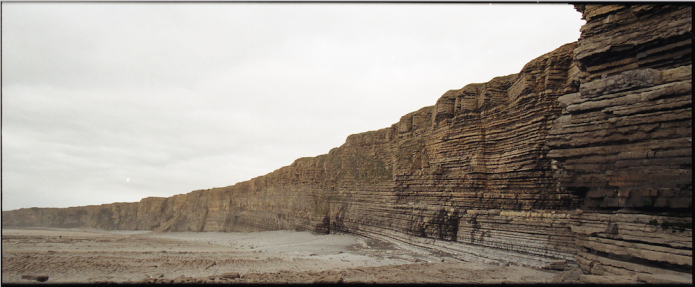 What were the main challenges of filming entirely on location?
Most of the film is set in some pretty harsh conditions, and although it looks sunny in the film, the wind was strong and cold. So it was all pretty tough. Lugging heavy equipment over rocks and mud is always exhausting, especially when you have to then film for 8 hours. We also shot in a cave on the coast that would fill up with water every six hours, so we had to get everything in before the tides came in. There is one particular scene that features the characters running into the freezing February sea, which we were only able to get on the first take – due to risk of hyperthermia. So, that was especially tough.
What other projects are you working on at the moment?
I've just written a 30-minute short film that I'm looking to fund at the moment. My plan is to then develop that story into a feature film and get it made!
---