I often find that the most unusual topics focussed on in a documentary are often the ones that produce the greatest results. A movie about cats in Turkey provoked more emotions than an inspiring sporting doc. A film revolving around  chickens has egged on the brightest and warmest feelings about humanity. Documentaries don't have to be about an incredible moment or figure in history, they just have to approach the subject with care, attention, and purpose.
With Roller Dreams, a movie seemingly about the frivolity of Venice Beach roller skaters, the movie rolls into a stirring and provocative piece about ageing, politics, and the gentrification of California.

Directed by Kate Hickey, Roller Dreams utilises old video tapes and interviews with the stars of Venice Beach to paint a portrait of the roller-skaters who entertained on the boardwalks of Los Angeles. Springing off in the seventies but rising to prominence in 1984, Roller Dreams depicts the hilarious and sun-drenched fun that soon became a tight-knit community, with many patrons still skating today. However, Roller Dreams also depicts the city in all its grit, as well as its glory. Through riots and encroaching police and government presence, the Venice Beach patch soon became a hotbed of gentrification and opposition, disheartening some of the players there.
Whether it's the leader Mad, his wheeled soulmate Sara, or the young up-start Terrell, this personality driven documentary generally has a wonderful and bright nature that is invigorating. Hickey presents insight into the day to day world of roller skating. Though initially the practise of the sport seems somewhat tacky –  a cliche from an era that hasn't aged well – but watching the performers tackle impossible routines with absolute perfection and precision is mind-blowing. There is definitely talent here, drenched in sublime LA sunlight and great beaming  smiles. It's hard not to fall in love with the dancing, the dancers, and their skates as they glide across the strip.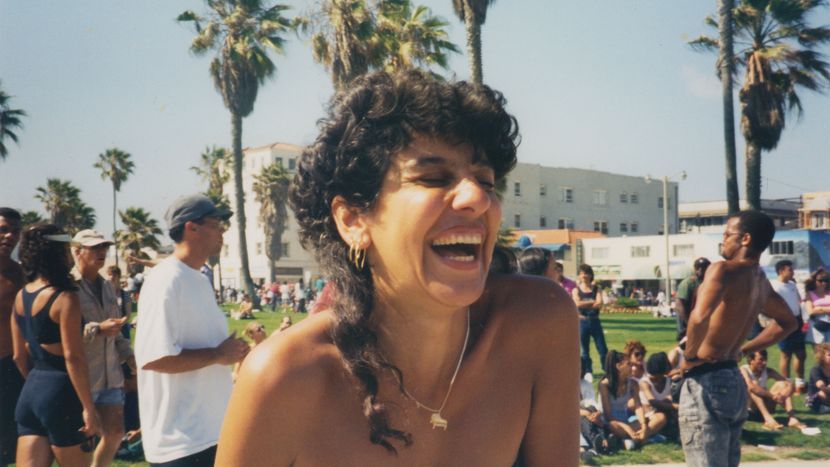 But Hickey, smartly changes tempo, weaving these tempered lives through interviews and how they progressed. Whether it is strict leader Mad vowing to never skate again or Sara's ankle injury, what was once beautiful seems to fall away. Particularly when you include the world of LA altering dramatically and the council shifting and changing so much of roller skating that it became impossible to practise. With riots tinging the air, police cracked down on drug usage and used it to victimise the patrons of Venice Beach. Hickey presents this well, balancing greatly against the joyful beginning.
There are true heartbreaking moments within Roller Dreams as you'll viscerally connect with each performer and the turbulent battles they went through. What starts as a seemingly simplistic story grows with its politics and how the world seemed against our plucky heroes on wheels. Though there are still people immersed in this practise, even though who started in 1984, it's clear that the world has changed dramatically.
While progress may seem good, gentrification and altering the intrinsic communities here, rolls over the dreams of minorities.
---