There are television shows that will bounce around your friend's conversations and permanently sit on their tongues. You can't escape watercooler catch-ups without hearing about that cool thing that Jon Snow did (you know, spoiler alert, he came back to life.) or how a cancer ridden man can start a drug empire with the help of a school drop-out. There is so many television series that you -"OHMYGOD HAVE TO SEE BECAUSE IT'S LIKE THE BEST!"-  see that it's natural to be a little late to the party like a person still clapping after the lovers have kissed and parted.
Anyway, I'm just saying that at We Make Movies On Weekends, our overwhelming obsession with Stranger Things developed later than most. But we love the Netflix original so much that we just had to talk about it, even if you already know that it is, like, the best. Especially because Season 2 is out TODAY!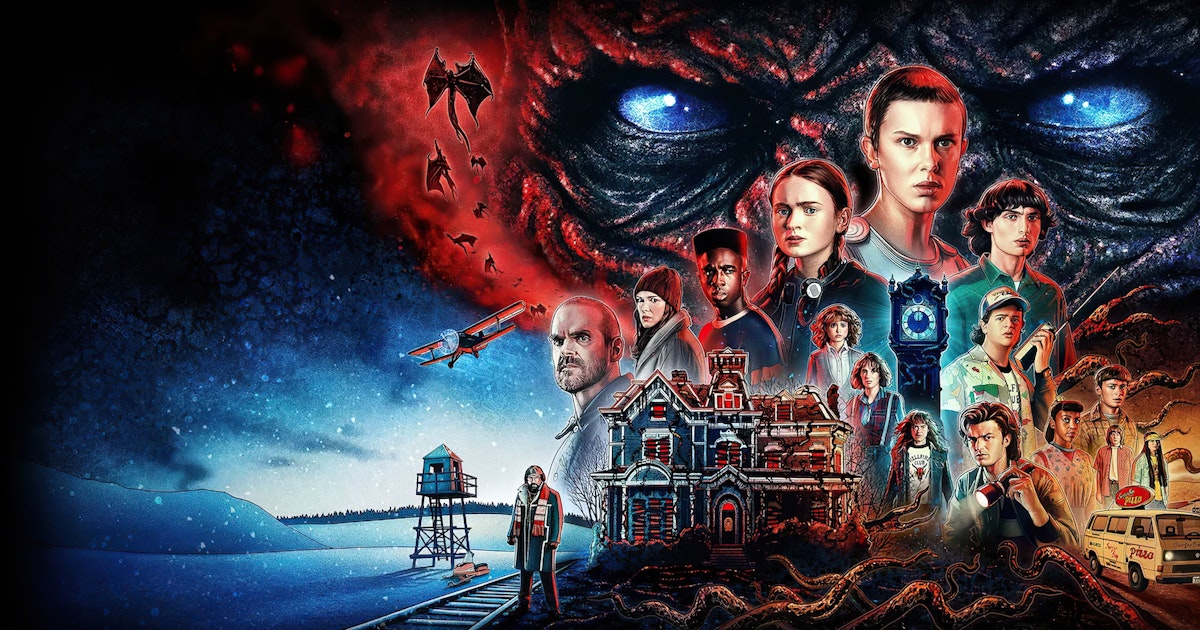 Stranger Things is an eighties science fiction thriller romp that revolves around the disappearance of a young boy Will Buyers who goes missing on the way home from his friend Mike's house. With the small town of Hawkins impacted by the unusual case, his mother Joyce is convinced that she can hear and sense him in their house. When weird events start to happen, Joyce could very well be right and it becomes a race against time to figure out the mystery. Meanwhile, the distraught Mike comes across a mysterious and near-mute girl named Eleven who may be the link to solve the case of Will Buyers.
Throwback nostalgia from The Duffy Brothers echoes the heart-swelling action of classic family adventures such as The Goonies or ET whilst still maintaining a lot of terror and horror to keep your heart pulsating. The gripping storyline that is handled by a multitude of directors is impeccably paced so that the chills are daring and plentiful. From the beginning you are immersed in this strange world of parallel universes, gifted girls with powers, shady government practises, and a small town rocked by disaster. Each twist and turn is lovingly nuanced with palpable thrills and a mystery plot that makes you want to equally grab a bicycle and go on an adventure and hide underneath your Care Bear addled blanket. It's a superbly tense and engaging science fiction affair.
Great characters only add to the enthralling mystery with different age levels tackling different poignant storylines. Seasoned actors such as Matthew Modine and Winona Ryder grapple bigger adult themes of loss and addiction. Ryder's Joyce is a spectacularly fleshed out beyond the grieving mother and her anger and rage at the circumstances mixed with the hurt and abandoned make her one of the actress's better roles.  David Harbour as Sheriff Hopper is equally brilliant. His gruff manner may be typical of a lot of shows and movies but his reason and rhyme plus sensitivity and emotion graces the character with an originality. Charlie Heaton and Natalie Dyer as teenagers Jonathon and Nancy follow their own arcs that are gloriously and realistically embellished. The younger actors such as Millie Bobby Brown, Finn Wolfhard, Gaten Matarazzo, and Caleb McLaughlin) deal with the unusual entities with alarm and a captivating presence and their chemistry together sells this fantastic comradery.
With a synth heavy score and eighties addled soundtrack, Stranger Things is a unique yet familiar show that is embroiled with the right amount of fear, drama, visceral tension, and an unravelling other-worldly enigma. Captivating to the very last episode, Stranger Things will pull you into the Upside Down and never let you go.
---
Stranger Things is available on Netflix now!