Right, let's be real here: You saw Colin Farrell's one naff performance and snorted going "oh yeah but which one?" Because he has had some really shaky choices that were not indicative of who he is as a performer.
In fact, I totally think that Farrell would do the same. But nowadays, the Irish actor has pulled himself up by the britches and now is an asset to a film. His work has consistently propelled upwards, with intensity and skill. A large part of this is to do with the projects he has been given as well as the directors he has worked with. With this combination and his natural talent, Farrell has brilliant
But yes, we had to pick one naff performance still…
One Naff
Daredevil (2003)
…And naturally, we've gone for Bullseye in Daredevil. Sure, we could have gone for Fright Night, Total Recall,  A New York Winter's Tale, and more. But there is something very gleefully bad about this villainous role. Daredevil, particularly the original cut of the film, is pretty bad as a whole with choppy editing and a bewildering plot. Colin Farrell's bald-headed dart player who is really, really good with his aim was farcical, non-menacing, and ultimately completely missed its target. Which is ironic, come to think about it.
Four Great
In Bruges (2008)
I could happily watch Colin Farrell in Martin McDonagh's film every day for the rest of my life. That would be a good life, wouldn't It? The film revolves around two hitman who are sent to Belgium for what one assume is temporary exile after royally fucking up. His partner, however, has other orders. Starring opposite Brendon Gleeson, this wickedly smart and deeply dark film gives Farrell the material to be in his element. Witty, hilarious, and very fucking smartly done, Farrell is genius in this role and it even earned him a Golden Globe!
Horrible Bosses  (2011)
Much like Tom Cruise in Tropic Thunder, Farrell did something great – he made himself ugly. Transforming into the sleazy and mean, but ultimately unforgettable Bobby Pelitt, Farrell hammed up this brilliantly bad boss who fired people for being fat or tried to hit on the "hot" women in the office. While Horrible Bosses may have its faults, Colin Farrell isn't one of them and his work here should be celebrated more.
Fantastic Beasts and Where to Find Them (2016)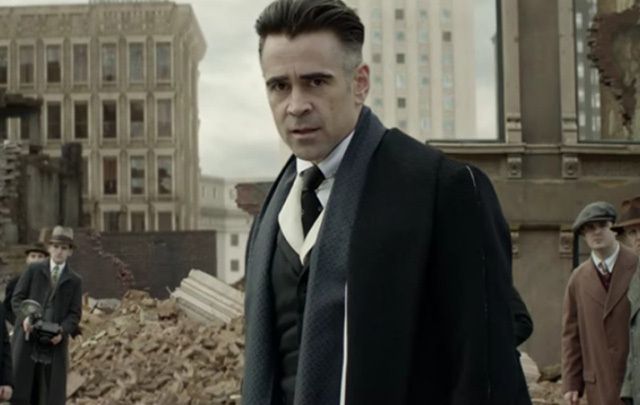 BRING COLIN FARRELL BACK!
Ahem. Apologies, but this is exactly what I am screaming ever since, SPOILER, Grindelwald's façade as Percival Graves revealed him to be a bleached blonde Johnny Depp. Yeah. No. We'd spent the whole film absolutely adoring the Irish actor's villainous role as Graves as he manipulated his way through wizarding New York in pursuit of Newt (alternative title?) His glower was menacing and seductive at the same time – it was brilliant. When he was forced to reveal himself, I'd happily accept Colin Farrell as Grindelwald. But alas, that wasn't to be.
The Lobster  (2015)
That being said, his work in Yorgos Lonthimos' is by far the most unusual and most compelling work he has ever done. The surreal dystopian film revolves around a world where you have to be married. If you aren't, you'll get turned into an animal. Presenting love in its cruellest of forms, The Lobster is a deeply disturbing but fantastic work. As the leading man , his wide-eyed, hopeless portrayal, carries an undercurrent of sorrow throughout. There are truly horrible moments that Farrell handles with depth and intricacy and an incomparable earnestness.
Honourable Mentions: The Beguiled and Seven Psychopaths 
---
The Killing of a Sacred Deer is out now!