We get it. You're sick of superheroes. Guess what? We are too.
Back in the day this was a niche genre, appearing every few years and dazzling us with their caped crusade. Nowadays, you cannot move before spandex clad genitals are thrust into your face. We've had so many that we've experienced each incarnation; from independent, gritty, and real characterisations to bonkers and bizarre depictions, we've had our fill of super-powered people trying to save the day.
They've even infiltrated our television screens with shows such as Arrow and Daredevil  And if there was one thing in Superheroville that we were even more exhausted about than the general gifted genre, it's X-Men. Yawn.
So the idea of a television series looking at the son of Charles Xavier seemed as though the mutant mining was running dry and, I suspect, you're feeling it too.
But you're wrong, like I was wrong. Legion comes from Fargo front-runner Noah Hawley. And in those hands, it is genius.
Starring Dan Stevens, Legion revolves around David, a paranoid schizophrenic living in a mental health institute alongside his friend Lenny. When he meets Syd, a woman who refuses to be touched, he easily falls in love with her. But she is harbouring a secret: She's really mutant with the ability to swap consciousness with anyone she touches. After their first kiss leads to mayhem, David soon discovers that there is a power under his illness…as well as something terrifying…
Dan Stevens is electrifying as David. He has to transcends different versions of the lead character; happiness, sadness, confusion, heroism, and plain evil. All embodied in his performance, Stevens' presence on the show is wonderful. That being said, the real star here is Aubrey Plaza as The Shadow King. Transforming into Lenny, David's fateful best friend, Plaza becomes this spectacularly demonic and twisted character, tormenting David from the inside out. She is demented; a true villain that sends shivers down your spin as she worms further into David's subconscious. Plaza is seductive and sinister, crazed and compelling. It's her best role.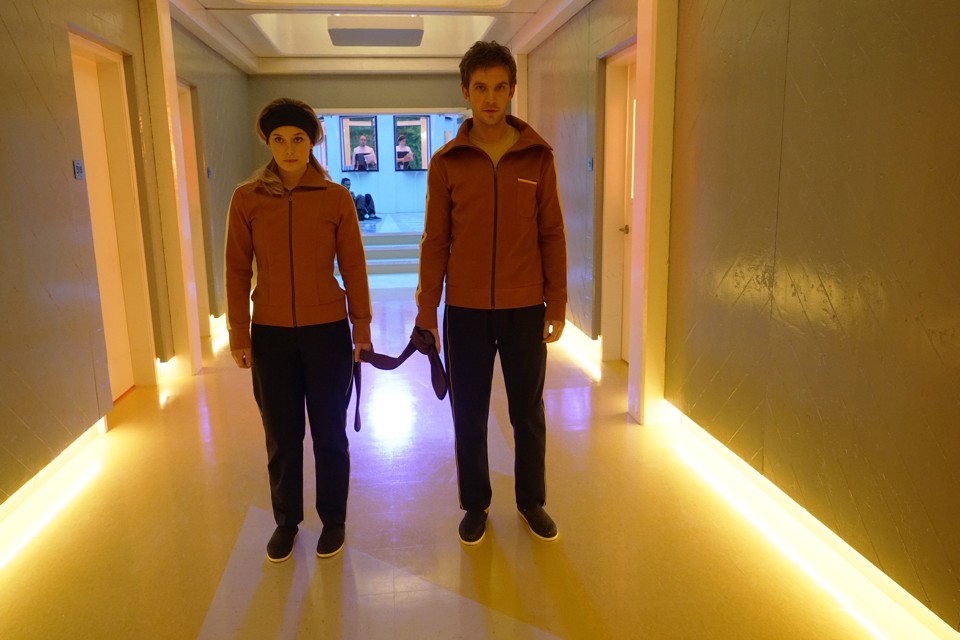 It's also with this that Legion's scope and aesthetic changes. See the events we are being shown are immersed through his illness and The Shadow King's manipulation. egion has produced some of the most (and literal) mind-bending episodes that have ever graced superhero TV. Nay – usual TV. Creator Noah Hawley has melded mental eccentricity with power drama and intriguing character development whilst also producing memorable scenes in the shows unusual set-design and scene exploration. Characters are dressed in seventies attire and moments shift and alter in front of you, depicting David's confusion extremely well. Set to an impossibly brilliant score by Jeff Russo (you can see his work more recently on Star Trek: Discovery,) and Legion levitates into this exceedingly unique and visceral television show.

Let's talk about the best episode because, honestly, I've been waiting to shove this in your faces since I caught it on television. Episode 7 is going to be one of your greatest televisual experiences of your life.
*Spoiler Alert*
Episode 7 sees David and Lenny in a grip over his subconscious. Fully taking David over, The Shadow King is utilizing David's powers in an attempt take over the world. With time frozen, David is ready to fight back…with help from himself. This multi-layered episode is impeccable. The film sees Dan Stevens playing opposite himself as he tries to breakdown what's happened in his life and what he can use to fight against this entity. In another plane, the hospital is viciously rebuilt with The Shadow King taunting all of David's friends and colleagues whilst Olivier, who'd been previously trapped in time, attempts to stop the villainous ploy. Impeccably written and executed,  the crescendo is magnificently done; as David smashes through the layers of his mind, The Shadow King torments Syd and crew in an epic silent movie homage (making their actions all the more graphic.) All set to the Bolero. It's incredible.
 Legion blazed through its season with wit, originality, and terror; it is unique against the backdrop of mutant and superhero fatigue, offering a new spin on the genres that we know. I'm excited for you to watch it and for what Season 2 has to offer.
---
Legion is available on DVD, Blu-Ray, and VOD now!