Christmas is here so some of the team is tackling our favourite festive films: 
Nightmare Before Christmas (1993) – Sarah
The Nightmare Before Christmas is one of my favourite films of all time. It is by far the greatest Christmas movie because as a stranger who never had a Christmas, Jack Skellington highlights all that is great about the season (some we may have forgotten about) and Jack, as a character, I feel most for. He is a man who became complacent at the top of his game, tries something new and fails but uses that mistake to do greater things back where he belongs. As a monster, he is the most human lead character I have ever seen. And so many relate to him, his creator and his movie that it is great to see him with this cult following along side his love Sally, the voice of reason who longs to be free. They are characters that speak volumes, stick long after your first watch and never get old after you hundredth. The Nightmare Before Christmas will be with us for years.
Die Hard (1988) – Robbie
For those of you who have read the title and raised an eyebrow, yes, Die Hard is a Christmas film. Is it traditional? No, of course not, but how can we still be denying the festive spirit in this masterpiece of action cinema? Die Hard is one of the greatest action films ever made, if not the greatest, and the main reason for that is that it's not a spectacle; don't get me wrong, the action sequences are terrific, but what really brings the film home is the grounded nature and consistent humanity of it. John McClane (Played wonderfully by Bruce Willis. Remember when Bruce WIllis tried?) is a real man, with a real life and real feelings and real skills. He's not invincible, he takes several hits in this film and almost meets his maker a bunch of times, it's his sheer desire and determination to save the day that keeps him going. This film takes the time to flesh out every important character, from his wife Holly, to Alan Rickman's Hans Gruber, and even loveable Al Powell. They're all so satisfying, and it adds real stakes and real connection to the picture. Infinitely quotable, undeniably gripping, and totally badass, Die Hard is a film that gets everything right, and its an essential Christmas classic
Arthur Christmas (2011) – Sarah
Arthur Christmas is a genuinely armoured British Christmas film with a hapless titular hero who lovingly encompasses the excellence of the festive period. It revolves around Arthur who has Voiced by James McAvoy he conveys this remarkably well through his fun and frolicking performance that gives this film a great heart. With the additions of Jim Broadbent, Hugh Laurie and Ashley Jenson to deliver some great range to their characters. And there is no denying that the titular character has a lot of soul to him. This isn't some disgruntled Scrooge learning about the importance of Christmas; it's someone who loves the holiday so much that they are willing to face their fears (of the unknown in this case) and venture out to save it.
Blinkering bright lights, colour-filled antics and squeaky elves would appease anyone who carries the festive cheer with them always. With a great voice cast, and a cheering festive spirit. This is an unmissable film.
The Muppets Christmas Carol (1992) – Jo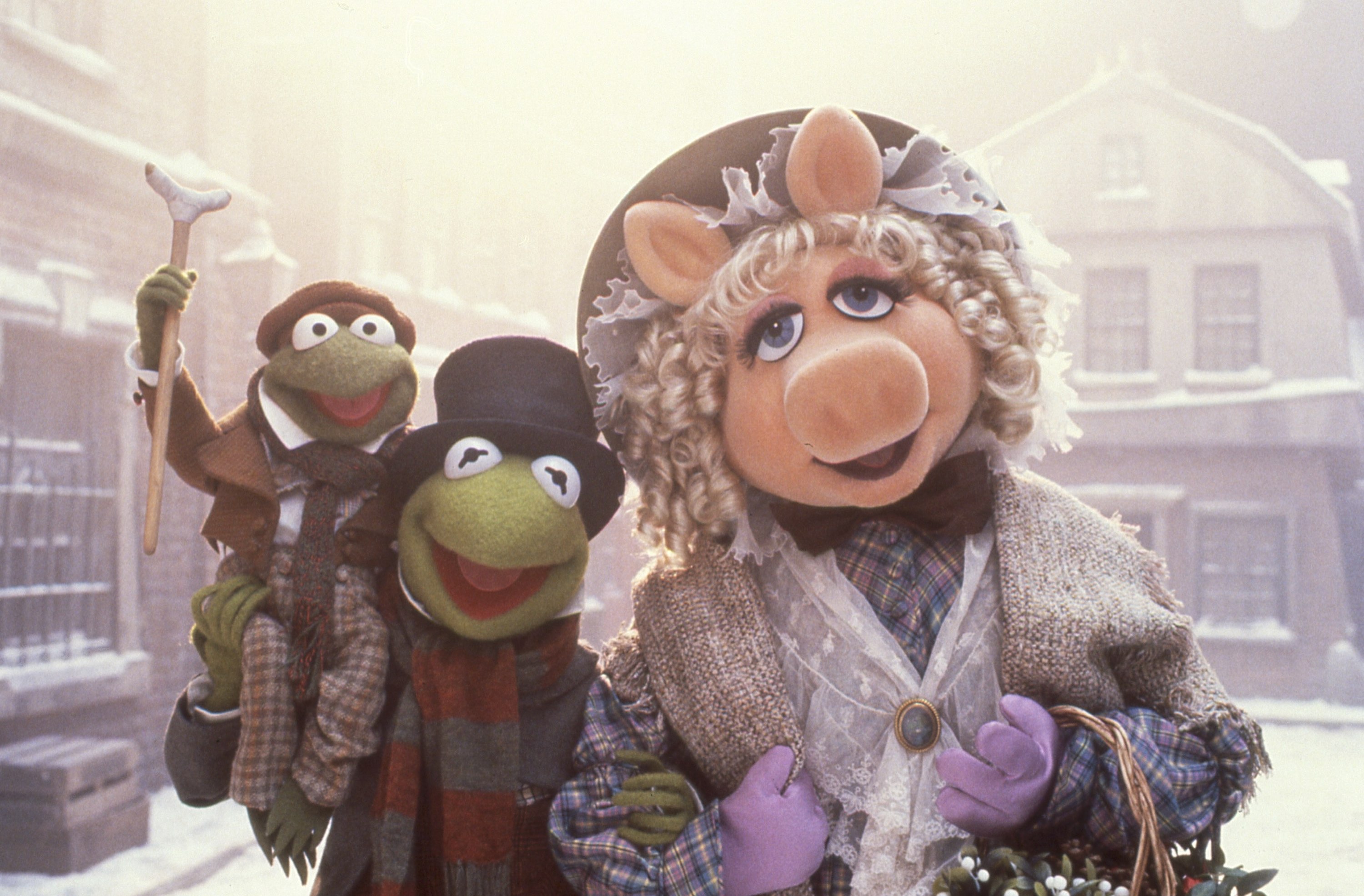 A Christmas Carol is a classic Dickens tale. The three spirts visiting a mean old man named Scrooge to show him the error of his ways before Christmas has had so many incarnations it is hard to keep track. Yet the one so many children are introduced to is perhaps also the most unorthodox. Of all the outings The Muppets have embarked on it is their wonderful rendition of A Muppets Christmas Carol that remains my favourite and a Christmas essential movie.
The furry bunch all take on the roles of the Dickens characters while Gonzo and Rizzo narrate the tale that unfolds. While Kermit the Frog, Miss Piggy and Robin play the Cratchit family the iconic role of Ebenezer Scrooge is filled by National treasure Michael Caine, in one of his best roles. As the Muppets play for laughs and occasional tears Caine remains the serious centre and a Scrooge audiences all love to watch. Cute, funny, whimsical yet retaining all the heart and moral of its source material. The film reinforces the joy and true meaning of Christmas and while it may not be as Dickens intended I think great man would have approved.
National Lampoon's Christmas Vacation (1989) – Lee-Anne

Every Christmas Eve we would have the inevitable argument over which Christmas-y film we should watch. Mum would say something soppy, dad would say something with guns, kids would say something lousy. Christmas Vacation ended these disputes. There is something for everyone to enjoy and giggle at. The ridiculous over the topness and attempt after attempt to have the 'perfect Christmas' puts the whole holiday into perspective. With Chevy Chase at his peak and a young Leonard from Big Bang Theory enjoying his first taste of stardom, watch Christmas Vacation if you need a bit of stress relief from all that festive cheer.
It's A Wonderful Life (1946) – Georgia

I hate to disagree with my esteemed colleagues, and these Christmas films are all beautiful in their own way – but it's time to accept the fact that It's A Wonderful Life is the best Christmas film ever made. It is a stone cold classic, and it has everything; relatability, peril, a grumpy villain, a love story, and a heart-warming resolution where our hero learns that he's right where he should be. If you haven't seen it, you're failing at Christmas. Running at nearly three hours it's quite a commitment of a film – but that makes it the perfect length for gift wrapping. Parodied countless times in its heritage, it truly is a staple of your Christmas viewing.
---
Merry Christmas from We Make Movies On Weekends!