2017 was a pretty stellar year for films; the good outweighed the bad ten fold, and at the heart of these brilliant pictures were equally brilliant actors bringing their characters to life for us to behold. So it's time that we dive into the individuals who lit up the screen in UK cinemas this year.
Honourable mentions: Michelle Williams in Manchester by the Sea, Kumail Nanjiani in The Big Sick, Jamie Bell in Film Stars Don't Die in Liverpool, Gal Gadot in Wonder Woman, Dave Franco in The Disaster Artist, and Charlize Theron in Atomic Blonde, among many others.
Adam Driver – Star Wars: The Last Jedi
by Robbie Jones 
This year, Rian Johnson brought us perhaps the most polarising Star Wars film to date; The Last Jedi was a welcome but different addition to the franchise, and even though a lot of fans weren't too pleased, the cast were on all on top form. While most of the talk has been about the exceptional Mark Hamill giving the best performance of his career, there is no one stronger than the man behind the (abandoned early on) mask, Adam Driver. He was a great addition to The Force Awakens  and an essential component to the power and adrenaline that courses through The Last Jedi. He is pure electricity, perfectly conveying Kylo Ren's struggle in a nuanced and suitable fashion, but still sinks his teeth into a delightfully over the top performance that delivers on all fronts.
Daniel Kaluuya and Betty Gabriel – Get Out
by Robbie Jones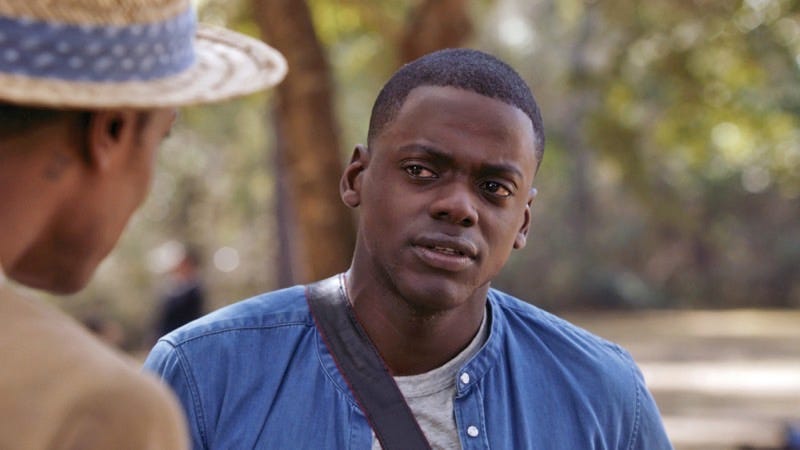 Jordan Peele blew audiences away with his satirical horror smash that saw a young black man at the centre of a twisted plot when he visits his white girlfriend's family for the first time. As the heart of the film, Daniel Kaluuya completely knocks it out of the park. The sheer terror in his face is haunting, which makes his nomination for Best Actor in a Comedy or Musical at the Golden Globes all the more ridiculous. Now, terrified is one thing, but terrifying it just as impressive and Betty Gabriel fits the bill. Her strained smile alone is one of the most definitive images in this year's cinema, but everything from her voice to her manner is 100% effective and he is not getting enough love for this performance.
Yes, I'm still annoyed about the Golden Globes.
Jon Hamm – Baby Driver
by Robbie Jones
I've been gagging to talk about this one all year…I probably love Jon Hamm more than the average person; discovered him in Mad Men, which is one of my absolute TV favourites, then watched him take on great supporting roles in films like Bridesmaids, Friends with Kids and The Town. But I've always felt like since Mad Men ended, he just truly hasn't gotten the film works he deserves. Now Baby Driver  was not a film that I loved; it was a fun action ride, but a poorly written film for the usually excellent Edgar Wright, but Jon Hamm? Perfection. To give the script some credit, the way it structures Buddy's story is fantastic, and the development of his character is really well done. For every step of the way, Hamm rises to the occasion, making for one of the exhilarating and entertaining performances of the year. Slick, relentless and devilishly charming, you can really see that the role was written specifically for him, because he completely owns it.
Emma Stone – Battle of the Sexes
by Robbie Jones
Emma Stone's performance in La La Land  was a dizzying and beautiful portrayal of someone with big dreams in a fantastical film, but her performance in Battle of the Sexes is about as human and as tender as she's ever been. The film follows Billie Jean King's fight for equal rights in tennis, as well as her struggle with her emerging sexuality. The determination in King's mission is expressed in the most powerful way by Stone, but it's the smaller scenes that explore her relationship with hairdresser Marilyn (hairdresser) where she really shines. It's the smallest things; just the look on her face, the awkward smiles, the passion and wonder in her eyes, and the way she always appears so starstruck…It's pure intimacy, without ever having to take it to any unnecessary places. Emma Stone has never been so beautiful and has never been so enigmatic, easily her best performance to date.
Brooklynn Prince – The Florida Project
by Wayne D'Cruz
As the mischievous, loquacious Moonee, seven-year old Brooklynn Prince breathes immense life into her character in The Florida Project. Precocious yet mostly ensconced from the harsher realities of her mum's life, Prince's Moonee is a complete delight as she roams around her neighbourhood with wild abandon, plotting her next prank. Prince's finest scene is one of the final scenes of The Florida Project. Reaching her friend's door and for the first time inarticulate on account of being out of breath as well as weighed down by emotion, Moonee breaks out into a literal cry for help — a flood of tears, as does nearly every other person who has watched the film.
The entire cast of Moonlight
by Robbie Jones
It started with just Naomie Harris, then Trevant Rhodes and Andre Holland got thrown in, and eventually it was just like "…We may as well include them all". Barry Jenkins' brilliant Best Picture winner Moonlight featured a dazzling display of talent from both it's young and adult actors. Holland, Rhodes and Ashton Sanders, the three actors who portray Chiron over the course of his life, have no difficulty representing the same character and maintaining the beautiful development he experiences. Mahershalah Ali is the powerful father figure, and Naomie Harris the neglectful mother…She's enraging and enticing, and goes above and beyond anything shes' ever done before. Moonlight, above all else, is brutally human, and this cast offer up the most vivid and tantalising performances to fulfil that image.
Timothee Chalamet – Call Me By Your Name
by Wayne D'Cruz
I was fortunate to catch Call Me By Your Name at its London premiere during the BFI London Film Festival. It took me a great deal of restraint at the after-party to not rush up to the young star and gush like a giddy teenager over his brilliant performance. In his breakout role, Chalamet, all of 22, lends Elio a remarkable vulnerability. He shines in scenes where he has little to no dialogue, bringing to the fore the pangs of first love. Not enough can be said about the film's much-raved about final scene — heartbroken Elio staring into the fireplace for several minutes, as the camera lingers on uncomfortably with Sufjan Stevens' 'Visions of Gideon' playing in the background. Arguably, the film's piece de resistance, the strength of which on alone, will most likely result in an Oscar nod for Chalamet.
James Franco – The Disaster Artist
by Robbie Jones
There's truly nothing left to say about The Room, so let's just dedicate all our energy to James Franco's stunning portrayal of the eccentric but ambitious mastermind behind the best-worst film ever. What could have easily been just a case of putting on a wig, a silly accent, and making fun of a human being who had dreams, Franco sinks into the role of Tommy Wiseau, and represents the man the way we needed to see him before his creation became a joke. He was passionate, he was irrational, he was unbearable, but he was consistent. Franco is mesmerising, giving his best performance to date in an awards season favourite.
James McAvoy –
Split


by Robbie Jones
I feel dirty writing about this wonderful Scot instead of our dear editor, who kind of likes James McAvoy a little bit – She's not fussed – But it has to be said that he set the bar high for performances in early January when M. Night Shymalan astonishingly made a good film. Split  is a great psychological thriller that stars McAvoy as a man who frequently switches between 24 different split personalities. The few that get the lions share of screen time are truly mind blowing; McAvoy is entirely uncrecognisable. Terrifying, enticing, hilarious and down uncomfortable – Every character he takes on is thrilling and he brings absolutely everything to it. My personal favourite is troubled nine year old Hedwig, and I'm not exaggerating when I say that McAvoy completely floored me. Truly worthy of every award going, though it's likely that won't receive even one.
Isabelle Huppert – Elle
by Sarah Cook
As much as I adore Emma Stone, Isabelle Huppert's performance as Elle should've one the Academy Award. There is no other performance so intricate, powerful, vulnerable, and weighted as Huppert's  titular character in Paul Verhoeven's thriller. Playing a victim of rape who turns the tables on her assailant in a psychologically disturbing and erotic way, Huppert is superb. A performance unlike any other, she twists and turns through the film with charged and quaking energy. A tremendous role for Huppert.
Those are our picks for the best performances of 2017, and the crazy thing is, there are still like 20 other names we could've thrown in. That's just how good this year was for performances, and we can only hope 2018 offers half as good.
---
What's your favourite  performance of 2017?