The Hollywood Foreign Press Association has always put on a great show when it comes to the Golden Globes ceremony. This year was no different, even if the tone was vastly unlike any other. The winners themselves were somewhat a statement, with the Frances McDormand-led Three Billboards Outside Ebbing, Missouri bagging the most awards, for example. There were some surprises and, if you read my predictions, you'll see that I was vastly wrong on some of them. I look forward to being wrong again come March 4th.
Here are the winners of last night:
Cecil B De Mille Award: Oprah Winfrey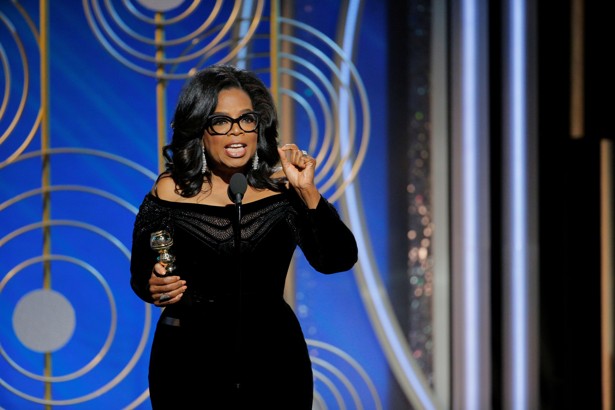 First of all, we have to talk about the incredible 9-minute long speech by Oprah upon receiving the Cecil B. de Mille Award ("what an incredible honour…for Cecil B. de Mille", joked a a spot-on Seth Meyers). The speech was exactly what you would expect from Oprah, with a gravitas and power that is all-inspiring , thanking the women who have been fighting against the powerful monsters in the world, and ushering men to listen and play their part in the battle. This is how leaders should speak.
Best Motion Picture – Drama: Three Billboards Outside Ebbing, Missouri.
This was a surprise. I was sure The Shape of Water had this award in the bag, but subject matter and the way it is handled ultimately made Three Billboards the winner. That and, obviously, the quality of the film.
Best Motion Picture – Comedy Or Musical: Lady Bird.
Even though I was hoping Get Out would take it, I was also rooting for Greta Gerwig's film to snatch it. I've gonne of record saying how much I love this film, so it was great to see it being recognised.
Best Performance By An Actress – Drama
Frances MacDormand – Three Billboards Outside Ebbing, Missouri
What a moment this was. Frances MacDormand's performance is probably the best the actress has ever been, and she is supported by an incredible ensemble cast.
Best Performance By An Actor – Drama : Gary Oldman – Darkest Hour
We all saw this coming. Right now, the Oscar for Best Actor is Gary Oldman's to lose. I have no doubt in my mind that the British actor will take rightfully so, I might add.
Best Performance By An Actress – Comedy Or Musical: Saoirse Ronan – Lady Bird
Such a joy to see this one happening. Like I said in my prediction: Saoirse Ronan needs all the awards.
Best Performance By An Actor – Comedy Or Musical:  James Franco – The Disaster Artist
Worthy of this award, James Franco's performance continues to gather steam ahead of the Academy Awards. Could this be the year that finally sees Tommy Wiseau's prophecy come true?
Best Performance By An Actress in a Supporting Role: Alison Janney – I, Tonya
With all due respect for Alison Janney, I was shocked that Laurie Metcalf didn't win. This was one of the two biggest snubs of the night.
Best Performance By An Actor in a Supporting Role: Sam Rockwell – Three Billboards Outside Ebbing, Missouri
Well…I didn't see this coming. I like it though! It's very nice to see Sam Rockwell, one of the most underrated actors working today, get some recognition.
Best Director: Guillermo Del Toro – The Shape Of Water
This was a long time coming and I am so pleased. Hopefully a sign of things to come for this legendary director.
Best Screenplay: Martin McDonagh – Three Billboards Outside Ebbing, Missouri
And this, to me, was the snub of the night. How Greta Gerwig did not win this is beyond me. Fair play to Martin McDonagh, though, his script has some real power, going from his trademark dark humour to a very dramatic place.
Best Animated: Coco
Here's the thing: Everytime Pixar releases a film, unless that film is called Cars, you have to assume it will win everything it gets nominated for.
Best Motion Picture – Foreign Language: In The Fade
I actually thought the festival darlings The Square or First They Killed My Father were going to get a shot at this award, but it was a pleasant surprise to see the French-German film win the award.
Best Original Score: Alexandre Desplant – The Shape Of Water
Beating out veterans John Williams and Hans Zimmer, Alexandre Desplat's score is yet another element that makes The Shape Of Water one of the best films of the year.
Best Original Song: This Is Me – The Greatest Showman
I would just like to thank the Hollywood Foreign Press Association in behalf of everyone here at We Make Movies On Weekends, for making the right choice in this category.
---
What do you think about the awards?