At the start of October, I change my black cats purple collar to an orange one with jack-o-lanterns on it, switch to pumpkin spice flavoured coffee, and start watching Halloween films. And Hocus Pocus is always on the watchlist.
A kind-of horror film for kids from the wonderful people at Disney, Hocus Pocus was a bit of a flop in cinemas, and yet somehow became a perennial favourite on video and TV. Now, it's a Halloween cult classic, and it's also 25 years old this year.
In case you haven't seen it, Hocus Pocus is the story of two teenagers and one little girl who accidentally bring back three witch sisters from the dead on Halloween Night in Salem. With the help of an immortal talking cat, they must race against time to stop the Sanderson sisters before they devour the children of the town. But that's just the bones of the story.
There are a few things that make the film kinda great, and the first that has to be mentioned is the Sanderson sisters themselves. Bette Midler, Sarah Jessica Parker and Kathy Najimy play the three witches, and have a blast doing it. They really throw themselves into being comical and diabolical, and have great costumes too. Their whole motivation is that by drinking the essence of local children, they can look young forever, and yet their idea of youthful beauty is still pretty witchy. Midler is their leader, and with prothetic buck teeth, she's kind of creepy and dark, but still delightful. Parker is the bubbly, flirtatious one, while Nijimy is kind of jocular and foolish. They're clearly having a great time being bad, and their cartoonishness keeps them lovable and also not too scary for the younger kids.
Though they really do steal the show, the protagonists do hold their own. Omri Katz is Max, whose family have just moved from California to Salem, which is something that he's not taking in stride so well at first. He's confused by how seriously the town takes magic and Halloween, but he's a likable kid who tries to get along with people and cares about his little sister, who is played by a really tiny Thora Birch. She is absolutely adorable. Thrown into this is the beautiful Vinessa Shaw as the love interest. She's the local girl who takes the two newcomers to the Sanderson house, and whom Max tries to impress but in the process accidentally unleashes the evil trio. They're all really likable kids, and pretty cute. The romance between the two teens is really nice, and all three show a lot of heart.
Which brings me to my personal favourite character in the film, Thackery Binx the cat. What is a story about witches without a black cat? In the grand tradition of 90's on screen witches, this cat is a talking immortal who used to be a kid, but was cursed. He's on the side of the kids, and since he has been wandering the earth since the curse, and he misses his sister who was killed by the sisters, he's a pretty endearing furry character.
This film really delights in being creepy and spooky, but is never really scary. It's more of a darkly sparkling riot. The three witches are constantly wise cracking and being scared by new technology. There are constant one liners and little jokes all through the film, including the obligatory town bullies, which are always a fun addition. And of course, any film with Bette Midler has to have a few musical numbers, which are mostly pretty fun.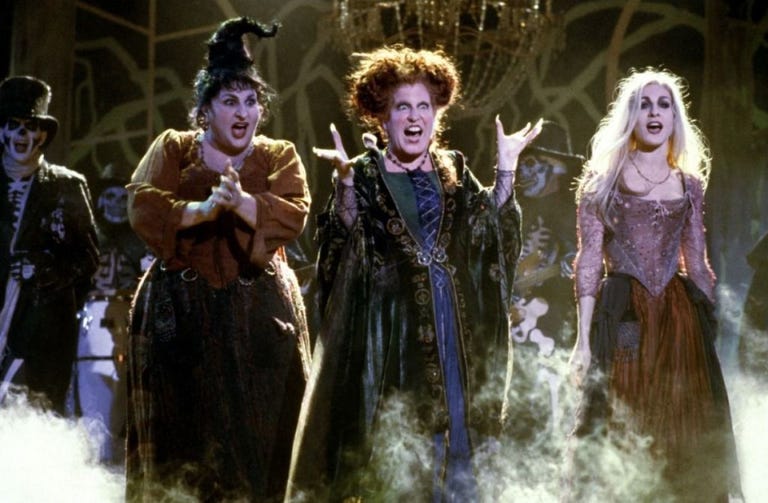 Perhaps it's the heady glow of childhood nostalgia that makes people love this film so much, because in some ways it's not a great film, it has flaws, and yet there's something about the joy and magic in this film that makes me really get a kick out of watching it every year when October 31st comes around. Over the years there have been talks of a sequel, with the films writer and some of the actors hinting that they would love to be on board. The latest news is that Disney is in talks to do a remake without any of the previous stars, which has caused the obligatory internet furore amongst fans. There's also a book released by Disney for the 25th Anniversary, which is a novelisation of the film, plus sequel story, which has the daughter of the two teens of the first film dealing with the Sanderson Sisters return, which might interest some of you fans.
For me, I don't need a remake or a novel, I'm happy to go back and watch those sisters stumble out of the past and into modern, 90's life, and those two teens fall in love while a tiny, angelic Thora Birch cuddles a talking cat. At 25 years old, this film is still as delightful and funny, and of course, magical, as on first viewing.
---
Happy Birthday Hocus Pocus!