by Charlotte Harrison
It's a truth universally acknowledged that January and February are awful months; short days and long nights full of cruel winter weather. This year March has been equally grim, which means the release of I Got Life! has come at the perfect time. For one thing, watching a film set during Summer and featuring the sun (whose hibernation should soon be at an end) is it itself something of a cathartic experience. Then there's the story which is so ruddy charming.
Aurore (Agnès Jaoui) has been separated from her husband for several years. Their daughters have grown up quickly, with the eldest (Sarah Suconewly) pregnant and her younger sister (Lou Roy-Lecollinet) desperately in love with a wannabe DJ. Her best friend Mano (Pascale Arbillot) is always by her side, including when Aurore re-meets here teenage sweetheart Totoche (Thibault de Montalembert) after decades apart.
The reason I Got Life! works so well is because it perfectly balances comedy, drama and romance. The tone is light, but with well-chosen moments of depth. The film follows Aurore over the course of several months, focusing on a series of incidents – little vignettes that make up the story of a person's life. Aurore is prone to getting herself into some hilarious situations; she's so well portrayed by Jaoui that the audience simultaneously finds themselves laughing at & with her. Lots of the standout moments of comedy featured in the trailer, as seems to be the way these days, and yet there's still plenty more to be discovered. The mock interview is a particular gem.
However, that's not to say the film is lightweight. The film has a lot to say, both explicitly and implicitly, about society and how it views women over the age of 40. Aurore finds herself weighed down by the expectations society has for her along with how society has also forgotten about her, as if going through the menopause means she has reached her expiry date. Although what the film says isn't all that revolutionary, it is in terms of the platform on which it is being said. It's alarmingly uncommon to have a film featuring two female leads over the age of 40, least of all two women whose characters are so well developed.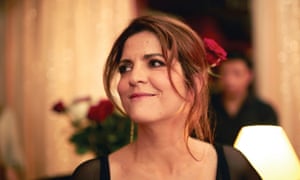 There's also reflection on the relationships of mothers and daughters, and how that very relationship can be the foundation on a woman's identity. Aurore is struggling with a lack of purpose; feeling like both her daughters no longer need her. The film's most beautiful and most poignant moment features Aurore dancing to Nina Simone's Ain't Got No, I Got Life (a la the film's English title, with its original title being Aurore). During those moments she's not just dancing in the now, but with her past and with the child versions of her daughters. It's simple yet haunting, happy yet sad.
The romance doesn't intrude too greatly on the story and doesn't dominate. Although it's pleasing to watch it play out, Aurore is our main focus. We get to spend 90 minutes in her company and it's a real cinematic pleasure.
---
I Got Life! is out Friday 23rd March!