There is an art to a bad movie. It isn't as simple as clubbing together bad elements in hopes it will be so crap people will love it. You have to start with honourable and good intentions. There has to be a seriousness to it, a desire to craft and create films, and just…..not enough talent to get there.
Movies such as Troll 2, Manos Hands of Fate, and more recently Jupiter Ascending started with unbridled hope that, sadly, could not carry them over the last hurdle. Or the many hurdles that proceeded them.
The most famous of them all is The Room, that garners sell out screenings worldwide and for some bizarre reason, it seems appropriate that Tommy Wiseau's epic of terrible proportions is left in the hands of James Franco, his brother Dave, and a whole heap of comedic cameos.

Based on a book written by Greg Sestero, The Disaster Artist revolves around Sestero's life as a wannabe actor in the late nineties. Stricken by nerves and doubt, at a San Fransisco drama class he is overcome by awe when he sees the fearless Tommy perform. After approaching him for encouragement and advice, the pair become comrades, ready to take on Los Angeles and Hollywood together. However, rejection is followed by further rejection until one day they decide to produce, write, direct, and star in their own movie – The Room. Now known as the Citizen Kane of bad movies.
Directed by James Franco, who also stars in the epitomes role of Tommy Wiseau, the strange and mysterious centre of  both The Room and The Disaster Artist. As the wild-eyed being who is both empathetic and a seeming outlier to the human race,  Franco encompasses the strange disposition and fierce hope that Wiseau had within him. Steering clear of straight-up mockery, Franco performs the hapless filmmakers with an intrigue and understanding, whilst still inhabiting the weirder moments of The Room's calamitous outcome. There's this bubble of empathy that echoes in the more stiller scenes where Tommy grapples with his lack of talent or hopelessness, rippling within the depth of a man that has inexplicably become an icon. All this is brilliantly conveyed in Franco: Ferocious ignorance and over-blown confidence, they are all elements that make it a charged performance.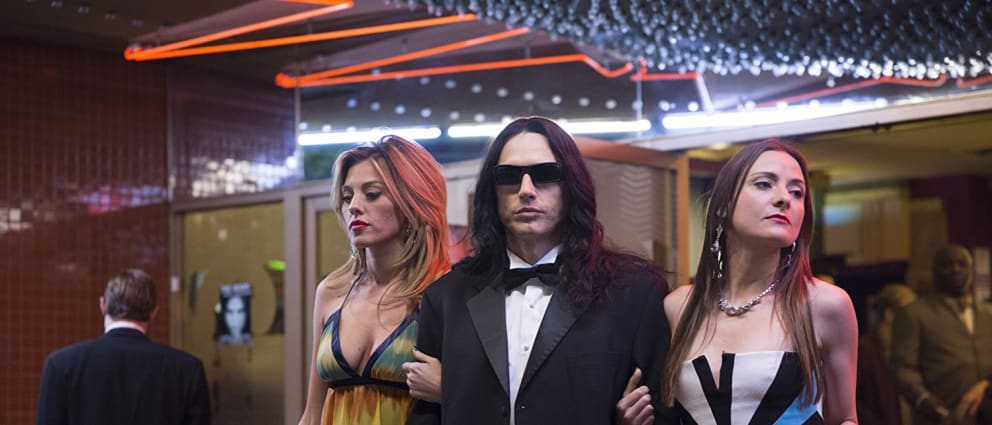 Alongside him is brother Dave and whilst the pair do have a fantastic "straight talentless man vs bizarre talent-less man" chemistry going on, it's difficult to see Dave as anyone bar Dave Franco. Especially with the weird stuck-on beard. It's a shame because there are elements here that work in his favour but without a new accent or a fresh take on Sestro. Dave is sadly eclipsed by brother James' towering performance.
Despite this, the movie does work and they do gel together. James was always meant to overshadow the production and he does so in a fantastic way.
The Disaster Artist replicates many of the memorable scenes of The Room which'll happily please those who daily quote the stiff yet hilarious dialogue of the latter. It will not alienate but introduce a new wave of audiences to this crazy Wiseau world. There's this weird introduction, that doesn't quite fit into the biopic standard but that is a mere slip in an otherwise superb movie. Because this is a loving homage. A bloody hilarious homage at that. This isn't a cruel cinematic lashing at someone who has genuinely turned bad press around to make a horror show into a triumph. This is an intricate look at a rather unusual being, who tries desperately to emulate his heroes and make it in the ruthless film industry world.
And, oddly enough, when you think about it, he kinda did.
---
The Disaster Artist is out on DVD & Blu-Ray now!