Rosamund Pike stars alongside Daniel Bruhl in hijack thriller Entebbe, which is out on DVD & Blu-Ray now. There is also upcoming Oscar buzz for her leading role as Marie Colvin in A Private War! 
So that means I can pull my soapbox forward and talk about how Rosamund Pike gave us one of the best performances of all time in David Fincher's Gone Girl. And I love Julianne Moore. And I love Still Alice. But the Academy Award for Leading Actress should've 100% have gone to Rosamund Pike as Amazing Fucking Amy.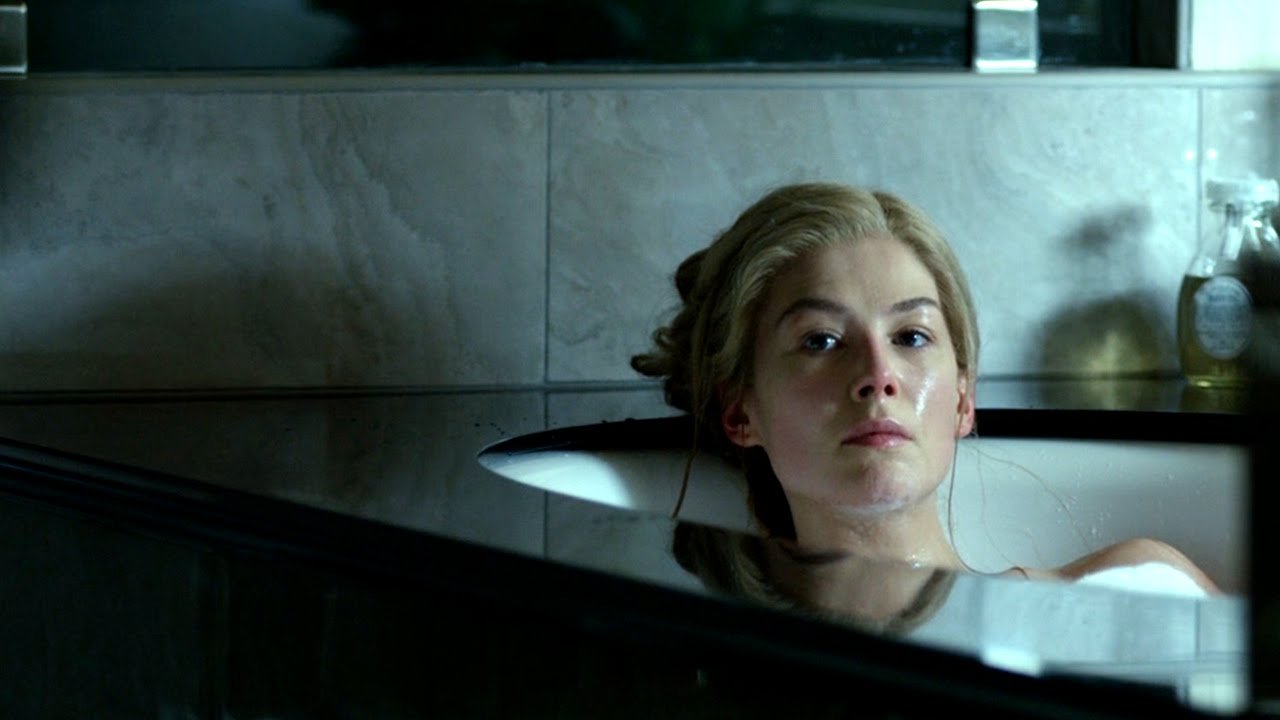 If you have been in the vicinity of my reality self over the past three years, you'll know far too much that I have carefully and calmly broken down the reasons as to why Rosamund Pike deserved to clinch this award. By carefully and calmly, I mean frothing at the mouth to flailing all over it like Desi all bloodied up on the bed. See, Gone Girl was a truly triumphant thriller that rejuvenated our love for Ben Affleck, whilst similarly adding another level of excellence to directing legend David Fincher. It told the story of a seemingly perfect suburban couple, Nick and Amy, whose lives are flipped upside down when Amy goes missing on their wedding anniversary.
There  are many reasons as to why Pike delivered perfection and then some and I'll get on to the actual performance in a paragraph's time. Firstly, Rosamund Pike, roughly a year ago, was not the most assuming of actresses. Sure enough, she had plenty of roles but none that quite cracked into the talent that we knew she had. She was frosty in Die Another Day, wifey in Hector and the Search for Happiness, and crumbled a little in Edgar Wright's The World's End. A general audience hadn't heard much about the actresses, disappointingly, and it felt as though she hadn't been given the roles she deserved; roles that glinted in her eyes like a jilted wife out for revenge on her cheating husband.
And then she was cast in Gone Girl. Now, with all that back catalogue of films, many would've been surprised that Fincher went for this British actress. Sitting down in the cinema, bums firmly on seats, there was tension surrounding just how well she could handle the role. Not only did she handle it, she fucking nailed it on every level. As Amy, Pike encompassed everything about the psychopathic villainess without overplaying the role. She smiled sweetly and enamoured men into her web of lies and deceit. The big lie? That she has no personality and she sickly plays the character that would attract you the most.
Pike resonates loudly on screen, taking you through a journey of ambivalence and murder all the while fooling even the audience into believing she is the abused and downtrodden wife. As she unravels her schemes in the second half, Pike goes beyond this American beauty and into one of the most disturbingly alluring characters of 2014 (or, indeed, this century) and the actress gets her hands bloody to deliver every last awful blow to those around her. Amazing Amy? Nah, Perfect Pike and she has had us obsessed with her ever since.
As great as the other actresses were, it has all become a little samey for the Best Actress category. It seems that all you have to do to win a Best Actress, is to be suffering from a debilitating illness or a downright awful backstory in order to win. It's not that The Academy Awards haven't nominated a psychopath since Rooney Mara straight up went for it as Lizabeth Sander in The Girl With The Dragon Tattoo. While I know the other nominees were outstanding and the stories they were telling were both pivotal and important, how great would it have beeen if a woman who stood up and gave the role of her lifetime won it? I mean someone who really gave it gusto and a fucking murdering psycho that is fully imagined and undeniably portrayed.
That would've been fantastic. No wait, fantastic is too flippant.
Amazing.
---
Entebbe is out on DVD & Blu-Ray now!