The inspirational documentary Skid Row Marathon focuses on the work of Superior Court Judge Craig J Mitchell, who begins his days at the Midnight Mission in the Skid Row district of Los Angeles leading a group of broken ex-offenders and ex-addicts in an early morning run. He encourages the best of them – or the most in need of support – to enter overseas marathons, financing their travel and accommodation by working the phones to encourage charitable donations. Those who run with him appreciate the community spirit that he instils as they replace one addiction with another. Running, as the film explains, is a means to an end. The most important aspect is that the runners have a sense of self worth restored to them, that they can stay clean and sober to fulfil their dreams, whether it is finally being discharged from parole, moving back to Seattle or enrolling in the San Francisco Conservatoire.

It is hard to fault the message of the film, though director Mark Hayes gives no indication that the constant pounding of pavement and tarmac can lead to plantar fasciitis, for which there is no cure. Oh, for marathons on spring grass on a mild day. Hayes focuses on the effect the judge has on four runners: David, an ex-addict who used to live in an alcove; Rafael, a former gang member jailed for 29 years for murder, who was recommended for parole by Mitchell and, five years later, was out, sharing his story at schools as a warning to others; Ben, a former musician seduced by alcohol and drugs, who harbours ambitions to be a composer for movies (this is L.A.) and Rebecca, a single mother whose heroin addiction took her to rock bottom but receives help from the Midnight Mission and Mitchell's running programme.
In an early highlight, Mitchell takes David and Ben to Accra in Ghana to run their marathon. The poverty of a less developed nation shocks them. The pre-marathon group run – slow and reverential – is the closest the film gets to lyricism, and makes a change from the traditional pasta and potato party. There's plenty of running scenes but little about shoes and nothing about diet. Mitchell plays a trip to Rome to inspire David, an artist – he wants to introduce him to Michelangelo, naturally. But David leaves the group to try to manage on his own. The Mission's strict 'no recidivist' rule places a pressure that we sense he doesn't want to live under. Plus, who likes getting up at four in the morning?
We are introduced to Ben in his studio, working on his audition piece for the Conservatoire and cursing. He has a young girlfriend who is his biggest fan. Rafael faces the biggest challenge – an arrest for breaking parole by drinking; if found guilty, he will go back to prison to continue his life sentence.
There is a fifth runner, Mody from Senegal, who starts his own business selling luggage. But the Midnight Mission can only provide so much support and he relapses.
The Judge looks a healthy guy, but later we learn that his body is underpinned by metal. When we see him crumpled on the ground after a run, we don't know if he'll get up. His wife and teenage son attest to his near religious zeal – if he wasn't a judge, Mitchell would be a priest. There are no dissenting voices against the programme and nothing about the selection process for participation in overseas races – donations can't pay for everybody.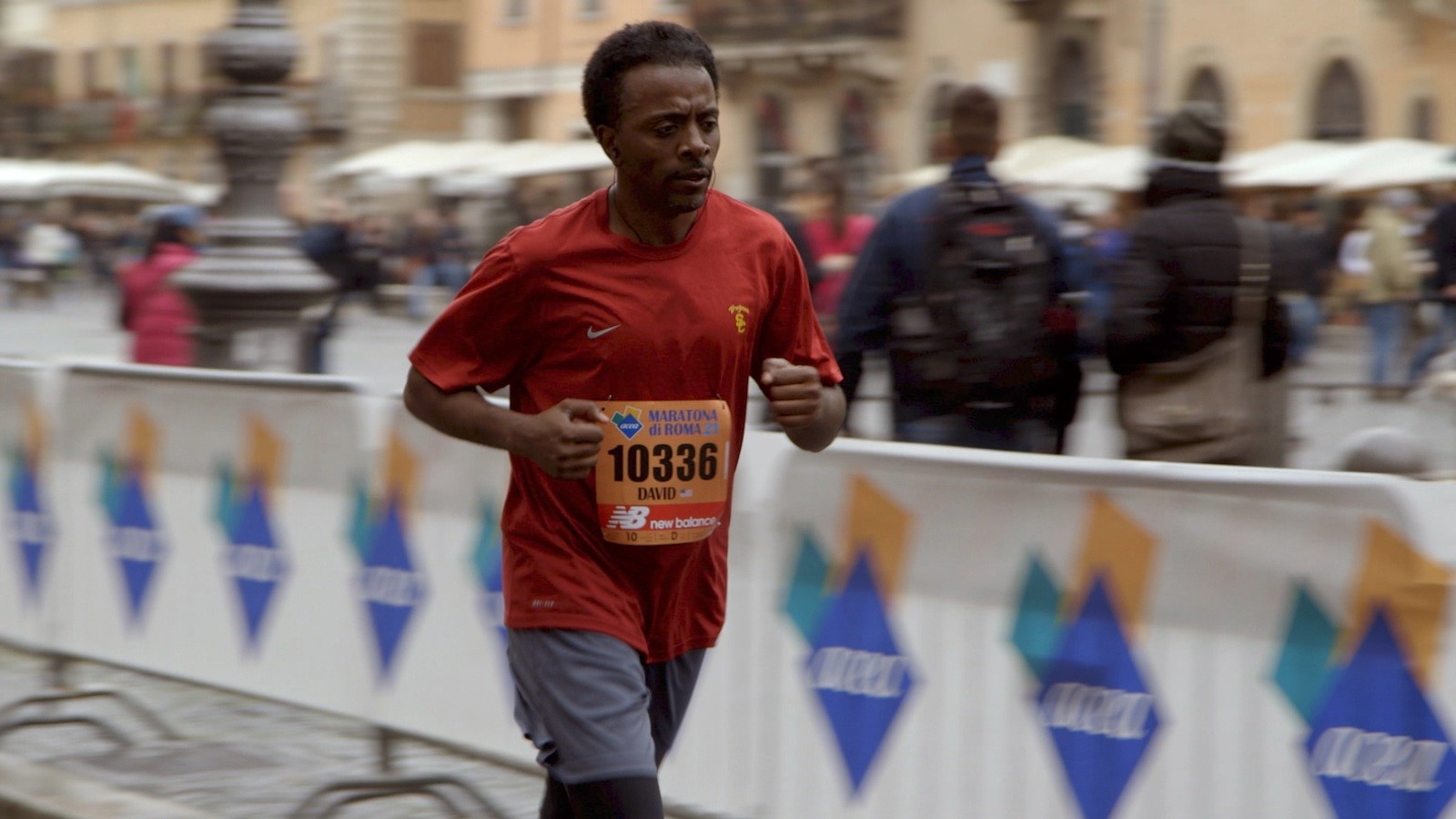 The film asks us to think about rehabilitation and to identify with those who have committed crimes and self-abuse. It makes a compelling case for community and grant based rehabilitation. Although Skid Row Marathon has only had one off screenings on 9 May, it deserves to be shown to criminal justice policy makers. Both the Justice and Home Secretary should be sent DVD copies.