For a good portion of my earlier life, I thought Scrubs was one of the worst shows on TV. I also hadn't seen a single episode of it. I don't know why I was so adverse to it back then, but it all changed when I was off school ill one day. Lying on the sofa, feverish and weak, I was watching Friends on E4. It finished, and up next was two episodes of Scrubs. Of course, I was a man of taste, I wasn't going to sit through that tripe…So I changed to E4+1 and watched the exact same two episodes of Friends. But as I probably should have predicted, I was faced with the same dilemma. The repeat of the repeat of Friends came to an end, and with nothing else on TV and too weak to move to a different room, I laid there in defeat and allowed the medical comedy to play it's two evening episodes.
A few months later, I had seen just about every episode.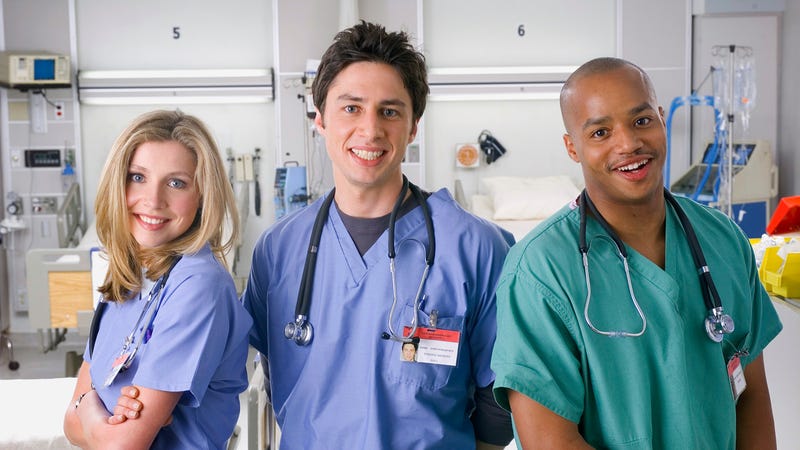 Scrubs is the excellent comedy from the mind of Bill Lawrence starring Zach Braff as J.D., a young doctor with his heart on his sleeve and his head in the clouds. His goofy antics and constant daydreaming are often interrupted by the reality of the medical profession, joined by his best friend Turk (Donald Faison), on-off lover Elliott (Sarah Chalke), nurse Carla (Judy Reyes) and reluctant mentor Dr. Cox (John C. McGinley) along with a whole host of colourful side characters.
Do yourself a favour; revisit that show you loved so much once. You know, the one that you adored when it was on but faded out of mind when all the big new shows came out and your priorities were torn. I loved Scrubs dearly but I completely forgot about it for the last several years, until I found out it was on Amazon Prime just a few weeks ago and now I'm gloriously reliving it. It's one of the funniest shows I've ever seen; the physical comedy is excellent, the jokes are spectacularly written and the character dynamics are phenomenal. Every moment of it feels right, the right gags at the right time with the right characters, from J.D. and Turk's searing bromance to Dr. Cox's fast paced hatchet jobs of whoever decides to interact with him. The chemistry between the cast is fantastic, and the supporting characters are some of the best I've seen in a comedy, the highlights being depressed lawyer Ted Buckland and Neil Flynn's nefarious Janitor, dedicated to making J.D.'s life miserable because….well, just cause. Everyone is perfectly cast; Zach Braff is an infatuating lead, and casting him as J.D. was a match made in heaven, though John C McGinley always steals the show as Dr. Cox, who may well be the best character.
But, like any good comedy, Scrubs seriously knows how to tug at your heartstrings; more often than I remembered, it has a tendency to get very emotional, and it's always effective. Being set in a hospital, the characters frequently encounters the realities of illness and death whilst tackling their own personal issues like friends, family and commitment. Sometimes it's thought provoking, sometimes it's heat-breaking, and all of the time, it's enriching. I'd argue it's among the best for taking you through the motions.
Honestly, if you ever have the time, just take a trip back to the shows that fell behind. It's a chance to embrace the nostalgia and look upon this work with fresh eyes. Scrubs is a wonderful show, and one of the most enjoyable re-watches I've ever had.
---
Scrubs is available on Amazon Prime!