When you really think about it, football and cinema have a lot in common. For 90 plus minutes a group of strangers are united in their voyeurism, watching in the hope of something and to bask in the glory of the achievements of strangers. We cheer on a team of sorts, whilst more than likely keeping an eye on one particular member of the team, and will for good things to happen. A narrative is constructed, be that of chancers or haven't-got-a-chancers. The love of that team or film can define us, granting us membership to a particular tribe in return for resolute support. That's what The Bromley Boys is about. How one boy's discovery of football, and one team in particular, became a defining part of not only his adolescence, but lead him on the course of the rest of his life. On top of all that – it's based on a true story.
Bromley Boys: The True Story Of Supporting The Worst Football Team in Britain was published in 2008. In the book its author, Dave Roberts, details the experience of supporting Bromley Football Club during their 1968-1970 season – aka their worst ever season. The film's focus is on teenage Roberts (Brenock O'Connor) love of the game and his team, and how this deepest adoration had a habit of spilling into the rest of his life. From his dad's (Alan Davies) ardent distain of the sport to his mum's (Martine McCutcheon) well-meaning support to his growing interest in the football manger's daughter (Savannah Baker) – every aspect of his life will be impacted by how (badly) his beloved team are playing. As the film's tagline declares, 'You can't chose who you fall in love with.'
There's a lot to like about Bromley Boys. Stylistically it's beautiful, perfectly capturing and rendering the time period. The locations, costumes and even the hair – all have the look and feel you'd imagine. This is further supported with a beautiful soundtrack that starts as it means to go on with Dusty Springfield's 'I Only Want To Be With You.' It scores the opening beautifully, setting the whimsical and yearning tone of adolescence very effectively.  What follows on from there is pretty by-the-numbers underdog sport narrative. There's the 'will they make it?' moments, the 'no they didn't!' moments and the 'It's impossible!' moments'. The film drifts it's way past half-time in a carefree, almost drifty manner. There's no rush as Dave's life jumps from match-to-match in a rather episodic manner. Things build to the all-important climatic final match. Then it's all over.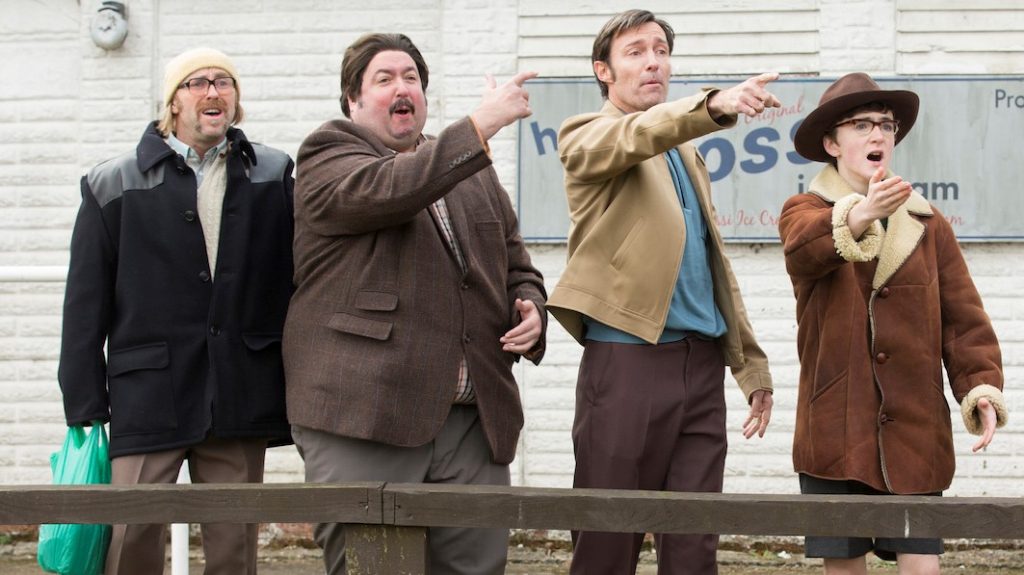 The plot itself is fine, the performances are fine and the story itself is told finely enough. It's a solid Sunday afternoon fare that has the best of intentions and such a wholesome sense about it that there's really nothing to dislike. But, unlike the devotion the drives the film, there's not enough to truly love about it. It's not going to go to the top of the leader board, nor does it deserve to be at the bottom. It won't be remembered or have iconic status, but it will have a fond soft spot for being a sweetly told comedy drama that all the family will like.
---
The Bromley Boys is out in cinemas Friday!