Momentous films don't come around that often.
Sure. You have your big films, you have your game-changers, and you have your big blockbusters. But momentous? That's saved for truly special films such as Star Wars or Psycho. Movies that bound into our lives and change our whole existence. This may happen on a smaller scale for your intimate personal films but only a few can ricochet through the whole world and touch us all. Important, necessary, and just that damn good – momentous films don't come around that often.
Black Panther is a momentous film.
A black led superhero film with a black led crew behind is making waves and for all the right reasons. It is an astonishing earthquake of a film and we're still feeling the reverberations.
Written and directed by Ryan Coogler, Black Panther tells us a story of the King of Wakanda we first met in Civil War – T'Challa. Ascending the throne after the death of his father, T'Challa is prepared to take on the responsibilities. However, he is about to be usurped by Eric Killmonger, a mysterious threat wishing to take over Wakanda. Can T'Challa protect his people whilst also keeping his country a secret from the rest of the world?
Ryan Coogler has truly brought to life the wonderful World of Wakanda to the big screen and brought with it instantaneous characters that you'll fall in love with, a story filled with depth, action, and hilarity, and phenomenal action. Coogler is an intense director who's work here embellishes the glorious world of this character we've been so eager to see.
Academy award nominated cinematographer Rachel Morrison's eye for colour enriches backdrops and set pieces with vibrancy.  Though at times the CGI feels too lucid and at times wonky to fit into this spectrum filled word, the screen is filled wonderfully with layers of liveliness and vigour. The world of Wakanda, a technologically advanced country in Africa, is awe-inspiring. A jaw-dropping feast of intellect, tradition, and love. It's a wonderful superhero film that feels alarmingly intimate and gigantic at the same time. You're jaw will drop at as T'Challa and co race through the streets of South Korea whilst you'll cry for the characters in emotive motives. Yes, including villain Eric Killmonger. It's an amazing accomplishment here, where all elements fuse together to create a cinematic treat.
Chadwick Boseman has eased happily into the titular role and his work here is great. Sadly though, he is outshone by other members of the cast such as Letitia Wright as T'Challa's sister Shuri. Only 16, Shuri is an accomplished scientist who is often told to be smarter than Tony Stark. She's key to developing the country  but it's Wright's energy and emotion that develops this film further, stealing the scenes and best lines.

It's not just Shuri though, the women here are legendary. Be prepared to not only fall in love with the Dora Milaje, a team of warriors sworn to protect the throne, but also want to be them. Lead by Dania Gurira's Okoye, they are a force to be reckoned with (Okoye, herself, delivering some of the most stand out scenes.) Lupita Nyong'o's Nakia could've easily been discarded as a love interest, with  a few lines and a worried stare. But she is a special forces operative with her own skills and is pivotal to the progression of the story. Angela Bassett plays T'Challa's mother Ramonda and is predictably a fantastic element.
Eric Killmonger is an interesting villain, whose cause is noble but methods sketchy. Michael B. Jordan is skilled at balancing the two elements of this soldier wishing to takeover Wakanda. His motives are skewered by his anger which makes him vulnerable. Jordan accomplishes this making him one of Marvel's top tier antagonists.
Other cast members worth mentioning are Sterling K. Brown, Daniel Kaluuya, Forrest Whittaker, Martin Freeman, Andy Serkis, and a brilliant turn by Winston Duke (who has a vast career in front of him). In fact, not one cast member puts a step wrong and have their moment to shine.

The biggest theme of the film is heritage; whether that was stolen from a character or it helped shape another, the ancestry of Africa is intricately weaved into the plot. Even in the details, the costuming, and the tribes, it is a celebration of black culture.
Black Panther also scorns colonisation and slavery, the tremors of the story are impacting . Look, I'm going to level with you: This theme is going to piss off a certain group of people – you know the ones – and maybe even the people you thought were on the level. Black Panther is not going to pander to you – but it is going to help you. See there is a massive message about having history shape you but also knowing that it does not define you. You have to own the mistakes of the past. You have to know that it is a part of your culture because that is the only way you can move past it. That's your takeaway from Black Panther.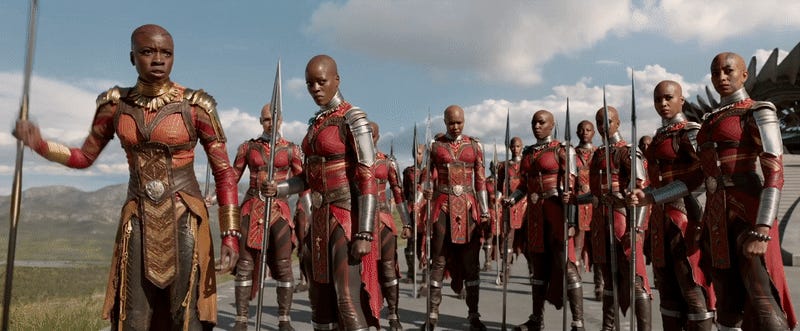 This is a repeat viewing film. A bombastic and exhilarating action marvel that has key core messages, developed characters all over the place, and amazing visuals. This is all shelled with Kendrick Lamar's soundtrack and Ludwig Goransson's score. The film is – ugh – I've run out of synonyms: Watch and see it in it all it's royal glory.
It's been bounced around that Black Panther is unapologetically black. Damn straight it is.
It is unapologetically fierce, unapologetically entertaining, and absolutely unapologetically black.
---
Black Panther is on DVD & Blu-Ray now!