You know those films that leave you a little cold, and then just hit you like an oncoming truck? A Ghost Story is a lot to take in, but it's one of the more rewarding films to come out in recent years.
Written and directed by David Lowery, A Ghost Story is the tale of a young musician (Casey Affleck) and his wife (Rooney Mara) living in Texas, when tragedy strikes and the musician is killed in a car crash. He awakes in the hospital, draped in a white sheet and returns to his home where his wife grieves for her lost love. It's definitely best that we leave it there.
This is a film that will test your patience; long drawn out shots and extended periods of silence are a little hard to take in at first, but it's all worth it. In fact, the only real weak moment of the film is an inexplicably expositional moment where a character literally explains one of the film's major themes. Beyond that, it's a deep and emotional journey masterfully framed by Lowery in a testing and reflective manner. There's little to be said about Affleck's performance – Perhaps the less said about him in general, the better – but a great deal to say about your main character literally being a stereotypical ghost, a white sheet with eye holes. On paper, this should not work; this idea could be a catastrophically bad metaphor, a contrived expression or just plain laughable, but there's something mesmerising about a painful journey told through a blank expression. Not a word spoken out loud, not a single change in manner, just wandering through all the same. It's quietly exhilarating and offers far more than a mopey Affleck being his usual sad self. Mara also gives one of her strongest performances yet, a broken character who's pain is anchored down by Lowery's direction.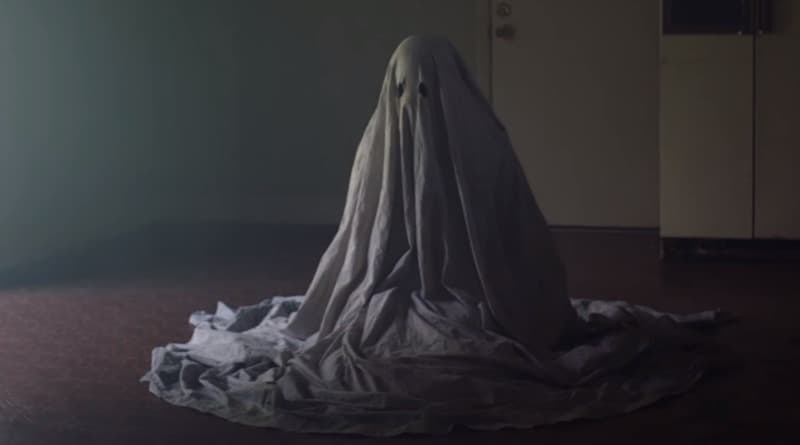 For a first time watch, it's ideal to know as little as possible as you can, but believe me when I say that it's a rich film; you may struggle with it at first, but mere hours after, you'll be sinking in it's genius. Truly a film that deserves your thought, it's a careful contemplation on grief, closure and the passage of time. It goes to great lengths  to dot the i's and cross the t's, with the very ending being one of the most satisfying I've ever seen. It may only be a small picture but it's deeply exploratory and it's reach goes far beyond what you may expect. There's a great deal of frustration, reflection, loss and moving on, and whilst it's not easy to deal with, it's a film that's actually exciting to dissect for the sake of a new revelation, or a new source of pain.
Pun intended, but mean sincerely, A Ghost Story is a haunting masterpiece; a daunting take on the afterlife with stunning performances, masterful direction and concepts that just keep on giving, save for one off-moment. A truly endearing experience.
---
A Ghost Story is available to watch on Netflix!