Mary and the Witch's Flower is the first feature film from Japanese animation house Studio Ponoc. The studio aims to continue the East's artistry of traditional animation through its work. With a selection of well established animators and based on a British short story, interest in the studio and project was high.
The film, centred on a young girl whisked away to a magical world, and had all the makings of something enjoyable. But sadly the film is a dull, uninspired waste of its animators talents. For a studio that has the alumni of the great Studio Ghibli, this work does not justify that comparison. Whilst there's some stunning art here and there's a strong start, the film winds up being dull and the dubbed version has a grating, mismatched English voice cast.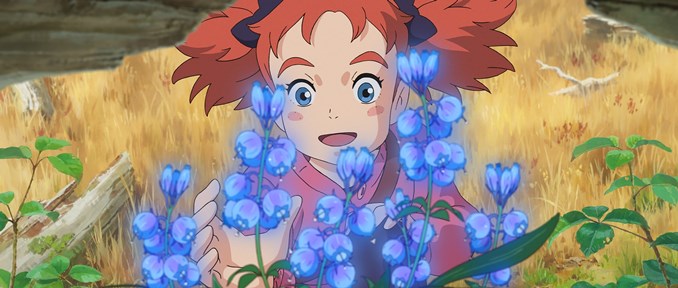 Mary is a young, insecure and clumsy girl that is sent to stay with her grandmother over summer. Without friends and in constant embarrassment of her curly red hair, she tries to occupy her time with chores. When her efforts cause more chaos than help, she ventures into the forest and discovers a hidden broom. With the broom and the aid of a mysterious flower, she is whisked off to a magical school for witches in the sky. Although she finally feels as though she's home, is the school really all it seems?
The film is the feature film debut of Studio Ponoc which was founded by Ghibli lead animator Yoshiaki Nishimura in 2015. The studio had previously only worked on adverts but has many past Ghibli animators on its team.
The film starts off well enough; A young girl escapes a burning building on a magical broom. She is pursued by other flyers when she falls, losing both her broom and seeds that grow into magical flowers. Years later we meet Mary, who stumbles upon the broom and flowers. Once she is taken to the school, the narrative falls. It relies on used scenarios and over-the-top characters that add nothing to the story. It repeats itself and becomes too predictable to hold the audiences attention. In terms of tone, it is not clear if this was aimed at a young audience or it wanted the mass appeal of something more classic. It fails on both with a messy final outcome.
In spite of the flaws, Mary and the Witch's Flower does have some phenomenal animation, with some moments looking like photography. Hand drawn is not used enough these days in feature work but here it beautifully creates characters and settings.
As is the case with many animations that are dubbed from their production language, the film feels as if it has lost something in translation. Voices do not suit their characters and scenes feel stunted in places; no more so than the broom keeper Mr Flanagan voiced by Ewen Bremner. They give off no real emotive range despite having the talents of Kate Winslet and Jim Broadbent.
Mary and the Witch's Flower is too whimsical to have wide appeal. Despite some beautiful animation, the film never takes flight.
---
Mary and the Witch's Flower is out on DVD & Blu-Ray now!