So many films claim to offer an immersive experience.  The Rider achieves this without so much as a 3D gimmick. Director Chloé Zhao's film tells the story of a Dakota based horse trainer and rodeo rider, Brady Blackburn (real life horse trainer Brady Jandreau) who is recovering from a severe head injury. He desperately wants to get on a horse again, but everyone around him says 'no'.
We know how the Hollywood version of this story would go, but Zhao tears up the script. Her film is a true blend of documentary – real people playing versions of themselves – and drama.
From the very first scene, in which Brady changes his head dressing, we are drawn in, not least because the stitches he is showing us are real. Brady's use of cling film to redress the wound tells us a lot about him and his world. There isn't a whole lot of money for medical bills; we discover Brady discharged himself against medical advice. He doesn't have money for expensive dressings, hence the cling film.
Although no one says it, Brady experienced a lucky escape. Not so his best friend and role model, Lane Scott, who is permanently hospitalised and cannot speak; he expresses himself with a few gestures that Brady (when he visits him) has learned to read.
Zhao captures that aching need to do the thing that you love even though it isn't in your best interest. The push-pull factor is great, not least because Brady's father (Tim Jandreau, playing a fictionalised father figure) gambles the little money they have on slot machines – rent is way overdue – and Brady's younger sister, Lilly (Lilly Jandreau) has autism and acts, though adult, like a little girl.
Brady takes a job in a supermarket and we see that it feels like degradation. Zhao shows him interacting with customers – including a young boy who wants a selfie – as well as sharpening knives and hosing down surfaces.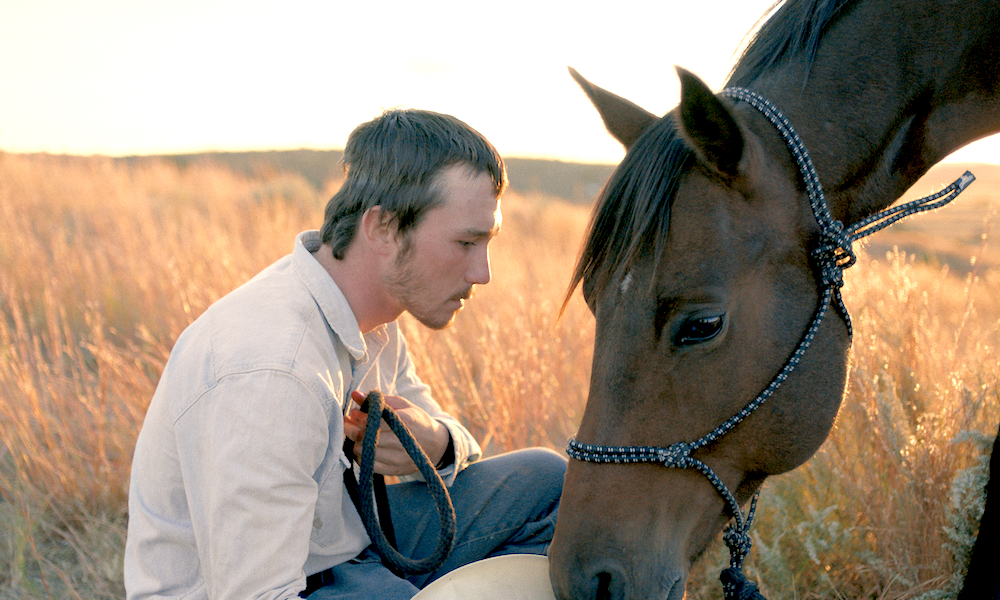 When he gets the opportunity to break a horse, the film rears into real time tension. We have no idea of what will happen in the pen, Zhao removing the safety net of staging: Brady is doing this for real.
There are poignant scenes such as Brady taking his saddle to a pawn shop and teaching a younger man how to ride a bucking bronco. As in a sports movie, the drama points in one direction, though how it gets there is painful and unexpected.
The South Dakota setting offers a casually beautiful backdrop. This is a film that you experience from moment to moment in real time, as if it were a documentary. Being a drama, it has one clunky scene, with Brady's friends watching videos of Lane and talking about him, but this is a minor fault. For the entire film, you are with Brady, experiencing his journey. It is one that I cannot praise highly enough.
---
The Rider is out 14th September