Movies should absolutely transport you to a brand new world. Whether that is a dark and seedy path or whether it is littered with joy, a film;'s job is to take you there. And they'll choose whatever means necessary…
So if Mamma Mia! Here We Go Again wants to put Colin Firth in a blue and purple flared jumpsuit alongside mother-flippin' Cher just so I can be transported to a feel-good Greek island of song and romance…then so be it!

Mamma Mia! Here We Go Again is an amalgamation of a prequel and a sequel. It stars all the old characters from before whilst adding younger versions of them…and mother-flippin' Cher. The film picks up many years after the events of the first (and many years before,) as Sophie tries to build the hotel to Donna's exact vision. Missing her mother, old friends and lovers reminisce on the impact that wild spirited American girl had on them as she chased her heart to Kalokairi those many years ago. With flashbacks informing the action of the present, this rambunctious musical entry will remind you of the importance of family….and ABBA!
Let's cut right to the chase; Mamma Mia! Here We Go Again isn't a ground-breaking piece of art. It plays fast and loose with the franchise's own backstory just so it can fit songs into the character's mouths. If we're being honest, it's true essence is trash. Not the gritty, trawl through the garbage kind of film that plumps up midnight cult movie screenings.  But the glitzy, five-pint-karaoke type of trash that embraces every multi-coloured spark of cheap Poundland confetti and throws it in your faces as you croon your way through I Have A Dream….following the fiftieth tequila shot, of course. Mamma Mia is cheesy, gooey, over-the-top-ness with added weirdness on the side.
Yet it embraces it so openly and so wholeheartedly that you can't help but fall in love with it. The movie is a genuinely feel-good family film (which is weird because it revolves around a woman sleeping with three men.) The music is on point; revisiting old favourites and ones that hadn't yet been explored. If you think you know ABBA, you'll be pleasantly surprised with songs you may not have heard before. There are some beautiful and endearing music sequences such as the Dancing Queen boat ride, a pure and epically energetic moment that'll make your heart soar.
The movie is also technically well done. The choreography of the dancing is mind-blowing (and makes you forgive some pretty sketchy singing) and the transitions from different eras are really savvy. It's beautiful to look at; a sun-soaked island complete immersed in the world of Abba, and it is drench in a whole spectrum of sunny sea-type colours.
New actors such as Lily James, Jeremy Irvine, Hugh Skinner, and more portray the younger characters of Donna, Sam, and Harry et al. The upcoming performers intricately inhibit the tone and essence of their older counterparts, immersing you in this seventies era throwback perfectly.  Just a small note: Lily James cannot possibly be that charming in real life, can she? Because every film I've seen her in just oozes with loveliness and sweetness. The older patch are in-tune (not vocally but theatrically,)

Plus there is Cher. Look, her arrival on the big screen caused so much pandemonium in my cinema screen. That is an iconic woman right there and, happily, her presence is so much more than a fleeting cameo. It serves you the heartiest of chuckles and lets you holler with glee.
Noneseniscal, silly, and bizarre, Mamma Mia is starting to become a tour-de-force franchise that dabbles in the madness. There were even moments of emotions that tug at your heart-string.  Director Ol Parker has done a fantastic job at taking everything we loved from the first film, making us overdose on it, and sending us off on our merry way. It's a captivating and altogether amazing production of sheer perfection.
No. Wait.
Cher perfection.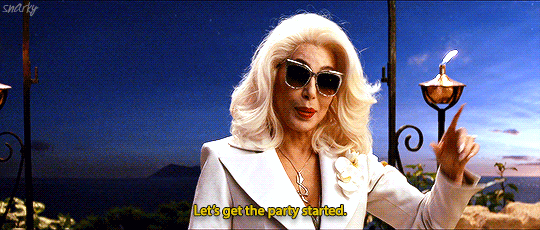 ---
Mamma Mia! Here We Go Again is on DVD & Blu-Ray now!