It is unfair that new directors in the industry keep producing stellar film debuts but that is the state we're in. Sorry to Bother You is on a long list of first features that are damn near pitch perfect and impressive. Director Boots Riley has made waves with this brilliantly bizarre film.
Sorry to Bother You revolves around Cassius "Cash" Green is set in an alternative present-day Oakland, where company WorryFree have transformed prisons into workplaces and living quarters. Accused of modern day slavery and often sparking protests. The film itself focuses on Cassius "Cash" Green who is a young black man determined to work his way to the top. When he is hired for a job at RegalView telemarketers, he learns that he gets more commissions if he speaks with a "white voice." However, as Cash makes his way up the company, his friends on the floor are striking for better benefits and pay. Causing friction is his life, can Cash find a balance between his success and his friends protest?

Boots Riley's Sorry to Bother You is not the film you are expecting. Not at all. I mean, you'll think you know where it is going but you have no idea. No. Idea. That's where I'm leaving you. Sorry to Bother You is a profound and absurdist movie that is an inventive visual spree of imagination. Through an impressive set design and gorgeous visuals, Riley pieces together a fantastical world centred in real-world issues. There is an air of Terry Gilliam mixed with splashes of Schrader and it works. It slickly moves through these almost art pieces of surrealist imagery.
There are many different films that explore race and society in Riley's whacky and sometimes perturbing film. Though the movie may present elements that have been done before, particular in movies such as The Hate U Give, Get Out, and more, it's still a superbly original piece of dark absurdist comedy. Riley's work looks into brutish and demeaning companies that make millions off of hard-workers whilst also It is intricate on how big bosses will use a worker and dangle particular benefits and advancements whilst also treating them like horses. There are also comments about police brutality, social class, and race that are shown with an immense spectrum of vivid colour and graphics.
Lakeith Stanfield is perhaps the best actor for this role and it's great to see him lead here. Hunched over and nervous, Cash's rise upwards feels realistic – like a company would recognise his ambition and talent in order to posturize him into a role he's less than comfortable fall, wrapping it up in lavish benefits of course. Stanfield is fantastic at balancing the different people Cash becomes; selfish, kind, quiet, and loud. He is a completely sympathetic character and a conduit to all this themes underneath.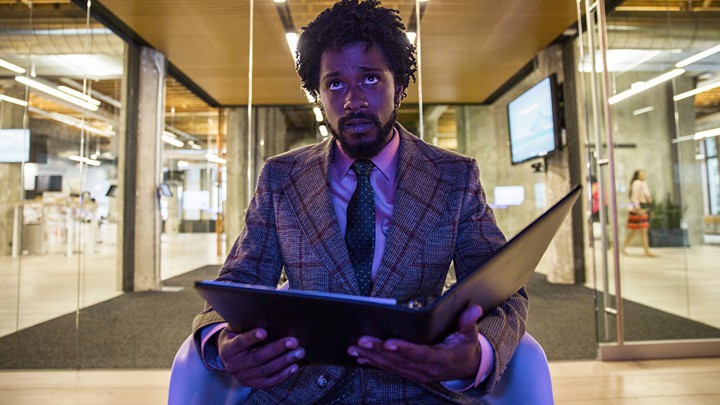 There's great support from Steven Yeun, Tessa Thompson, and Armie Hammer with David Cross voicing the "white voice" with a lot of humour.
Like I said, Sorry to Bother You is not the film you are expecting when you get in and the action amps up its strangeness as it comes into the final third. No matter how you feel about that coming out, you definitely can't say that Sorry to Bother You isn't absolutely unique.
---
Sorry to Bother You is out in cinemas 7th December!