Humans. We're an interesting breed, aren't we? We're alarming happy then wickedly sad. We have huge bouts of rage and anger yet have huge amounts of compassion and kindness within us. We're interesting, frustrating, and glorious all at once.
And yet we cause such destruction. We hurt each other, murder each other, and go to war for no reason at all. What causes us to do these things? Why are we so violent?
Well, it takes an experiment to find out!
When anthropologist Santiago Genoves had his plane hijacked, something sparked in him; As someone who has spent his whole life studying violent behaviour in people, this was truly a catalyst for me. After all, why did people commit such horrendous acts? This led him to conduct an experiment aptly called The Raft. In 1973, Genoves gathered eleven men and women from different races, nationalities, and social backgrounds and put them together on closed-quarter raft that sailed across the Atlantic from the Canary Islands to Mexico Genoves hope was that the experiment would eventually led to sexual jealousy, rivalry, and, indeed, violence. But what happened on the raft…nobody expected.
For those who haven't read about the results of The Raft, and are eager to see the film, I'd turn away from this review because it's impossible to talk about it without talking about the conclusion.
Director Marcus Lindeen uses grainy archive footage and a replica raft in order to tell this story. Gathering the remaining participants of the experiment – Maria, Mary, Rachida, Edna, Fe, Servane, and Eisuke – Lindeen builds a wooden version of the vessel they floated on. The the now aged women reminisce on the time they spent on the boat, whether that's their sexual experiences or their own irritations with the experiment. It's intriguing to see these women and Eisuke after so long as they struggle to remember everything or even struggle with the pain of what they remember.
It transpire that many had life-altering experiences. For example, Fe felt transformed from the voices of her ancestors who had been forcefully shipped across the same seas.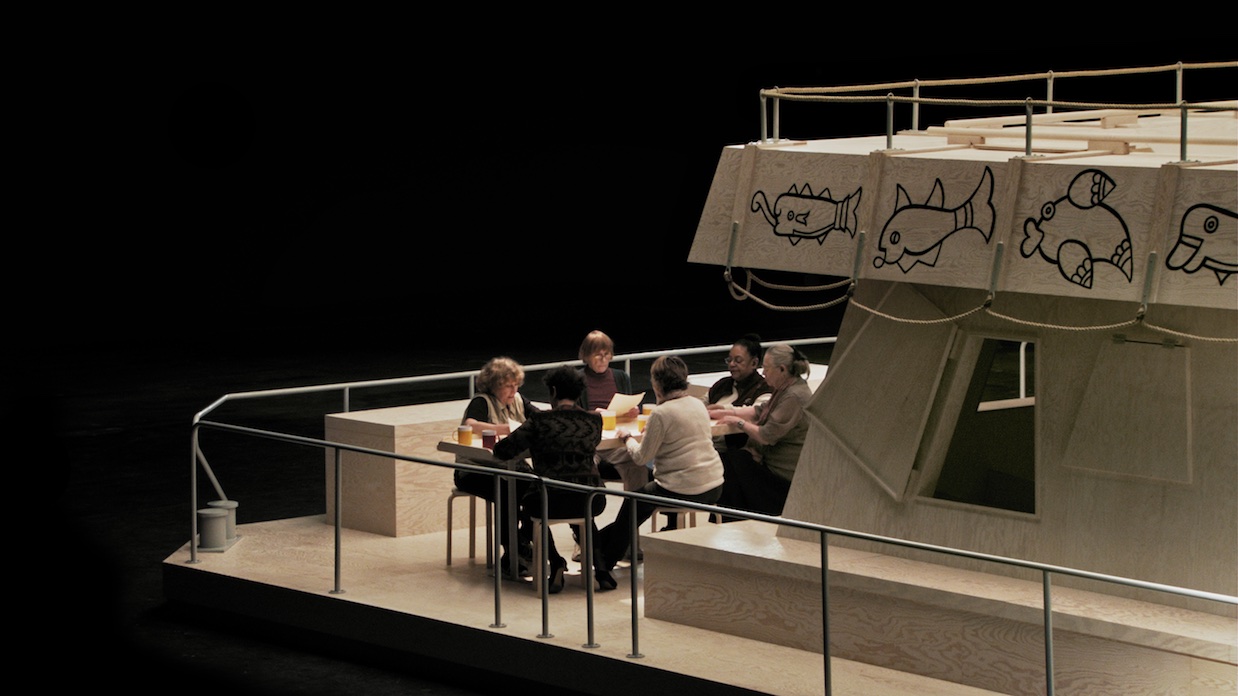 There has never been a film about a psychologist or scientist in which they come out the nice guy. In fact, they are also egomaniacal mad-men who would push the boundaries of their experiment in order to get the results they want. With The Raft, this is no different. It's really Santiago's frustration at there being no animosity between the participants that drives the drama. He tries so hard to spark something yet even when he is banging rocks together, he barely gets a flame. From taking over as Captain from Navy-trained Mary to revealing secret answers of questionnaires in order, Santigo grows increasingly angry that he cannot cause friction between the group. What he does do, however, is cause anger towards him…
It is tricky to gauge how the participants were in 1970. The archive footage is mostly silent and grainy but Lindeen tries to piece them together in order to paint a great picture. That being said, The Raft is an interesting watch because Genoves sets out to discover what causes people to turn to violence but misses the point entirely. Despite the different backgrounds, these eleven people really came together and stayed afloat without conflict for over three months.
As Fe states, he turned "us and them" into "us" and maybe that's just a brilliant message for the world.
---
The Raft plays as part of the BFI London Film Festival!