It's hard to start a review for clearly one of the best films of the year. Definitely for a film that is about so much, packed into a ninety-five minute long opus about young black men and the horror that America has become. There is just not enough words that are going to explain why this is the film you should definitely go watch, this is a film that we definitely all need, and this is a movie that needs to be shown to everyone.
But I'm going to give it a try.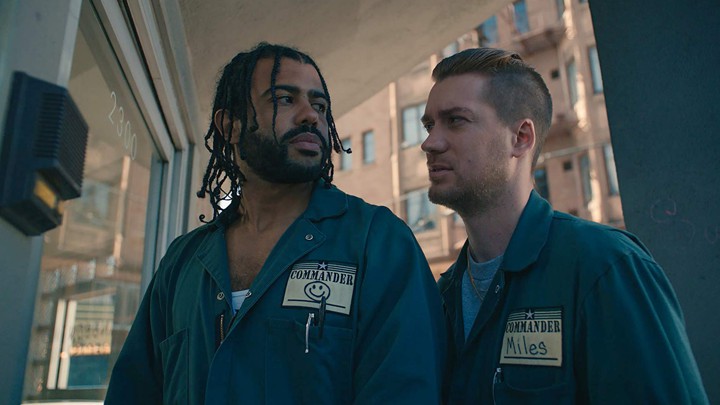 Blindspotting revolves around Collin – a bright young man who has three days left of his probation. Keen to keep himself out of jail, Collin strives to better himself; getting a good job, sticking to his routine, and getting into healthier habits. Hanging around with Miles, his childhood friend who has stuck by his side for so long, Collin fears that his wayward tough friend is going to put him right in the centre of trouble again. When Collin witnesses a police shooting, he starts to unravel as fears are pushed towards the surface.
I just don't feel like that blurb does this film justice. And I'm going to try and quantify this the best I can because I don't feel I can either.
Let's start first, with our leading man. Daveed Diggs is so phenomenal here. The performer who made a name for himself in Hamilton and comedy series Black-ish showcases that he is an incredible cinematic performer as well as a superb writer (no one man should have all that talent.) As Collin, Diggs engulfs the screen instantly. With his huge eyes and blessed smile, Diggs is spell-binding. After his stint in jail, Collin is desperate to not wind up back on the wrong side of law. Yet it's not as simple as that: There's a lot going on within Collin that Diggs holds on to beautifully. Even in the happier moments, there is weight to Collin that preys on him. The leading actor coaxes this out slowly until the shocking but entirely inventive ending. Diggs has pushed himself into becoming one of our must-see actors and that really shows here.
Rafael Casel is a great component and the pair literally bounce off one another both in front of the camera and behind it. Casel plays Miles and he's the naughty one; the loud one that attracts most attention. He is a squawker of a man who is loyal and friendly but can flit into violence with a stroke of a button. Casel is engaging as Miles and ultimately charismatic. That's important for Miles. Whilst it isn't laid out that he is necessarily a bad guy, it's apparent that he is just bred by a broken home and misled by a broken society. The more charisma that Casel exudes, the more his particular brand of chaos becomes chilling. In fact, there is one shot of him that is horrifying but Casel is so talented to bring him back from even that. There is no villain in Miles, nor a hero and the script and the acting keep it as such.
With the writing, Diggs and Casel really hone in that realistic dialogue and friendship. The flow of dialogue is masterful and feeds into bounce of the film. Random spurts of rap also ripple with authenticity, even at its most heightened moment. The pair craft a whirlwind story of life on the edge of towns that are slowly being gentrified. Their characters are imbued with anger at hipsters, absolute terror of the police, and yet this hopeful nature that they can power forward, keeping their feet moving forward. The film is such a pitch perfect indie masterpiece that dives into so much but keeps the focus on Collin and Miles and their shifting relationship. The movie swerves through different comedic and dramatic tones but it is so fluid that you follow happily. Blindspotting is such a uniquely brilliant script that it deserves all the praise.
And luckily, they have director Carols Lopez Estrada onboard to bring this to fruition. Despite this being his first feature (come on, guys, come on) the director has excelled. His work on music videos certainly aids the film, guiding the camera in an almost musical-like manner that matches the youthful energy of our leads. Capturing the haze of the summer with the neon nightscape of the city allows for some great imagery to come through. The juxtaposition between the comedy and the drama sets up some brilliant scenes. The editing by Gabriel Fleming is crisp and concise, bringing for more energy that keeps this film bouncing. Cinematographer Robby Baumgartner catches a gorgeous array of colours here and the atmosphere of the city.
There are moments of clunky exposition. Certain (but very few) scenes stall as they come out the stables. True, they may eventually gallop with a heart-racing rhythm but the stumble is still there.
That being said, Blindspotting pushes past somewhat cheesy set-ups to deliver one of the most ground-breaking and brilliant movies of the year. The work here is necessary; it is a crucial opus on the struggles of black men and working class city folk who are pushed around by those in power – whether that be the police or the white rich hipsters who swan in to take over. This movie has so much to say and does it in a straightforward and epic way.
It's a finely-written movie that is essentially a buddy-comedy that teams with social commentary and intense dramatic sequences. Beautifully shot and emotionally performed, Blindspotting is a perfect example of cultivating new voices in cinema and finding your film education in the independent movies. Never has a film been so succinctly put together and the result is electric. A thought-provoking and original exploration of working class men in America today that bites with humour and electric cinematography.
An absolute must-see.
---
Blindspotting is available on DVD & Blu-Ray today!