Alex Lawther has proven himself to be an incredible young actor. The performer has risen through the ranks of movies and television shows to become one hell of a rising star. From playing young Alan Turing in Oscar-nominated The Imitation Game to his absolutely ground-breaking performance in The End of the Fucking World. So we're excited to see him in more daring roles and characters.
Now Lawther is working with director Toby MacDonald, the pair produce a tender, if albeit simple, adaptation of Cyrano de Bergerac.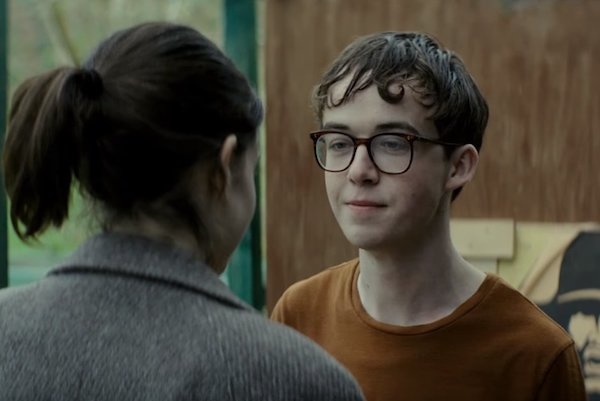 Set in a private school, the film revolves around the young nerdy Amberson. He lives his school-life opposed to jocks and sporty-types of his school. When the daughter of a new French teacher arrives, his whole word is turned upside down. Instead of going straight for the young lady himself, Amberson spends his time playing matchmaker for the school's popular sporting hero Winchester – who may be great on the field but on the field of love, he is anything but. However, Amberson finds himself falling in love with the girl himself…
Old Boys is a pretty nice movie. Reminiscent of boarding school movies such as Rushmore, the movie revolves around that kind of posh schoolboy fantasy with a modern flare that – despite its surroundings – learns more towards a modern feeling more so than a dated one. MacDonald makes his work appealing enough to fall into and there are some brilliantly written moments that cause you to laugh out loud.
The film definitely works best because of the blossoming male friendship on display. The development of their relationship creates the most moving moments and the cast really hone in on that. Lawther is just an actor that oozes this awkwardness that is bloody charismatic. He is paired opposite Jonah Hauer-King as Winchester, who proves himself a brilliant actor on the rise!
Another strong performance comes from Denis Menochet as the glowering French teacher Babinot. The actor has had terrific performances, most recently in French drama Custody. So he has such terrific moments here. Pauline Etienne is fine enough as Agnes to be enjoyable.
Old Boys is an OK film. You know? It's pleasant. It's nice. It isn't good and it isn't bad – it's just nice. And that's OK! In this agonizing heavy world – it's quite a break to have a movie as lovely as this is.
---
Old Boys is out in cinemas now!