If you've been around Twitter for just one iota, you'd have seen Jim Cummings tweets. Not that it is a bad thing – it's actually really inspiring. As an independent filmmaker, armed with a loads of determination and a vision, Jim Cummings speaks passionately about picking up the camera, gathering whoever can help, and producing your own work without the influence of studios and Hollywood.
Because that's exactly what he did with Thunder Road. His hard-work and talent certainly pays off in this outstanding film.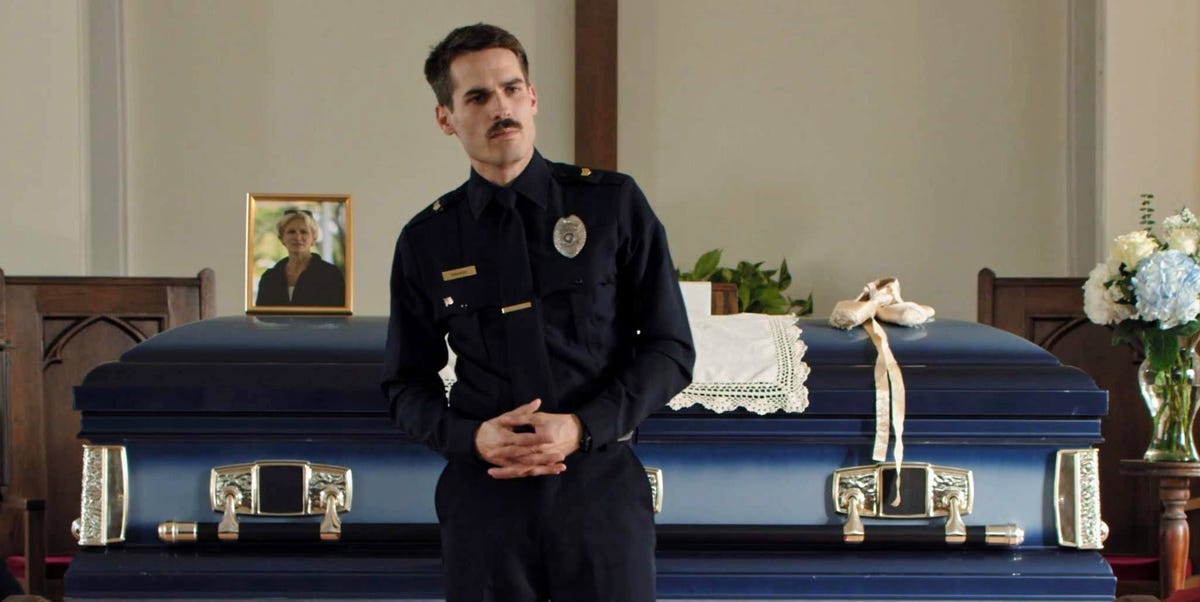 Based on his award-winning short of the same name, Cumming's stars, writes, and directs Thunder Road. The movie, based off of a Bruce Springsteen song revolves around Jim, a police officer who is going through the worst of times. After delivering a misguided eulogy at his mother's funeral, and attacking a man whilst trying to arrest him, those around him start to worry about his mental state. It worsens when his ex-wife Crystal serves him with divorce papers and battles with him over custody of their young daughter. On the verge of a break-down, can Jim pull himself together for those around him and most importantly, himself?
Acting, directing, writing, producing, and basically having a hand in every department, Jim Cummings has put his heart into Thunder Road and the pay-off is electric. His biggest strength here is certainly his performance. Especially at the beginning of the film – the epitomes breakdown at the funeral is simply breath-taking as Jim fluidly changes demeanour from trying to keep himself together to feeling the full impact of grief. His need to keep himself calm actually pushes him to breaking point and that is wonderfully fleshed out by Cummings.
Thunder Road is also greatly shot – bringing the aching and sad beauty of the small town life to the big screen.
Whilst there is a lot to enjoy with Thunder Road, the story lacks a certain cohesion that makes powerful emotional moments land. There's a death and reaction that has no set-up or conversation. One can read that this is part of the chaotic nature of the breakdown and how life gives no rhyme to throwing obstacles in your path but at times it just didn't land as perfectly as it should.
The biggest problem with this is that there is a huge story-line that could've been explored better and that's the custody battle. Framing Jim's funeral breakdown as the reason to take his child away from him and into the arms of a careless mother is a spectacular storyline that has a lot of potential. It just isn't explored that well here, which is somewhat frustrating.
That being said Thunder Road is a terrific exercise in putting all your might behind a project and seeing it come into great fruition. Jim Cummings is an adept director and performer. When film hits the right spots, it is a visceral and poignant movie that delves deep into the psyche of our leading character. Darkly comic but also highly emotive, Thunder Road is a must-see watch.
---
Thunder Road is out 31st May!