From the first frame of this adorable Japanese short animation the words stunning, gorgeous, beautiful spring to mind. The running stream of water so tangible you physically want to reach out and feel it for yourself. Such a rush of emotions is instantly captured in Studio Ponoc's latest adventure of two crab brothers, Kanini & Kanino.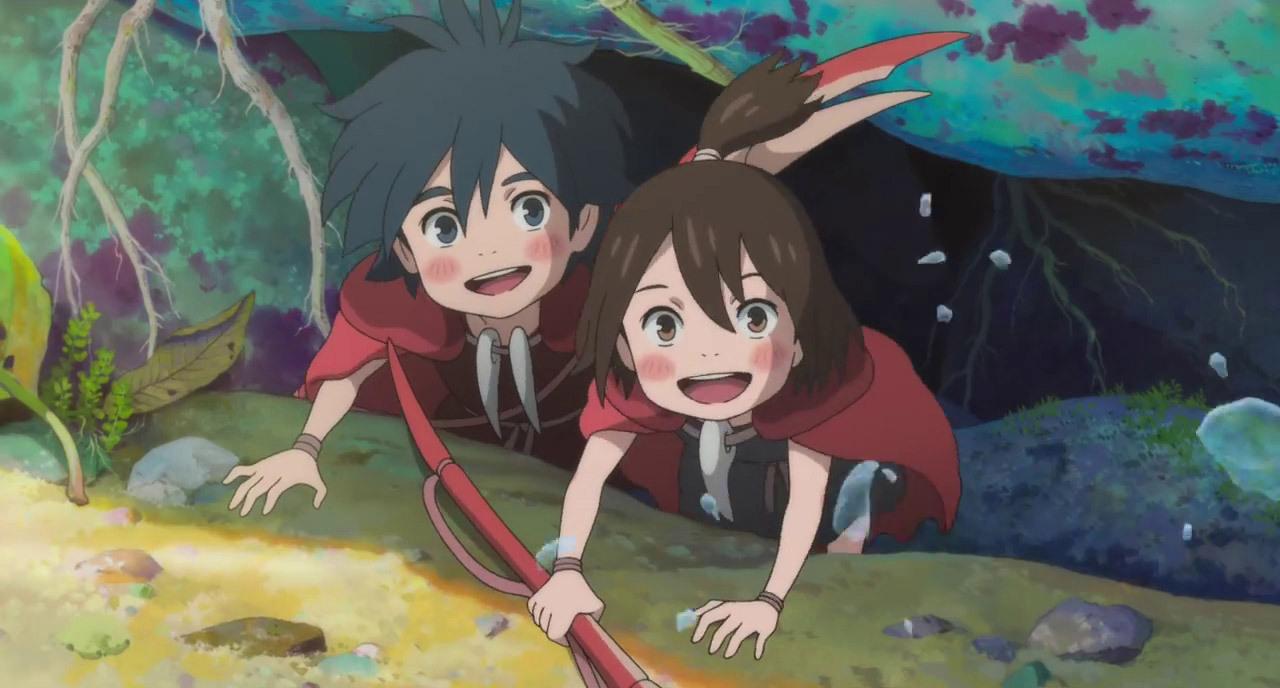 Part of the Modest Heroes trilogy from director Hiromasa Yonebayashi whose animation credits includes the The Wind Rises, Ponyo, Spirited Away…the Ghibli list goes on extenuating this man knows what he wants out of a film and eventually achieves it. Coming from such stock, for any Ghibli/ Anime fan all the tropes we love so dearly about the brand get their claws in and pull you deep underwater into a simple, yet compelling narrative of two tiny humans. Tropes from The Secret World of Arrietty are to impossible ignore, although a comfortable sense of familiarity instantly puts you at ease. Residing in a vibrantly colored, magical universe of creatures; these brothers live underwater with their father who is taking care of them whilst their mother goes ashore to have more children. When their father gets swept off by a strong current the boys embark on a dangerous mission to get back to their father and restore the equilibrium in their family once again.
The sense of family is overwhelming here. In a world of technology and instant messaging to connect with one's family has diluted the very scope of actually seeing them face to face, embracing them, protecting them from the scary outside world and here we travel back to a time where nothing but survival and keeping those around us safe matters. Such an effortless idea is a welcomed form of escapism; a cathartic release of peaceful music alongside mesmerizing imagery is a breath of fresh air in a Fast and Furious world.
The elements in which our characters reside in are a constant battle. The water, the predators outline just how tiny not just these cartoons are, but us as people a vast world that can be both exciting and threatening simultaneously. A theme that is currently being done to death at moment and may be seen as a cop out by viewers, not to mention the action-addict Avengers cinema goer who wouldn't give this a second glance as it looks remotely different. By the by, in the hope that viewers give this the time it deserves, they are sure to be pleasantly surprised and emerge from the screening with an immense sense of hope and adventure.
This heroic little tale leaves you wanting more, aching for its core story to be expanded into a series or feature film. Perhaps it will one day and it certainly makes you want to hunt out the other two shorts in this Modest Heroes trilogy. A welcome addition to London Film Festival and let's hope we see more of this in future festivals.
---
Kanini & Kanino plays as part of the BFI London Film Festival
Buy tickets now!