Dear reader,
I am an audible film-watcher. A more of a reactionary, really. I gasp loudly, I flail, I grab the hands of my weary cohorts. I just love cinema and get ridiculously happy whenever something of great emotion or something epic and awesome happens on screen. Particularly if the film is a no-holds barred romp with gleeful adrenaline.
Annoying to some, embraced by many, this type of cinema-watching has always seen me through difficult times and many movies have given me…such joy.
The Christmas Chronicles is possibly the most excitable I have ever been in the screen.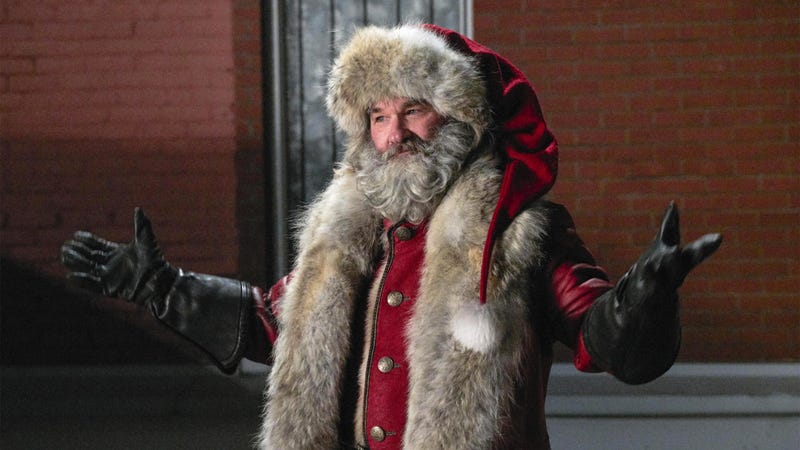 The Christmas Chronicles, aka The Sexy Father Christmas Film, revolves around the Pearce family. Following the death of father Doug, the previously obsessed family have dwindled in Yuletide cheer. Oldest Teddy has become a bit of a tearaway whilst the energetic Kate seems to be the only one trying to lift spirits. When on Christmas Eve, Kate decides to catch Santa in the act, the pair unwillingly undo the holiday and have to help bring it back before everyone stops caring in Christmas.
Casting Kurt Russell in the role of Father Christmas. (Alright, OK, Santa Claus) is an inspired choice. In fact, I'm pretty sure that it's the choice that came before plot, director, and anyone else. One day an executive walked into a room (probably from watching The Hateful Eight,) slammed Russell's latest headshot down on a wooden panelled table and screamed, "Kurt Russell as the big red man NOW!"
It pays off: Kurt Russell is definitely inhibits the role with a certain rambunctiousness and cocky air that makes him absolutely delightful to watch. In fact, he is so good as the character that every time he isn't on the screen – for whatever reasons focusing on the children – he is absolutely missed. Russell is clearly having a wail of a time. This is not your cheery "ho ho ho" Father Christmas and neither is this your "Bad Santa" variety. Still a magical being who just wants to spread the joy, this Santa Claus has an edge but it's fun, frivolous, and occasionally sarcastic. Every Christmas nod and line are so impeccably delivered that it's hard not to fall in love with The Christmas Chronicles. Kurt Russell definitely owns the role, bringing glee for everyone.
Judah Lewis as Teddy and Darby Camp as Kate are brilliant children actors. Though they cannot measure up to the sheer personality of Russell, they are delightful company on this thrilling ride with enough emotional arcs to keep you invested in their plight.
The Christmas Chronicles is the ultimate new Christmas film this year. Yes, it is jam-packed with cheesy sentimental moments and far-fetched plot points but it has spirit to boot. There are tonnes of sugar-addled elves to keep the little ones in check but may grate against the weary adult psyche (especially as they floss.) Yet this action-fuelled comedy-packed adventure will satisfy everyone.
---
The Christmas Chronicles is on Netflix now!