When was the last time you saw Eddie Murphy in a movie? Since Tower Heist (2011), he has dropped off cinemagoers' radars. His 'spiritual' comedy, A Thousand Words in which his character stopped speaking in order to keep himself (and a plant) alive sat on the shelf for four years being receiving a cursory release in 2012. In 2016, he made a rare foray into drama in Mr Church, directed by Bruce Beresford and set in the 1970s, in which he played a cook bequeathed to a white family who, Driving Miss Daisy-like, becomes a loyal and steadfast friend. It barely resonated. I don't know the criteria that Murphy applies when choosing his material – Pluto Nash and Norbit are included in many viewers 'do not watch' lists. It is perfectly true (to quote the late screenwriter William Goldman) that 'nobody knows anything' in the film business, but some people know less about anything than others.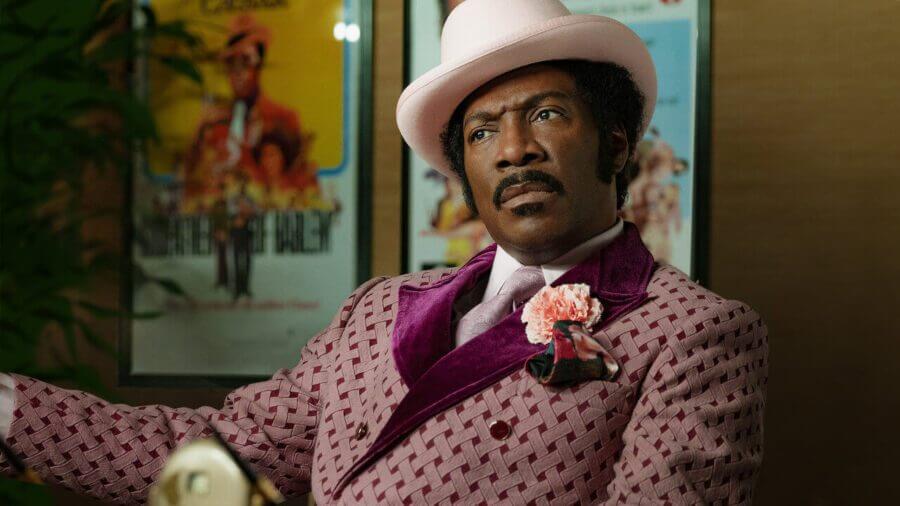 In Dolemite Is My Name, 58 years-old Murphy is back on our screens (well, Netflix) in a fact-based underdog drama playing blaxploitation star Rudy Ray Moore, who achieved unlikely fame in the early 1970s with a set of rude rhyming records (think Muhammad Ali's banter) and decided after watching the remake of The Front Page to become a movie star. Raising $70,000, enticing actor D'Urville Martin (Wesley Snipes) into the director's chair and hiring UCLA film student Nick Von Sternberg (Kodi Smit McPhee) as his cinematographer – yes, he is the son of the famous film director, Josef Von Sternberg (The Blue Angel) – Rudy risked everything to bring his stage persona, Dolemite, to the big screen.
It is a triumphant return of sorts. Murphy had the smarts to hire Craig Brewer (Hustle and Flow) as his director and Scott Alexander and Larry Karaszewski (Ed Wood, Man on the Moon) to write the script. Moreover, within the first five minutes, Murphy gives his audience what they wanted from him for years – curse words. Dolemite Is My Name is his first 'R' (Restricted) rated film in 20 years and he's not doing family-friendly fare of the likes of Dolittle, Daddy Day Care and Meet Dave any more.
In the opening scene, Rudy is trying to persuade a DJ (Snoop Dogg, who knew the real Rudy Ray Moore) to play his records. The DJ has taste and is not tempted by Rudy's offerings. The gag is that the DJ works in the same shop as Rudy, who in his early forties, still harbours dreams of stardom. At a nightclub where he emcees, his boss castigates for attempting to tell jokes. The audience has come to see the band. Throwing out a street drunk known for his outrageous stories, Rudy has an idea. He'll record the man's anecdotes and perform him as a new character, cane carrying Dolemite. Dolemite delivers his lines in rhyme. He does it all the tedious time. Nevertheless, the audience laps it up. Soon Rudy makes a 'party record', recording an album in a house in front of a small, liquor-drinking audience. When no record company will take it owing to its lewd content, he starts selling it himself from the trunk of a car. In the course of a performance, he discovers Lady Reed (Da'Vine Joy Randolph), a full-figured former backing singer who responds to Rudy's suggestion that she too create a character.
Dolemite's persona is that of a pimp – the white suit is a giveaway. However, the filmmakers are careful not to perpetuate misogyny. Murphy's Rudy doesn't have a sex life. When he performs in a sex scene, he is conscious that he is 'no Billy Dee Williams' and makes it ridiculous.
This is very much the story of an unremarkable performer with excessive confidence and a desire to succeed who makes good. It doesn't cut very deep. We see Rudy with his friends but not in any meaningful relationship. He has an aunt whom he taps for money, but that's it. We watch the film through the prism of Murphy's reinvention. He doesn't pretend to be cocky and flirty. He just wants to entertain and to pay homage to this hitherto little-known figure. He is however thanked by Lady Reed 'for putting someone like me on the screen', a moment with contemporary resonance.
When Snipes turns up as D'Urville Martin, an established actor whom Rudy sees in a strip club, Murphy lets his co-star run away with the movie. D'Urville feels affronted. He has an agent. He appeared in a Roman Polanski movie, Rosemary's Baby. 'Oh yeah, I saw that', comes the response, 'you were the elevator guy.' D'Urville tries to intimidate Rudy at the same time unable to conceal that he hasn't made it big in Hollywood. Snipes juts out his eyes and adopts the voice of a man of sophistication and discernment who just happens to be in a place where women strip for tips. The gap between his perception of himself and the jobs that he takes is a source of most of the comedy. 'I'm off to make Black Caesar with Fred Williamson – a real movie,' he pronounces at one point.
Brewer and the screenwriters play loose with Rudy's back catalogue, recreating scenes from Moore's second film, The Human Tornado, but passing them off as part of Dolemite. According to cinematographer Nicholas Von Sternberg, interviewed for Dutch web site, Dolemite was a black and white movie, though something may have got lost in translation. When Rudy acts opposite a guy with a track record of playing rapists and racists, he is genuinely impressed by the man's performance, as if hardly able to comprehend that he is in a movie. Murphy's most positive attribute is that he is a fan.
Dolemite Is My Name unspools in the vein of highly appealing moviemaker biopics like Ed Wood and The Disaster Artist, without an ounce of cynicism. It is also a film that says that it is okay to like bad movies. Murphy has made more than his fair share of those, but Dolemite Is My Name is not one of them. Murphy has tapped Brewer to direct the Coming to America sequel, called Coming 2 America and is returning to host Saturday Night Live in December, his first proper appearance on the show since the early 1980s.
---
'Dolemite Is My Name' is now screening on Netflix