This review contains some spoilers for Marriage Story.
The opening of Marriage Story is effective. Though it may seem like the start of a quirky romance story such as (500) Days of Summer or The Eternal Sunshine of the Spotless Mind. It's a collection of loveable traits of Nicole and Charlie, as told by the other. From always crying at movies to being a sore losers at games, the pair affectionately discuss what is so endearing about each other. It then snaps out of these montages into a cold, white room where they clasp their lists, and a kindly marriage counsellor sits before them.
In this Marriage Story has already set itself up as a stirring melodrama, strife with harrowing hilarity and humorous heart-break.

Marriage Story revolves around Nicole and Charlie Barber. To the latter, the pair are happily married – owning a theatre company in New York where Nicole is always the lead and Charlie is always the genius director. However, Nicole isn't happy, feeling as though her own dreams of Los Angeles have been swept under Charlie's rug. As the pair begin their divorce, the trials and tribulations of their relationship come to ahead. For the sake of themselves, and their son, can they resolve this morose break-up?
Noah Baumbach famously writes his own divorce experience into Marriage Story which scalds the film with more heat. What works best for Marriage Story is its own fluidity in dialogue and scene. It snaps between affection and anger with an almost poetry such as a lawyer congratulating Charlie on an award to then accusing him of gas-lighting Nicole. Baumbach infusing arguments with an intense rhythm. There is compassion in here, even as the relationship splits and breaks down. Baumbach's work is thought-provoking and tear-jerking, one scene with a note will cause uncontrollable sobs and not since Ghost Story has a sheet been used so sadly. The film is a delicate thread of story and human emotions.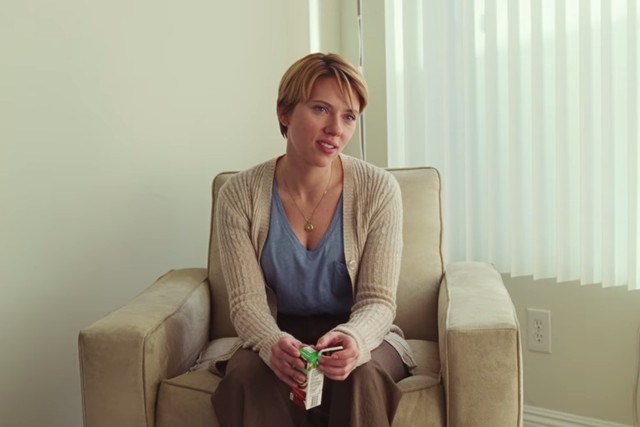 Scarlett Johansson is terrific as Nicole. Though it feels as though the film leans towards Charlie more so (as it naturally would, written from Baumbach,) there is actually a lot of understand for Nicole and that comes for Johansson. One monologue, told through an erratic pacing and an emotional breakdown, is greatly realised by Johansson. Through movements and delivery, you can see this woman who has been smothered by her relationship until she felt her flame dying. Nicole's need for her own personal and creative outlet drives the breakdown of the relationship but Johansson performs it so astutely that you feel nothing but empathy for her. As intricate parts of her are broken down by lawyers, this empathy only grows.
Up until Marriage Story, I was convinced that Joaquin Phoenix would win the Oscar, finally (and perhaps undeservedly) for Joker. Whilst wanting and winning awards is a wasted endeavour, these performances should not be weighted on an Academy Award, it's fair to say that Adam Driver deserves Best Actor so much more than anyone this year.
Driver's work in Marriage Story is transcendental. As Charlie, he has to play a dual role – the controlling and cheating theatre director that we and Nicole see as well as the abandoned and lonely husband he becomes in the midst of the divorce. Driver is superb, breaking Charlie down bit by bit until he fully breaks. He also masters great (and biting) comedy within the midst of this heartbreak, including scene where he tries to cover up seriously injuring himself. Driver fleshes Charlie out until he is fully formed, and breaking right before our eyes.
There are many supporting characters here, including Merritt Weaver who makes such a statement with a pie, and Ray Liotta as a cutthroat lawyer, but Laura Dern truly excels in support here. Delivering a raucous monologue about how women have to behave in a divorce, Dern's supportive, expensive, and at times vicious lawyer makes a lasting impression right until the end.
In the scene most spoken about Adam Driver is drawn into a palpable and emotional rendition of Being Alive from Stephen Sondheim's Company. Driver's melancholy performance is less about a man who realises that he truly wants love (as the heart-breaking original intended) but a man who has lost it. Each note comes from the pit of his broken soul whilst the mournful performance hits and stays in the pit of your stomach.
What aches the performance more is that it directly follows Nicole's own Company number You Could Drive a Person Crazy, sung alongside her mother and sister during a party in their home in Los Angeles. Marriage Story is best encapsulated in this juxtaposition – two characters once joined in harmony now at odds with one another. As Nicole's bubbly song about being driven crazy by love and affection seems to signify that she is freer and happier, jokingly flirty with the music, Charlie's execution is plagued by a sorrow-filled realisation. Even with the cinematic adaptations of his work, Sondheim's music has never been used so effectively as it has here.
Because Marriage Story is about these themes – Being Alive and Driving a Person Crazy. Those themes echo loudly here. Set to a surprisingly tuneful score by Randy Newman, Marriage Story  never has full redemption for either of them. The films finale, and where you land on these characters, is a bittersweet ending that never feels wholly resolved. The symbiosis of the relationship will forever be turning. Whilst the pettiness and the focus on winning is over, the turbulence of a lost love will ache always.
---
Marriage Story is out on select cinemas from 15 November.
It lands on Netflix on 6 December.