The Safdie Brothers have made a staple for themselves, creating panic-inducing movies whether it is the drug-addled movie Heaven Knows What or their nightmarish odyssey for perpetual fuck-up Connie in the underground hit Good Time. There movies pull you through the ringer. Even their indie darling debut feature Daddy Longlegs leaves you grabbing your face out of horror. Basically, what we're all saying is that when it comes movies that make you squirm in your seat, curling your toe-nails and gasping for air as our characters head down a rabbit-hole of lies and deceit – The Safdie Brothers are the masters.
That being said Uncut Gems is on a whole other level.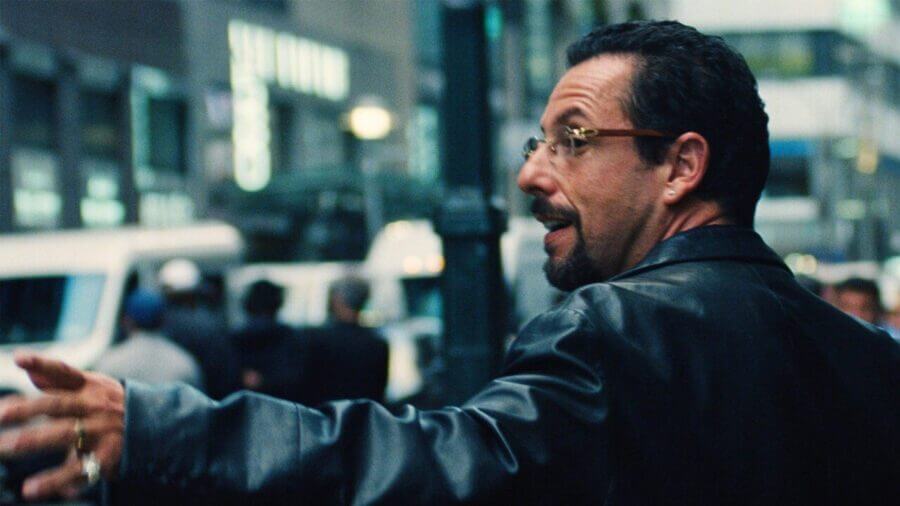 Starring a completely unrecognisable Adam Sandler, Uncut Gems revolves around Jewellery Store owner Howard Ratner. Whilst struggling to pay back insane amount of gambling debts, Howard also deal in black-market gems including a black opal which proves popular with basketball legend Kevin Garrett.  With his debts spiralling out of control, Howard just can't help but place more bets – even when sharks are on his tale. Also balancing his estranged wife and his young mistress, could Howard be out of his depth?
You've never quiet had heart palpitations as you have watching Uncut Gems. This loud and ferocious movie is a war against your senses. Submerging you in a nightmarish ball of stress as you watch Howard make bad decision after bad decision. It is one of the most excruciating films you've ever watched, including sequences where everyone is shouting over one another to one horrendous bad bet after another. This immersive experience will leave you shaken to your core but it is well worth the ride.
Yet, for as gripping as it, it is a certified masterpiece. The Safdie Brothers know exactly what they are doing in this cacophony of stress, pulling the strings to utmost cinematic chaos that is also so terribly glorious to sink into.
With its brutal and gritty camerawork that spins through this seedy gambling underbelly, Darius Knondij's cinematography is so brilliant that it practically drenches you in Howard's sweat and blood. Knondij has a brilliant eye for juxtaposition and offers beauty with the mayhem including a starry space scene that dissolves into a –well – a very different scene and an opal so colourful it seems wrong in a world of chaotic violence.
Helming Uncut Gems was Howard Ratner is Sandler. This is arguably one of the best performances of the year and definitely of Sandler's career as he ferociously wheels and deals. Practically unhinging his jaw to scoop up a great deal or bet, Ratner is slimy, unpredictable, gross, and chaotic. Yet with Sandler's acute understanding of the character makes him alarmingly sympathetic – when he has a breakdown, you feel for him. When he makes bad decisions, you are gripped because you want him to succeed. Not that he deserves to but Sandler's empathic nature gets to the crux of a man tackling an addiction. His feverish desperation is palpable and infectious.
Uncut Gems is one film not to be missed this year, even if the experience will leave you quaking.
---
Uncut Gems is out in cinemas now!  
It hits Netflix 31st January!